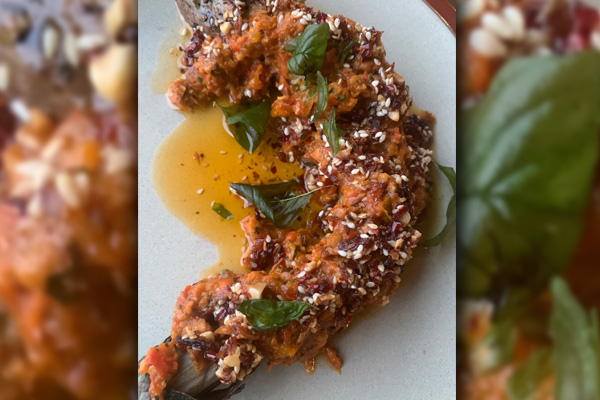 Last week your scribe was one of fourteen judges tasting nearly 800 wines for the 2021 British Columbia Lieutenant Governor's Wine Awards held in Kelowna. A competent most skilled crew (except for yours truly) was a good mix of educated palates including the first visit of Alder Yarrow from California, Founder & Editor of the interesting wine blog Vinography. This insightful exercise was conducted in well organized safest conditions to determine the worthy Platinum, Gold & Silver medals for wine in BC this year. Report and video of Global TV
on the judging is here. Stay tuned for more details and results in early October.
An added bonus was a return trip to that marvellous restaurant Row Fourteen at Cawston BC in the Similkameen Valley. This wine region has ever expanding grape vines being planted that enjoy hot Summer days, cool nights, and brisk winds. Also lots of popular roadside fruit and vegetable stands in Cawston (& nearby Keremeos) with the former now dubbed the organic capital of Canada. The uniqueness of Row Fourteen is that it is truly a collaboration of Chef & Farmer – a farm restaurant with inspired cuisine from the earth! It opened with meritorious praise in August 2019 as a partnership of talented Chef Derek Gray with Annamarie & Kevin Klippenstein of Klippers Organic
Acres (since 2001). This latter producer is my go-to each weekend for their produce brought down to Vancouver's Farmer Markets – especially presently those outstanding ripe heirloom tomatoes and butternut squashes. Yummy. Carrying on has been difficult during the continuing pandemic with all the government restrictions and fewer travelling tourists. Admire their determination to follow their passion with what presently is one of Canada's finest restaurants turning quality locally grown fresh organic ingredients into most creative amazingly delicious courses. Well done, worth a detour, and hearty congrats! Chef Gray and his brigade plus knowledgeable enthusiast server Ariel showed us the brilliant highlights of two wonderful menus: Field Harvest $50 & Pasture Harvest $65 – suitably paired with an aged cool vintage 2010 two clone pure Syrah Scout Vineyard aged 15 months in French & American oak at 14.6 abv from the excellent local winery Orofino.
Some of the outstanding memorable dishes included:

– Gazpacho of tomato & cucumber with the fresh perfect texture.
– Padron Peppers with first press canola oil with smoked salt.
– Sarah's Choice Melon with chili honey, and Grana.
– Homemade Whole Wheat Farmer's Bread with smoked butter,sea salt, black pepper.
– Corn on the cob, garlic aioli, allium, jalapeno.
– Tomatoes & Peaches, labneh, aged ricotta, fresh basil, Canadian olive oil.
– Orange Kabocha Squash, mushrooms, walnuts.
– Eggplant, romesco sauce, XO sauce – personal fav among many!
– Farmer Chicken, zucchini, hummus, hazelnut salsa.

Desserts:

– Cherry Tomato, mascarpone cheesecake tart, tarragon
– EVR Chocolate Semifreddo, earl grey poached plums, labneh, tuile
– Pavlova with Raspberries
---
You might also like: