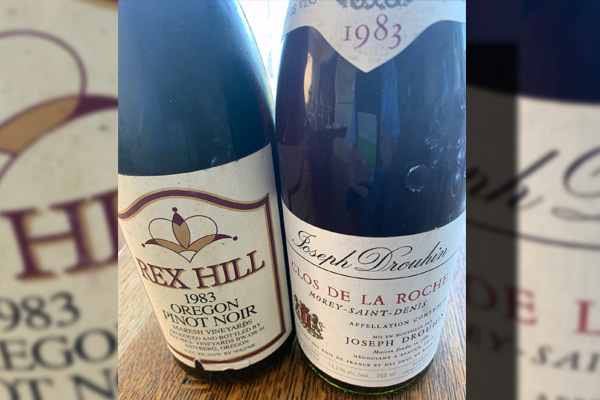 Your old scribe carries around perhaps too much wine baggage. So when a particular wine is served some information stirs up in my memory bank about the producer, the vintage, the variety or varieties of grape and maybe even previous bottles tasted of that same wine. At a restaurant it sometimes can cause issues based on that knowledge as to whether or not the wine is slightly flawed or just not the best bottle. Often wise in those circumstances to shut up and say nothing. At home it is another thing and allows for more flexibility and discussion.
Last week we invited some wine & food knowledgeable friends over for dinner. We served blind two last pinot noir "old soldiers" that we expected based on previous experiences to be both stunning and educational. They both were from the 1983 vintage one from Rex Hill in Oregon and the other from Joseph Drouhin in Burgundy.
The acclaimed Maresh Vineyard on Worden Hill Road in the Dundee Hills of the Willamette Valley was bought by Jim & Loie Maresh in 1959 and first planted in 1970. Under the "Oregon Wine HIstory" site they note that "Back in the 1980's the question was asked 'Is any Oregon wine worth $20/bottle? when no Oregon wine was selling for over $15. Paul Hart (with wife Jan Jacobsen) claimed Rex Hill's (first vintage) 1983 Maresh Vineyards Pinot Noir was worth it as it was an excellent wine. He apparently was right as the wine sold well!" This evening it showed dark colour rather young and almost "Margaux-like" at first but opened rather well with some elegant pinot noir focused perfumes in the glass as it aired.
The 1983 vintage in Burgundy was very controversial due to Summer hail followed by hot weather with rain causing rot in the vineyards. Careful sorting and selection became most crucial. Studied many horizontal tastings of this vintage in San Francisco in the eighties and one of the finest cleanest wines discovered was 1983 Clos de la
Roche from Drouhin enjoyed over many decades. Robert M. Parker gave other Drouhin 1983 low scores stating they "were given an intense filtration". However he did applaud the 1983 Faiveley "turned out to be very good. None of the Faiveley 1983s show signs of the astringent, dry tannin, or the moldy flavors caused by rot. They are very powerful, rich, deep, tannic wines…" Obviously a very variable year. Wrote previously about excellent 1983 Nuits-St.-Georges Les St. Georges & Chambertin Clos de Beze Faiveley. This Clos de la Roche Drouhin bottle was browning on the rim but quite an exquisite bouquet though drying out on the palate. Much better with the Chef Eric Ripert inspired chicken paillard main course.
Both wines had shown extremely well before so were opened this time with high expectations. Hope was that again they would shine very brightly but also allow some assessment of the aging ability of this remarkable grape from older vines in the two regions. It didn't really happen. The wines were quite good but not outstanding and not
delicious. Interesting for sure but bottle variation from previously plus probably asking for too much of a performance from wine that is after all 37+ years old.
Next night opened with lower expectations an even older last bottle of 1970 Chateau Mouton Baron Philippe Pauillac that was magnificent. This bottle would give many vintages of Mouton-Rothschild a run including the 1970. Maybe it does really pay off to always approach an older wine with lower expectations!
---
You might also like: