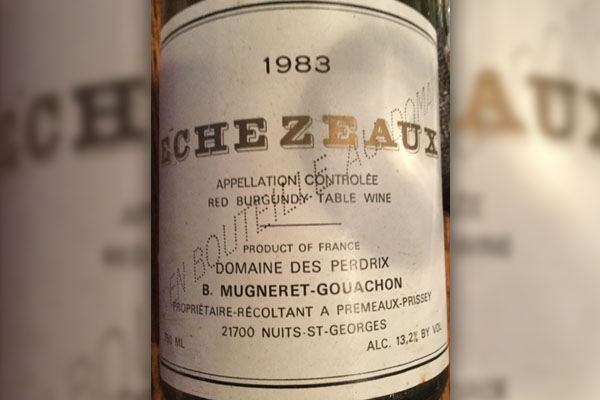 Red Burgundy went through some bad vintages in the seventies and eighties. Among the winners 1985 & 1978 are deservedly celebrated but there are lots of mediocre years of large yields produced from under-ripe grapes. Rot was sometimes a problem too as shown by vintages like 1986 and particularly 1983. Your scribe remembers some big tasting-dinners spotlighting the release of 1983 organized in San Francisco mid-eighties by the inimitable Haskell Norman for the Marin County Branch of IWFS. Boy there sure was some dry tannic rotting vegetables of "gout de sec" showing in so many of the young wines. Caveat emptor applied! Tried many different producer's 1983s over the next 30 odd years and most were quite disappointing as to be expected from the difficult harvest conditions.
However more recently your scribe has been tasting the last few remaining cellared bottles and has been delightfully surprised. It started with the last bottle of 1983 Echezeaux Grand Cru Domaine des Perdix from B. Mugneret-Gouachon. Never much cared for this wine with that typical vintage 1983 characteristic of very light brown colour (looked like one of those now trendy orange wines) plus coarse tannins and high acidity. However now nearly 35 years later the unclean aromas seem to be gone combined more into an earthy aged open bouquet that was quite enticing and the flavour entry was smooth with refreshing finishing acidity. Lacks fruit of course but still interesting and excellent with food. Since then have sampled successfully quite a few Faiveley that are showing quality like the amazing Nuits-Saint-Georges 1er Cru les Saint-Georges & the Clos des Cortons (their Mazis-Chambertin 1986 also is a delight!), elegant clean fined Drouhin Clos de la Roche, and even that rich big tannic Trapet Chambertin seems now somewhat improved. Wish there were more bottles left!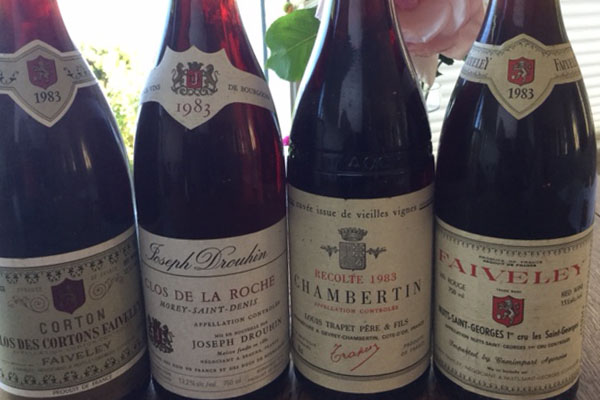 A key lesson to be learned is that even less celebrated vintages that have structure and acidity can with patience develop into something special and surprise you. Even though experts may tell you your wine is over-the-hill that may not always be the case. Continue to marvel over older bottles of red Burgundy (and wines from other regions) you find that are astonishing and contrary to your expectations. That is a real treat and what makes us all such wine lovers!
What older vintage has surprised you?
---
You might also like:

Loading ...