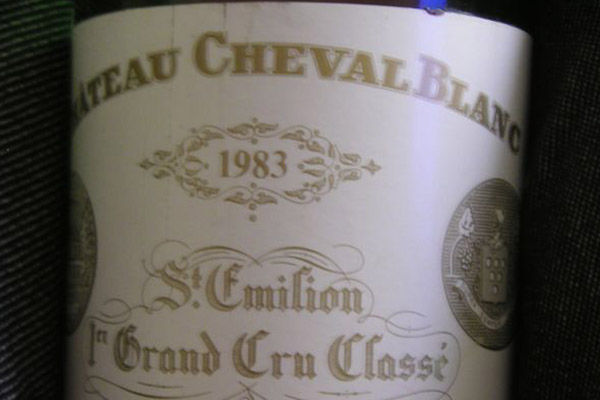 By schuey (originally posted to Flickr as Cheval Blanc 1983) [CC BY 2.0], via Wikimedia Commons
Every year seems to bring up new special anniversary wine tastings. Next year undoubtedly will include a focus on how the 1989 Bordeaux and underrated Burgundies are doing at 25. This year I attended several enjoyable events spotlighting 1983 red Bordeaux at 30 years!
Coming right after the ripe concentrated consistent 1982 was a tough task. The 1983 micro climates varied really favouring the southerly drier Medoc regions of AOC Margaux & Pessac-Leognan. Also the hot humid conditions in August resulted in some grape rot & mildew especially where the principals were away on their annual vacation rather than at home in the vineyards like May de Lencquesaing of Pichon Lalande. Their wine is in my opinion the best most complete complex Pauillac in 1983 edging Mouton (cedar) and far better than Lafite (paler and drier) and Latour (atypically light herbal).
What about the wine of the vintage? Domaine de Chevalier and Haut Bailly are typical of a certainly better 1983 than 1982. However Haut Brion & La Mission both show better in 1982 than 1983. Not outstanding on the Right Bank. There are some delicious elegant wines from the Margaux appellation in 1983. Palmer is a star but I have found bottle variation recently as it ages. Served to me blind against Chateau Margaux (and other 1983 wines) twice in the last few months Palmer was both times lighter in colour less structured and less aromatic than Chateau Margaux – a real classic.  Robert Parker prefers Palmer and I agree with him that Chateau Margaux 1983 can have "cork" issues. Still I prefer 1989 Palmer over 1983 – and of course that marvellous trio of 1970, 1966, and 1961.
My vote now for what can be THE wine of vintage 1983 in Bordeaux is Chateau Margaux. One of their many successes under the brilliant Mentzelopoulus & Pontellier team!
Post your vote for the Bordeaux wine of the 1983 vintage. Your thoughts on how they are aging.

Loading ...