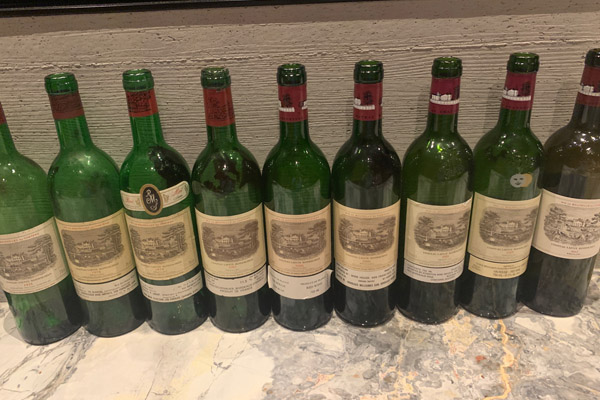 Chateau Lafite-Rothscild is arguably the best wine property in Bordeaux. It headed up the 1855 Classification of the Medoc and most recently since that lucky launch of the 2008 vintage has been a big hit also in China, The history goes back to the 1200s or so but the Pauillac property has been respected over many centuries. Remember
reviewing very old records at the offices of Daniel Lawton in Bordeaux where those gravel mounds (with sand on limestone) were always recognized as quite a special unique vineyard site. Vintages from the 1800s were famous in their day. Andre Simon in The Noble Grapes drank the 1869 in 1954 (85 year old wine) declaring it "astounding"
"incredibly good" "lively" "smooth, gentle and charming". Your scribe has been most fortunate to drink on several occasions the immortal 1870 Lafite magnum from "Glamis Castle". The Stars menu celebrating the late Barney Rhode's 70th Birthday on December 8, 1990 (memorable 1870 was 120 years old) is posted showing also 4 other outstanding vintages of Lafite (59, 53, 1874, 1864). Some other great years include 1888,1900, 1929, 1949. Yet as reported in my previous Blogs, famous vintages like 1945 & 1961 sometimes were more controversial "light" when served next to Latour & Mouton. It seems the last century was a more reasonably priced time for trying many Lafite vintages that all are now tres cher indeed.
Therefore it was with much anticipation last week on June 29 to attend a Group of 8 dinner at Elisa in Vancouver with 9 vintages of Lafite. The wines showed better than expected but again confirmed their reputation as a somewhat vintage variable property. Believe vintages this century so far from the last 20 years are much more consistent. Some brief impressions:
1975 LAFITE: Overrated vintage generally since 72, 73, and 75 were all so poor. But especially at Lafite where respected Emile Peynaud oversaw the vinification (excellent wine of vintage 1976) for the first time. Start of changes that included active on-site management, picking later riper fruit of less acidity, less barrel aging to 24-30
months (from 32-36), and consistent bottling period within 2-4 weeks (previously had been long extended up to 12 months). Dark deep to the rim. Surprisingly young red. Tannins are less severe now with medicinal tar notes. Rather good really though drier finish. Has 24% Merlot here. Excellent with food course of Australian truffle ricotta gnocchi.
1978 LAFITE: Paler brick rim with herbal very 78 bouquet shows greener and less of earlier acidity now softer. Ready. Prefer Margaux, Palmer and La Mission.
1979 LAFITE: Dark better red colour than 1978. Reminds me of discussions with Peter A. Sichel who said the same about the higher acidity of 1979 over 1978 that maintained more deep brightness in the colour of his Palmer. Fresh delicate balanced with some of that distinctive Lafite marker of attractive refined "almonds & violets". Prefer 1979 over 1978 here (but not with Palmer). Underrated.
1983 LAFITE: Darker edged rim. Good earthy dark tea with some pretty charm and sweetness though drying at the end. Better weather in Margaux & Graves. Pichon Lalande cleaner and more complex Pauillac in 1983. Lafite is still OK.
1988 LAFITE: Intense red. Darker than 1990. Like the concentration here. Highest Merlot with 33% (Cab Sauv 67%) Classy polished structured classic Lafite impresses with a lot of finesse though could perhaps be more typically cedary – with time. Excellent silky textures. Wine of the Vintage? Future promising.
1990 LAFITE: Missing 1989 here which can be part of an exciting trio comparison. 90 has 57CS, 30M, and 13 Cab Franc in the blend. Beautiful bouquet. Lush tobacco full rich flavours and balanced acidity. Has those lead pencil shavings trademark. Successful though less cab sauv depth noticeable and more forward than expected.
1998 LAFITE: Like the Lafite engraving on the bottle neck. 81 CS & 19 M with only 34% in the Grand Vin admired. Dark deep look. Structured. Stylish. Outstanding Left Bank wine in that hyped Right Bank Merlot Year. Classic. Surprised at the top quality here! Most impressive indeed.
1999 LAFITE: Another successful surprise. LIke the engraved year and unique total solar eclipse "happy face" emoji on the neck of the bottle. Only 1/3 in Grand Vin selection of 74CS, 18.5M, 6CF and 1.5 Petit Verdot (only year plus 1996 to have both cab franc & petit verdot in the blend). Lovely more elegant harmony reminding me of their special 1953 with a delicate lift. Beauty.
2012 LAFITE: Only 38% in Grand Vin of high 91% CS, 8.5M, and .5PV. Black young look with dense spicy smoky aromas. Good sorting in an uneven ripening year. Riper styling more approachable tannins.
Rare treat to update my keen interest in Lafite. Always results in the most interesting tasting. Sometimes Lafite is the very best of the vintage. Sometimes just very good. Sometimes expensive but rivalled in quality by other Bordeaux properties. Need to keep tasting and learning!
---
You might also like: