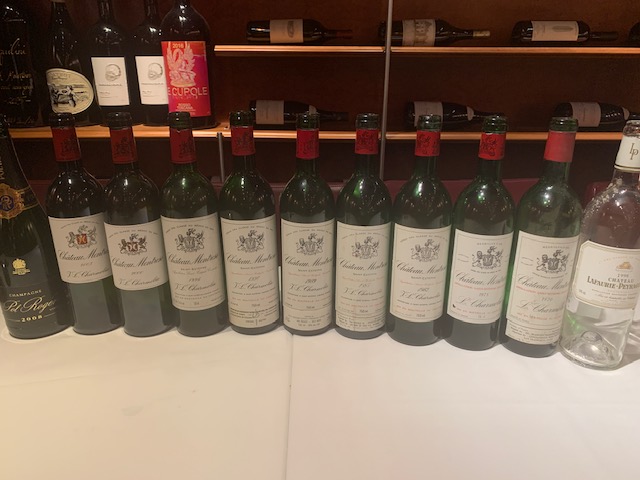 So much safer to organize smaller groups for wine dinners now rather than the previously more common "banquet style" events. Our Group of 8 worked out perfectly in 2 smaller groups of 4 each with only one person on each side of two large square tables at Blue Water Cafe in Vancouver on September 22, 2020. More difficult to do this for an IWFS Branch meeting but suggest you try it out in some modified way with no reception but for immediate sit down at your place. This occasion was to study, compare, and enjoy some key 9 vintages of Château Montrose from St. Estephe ranging from 2003 back to 1970. Once again this property showed the impressive big dense concentrated terroir of their site plus an amazing ability to age and develop complexity over time. The dinner commenced with 2008 Pol Roger Brut both an outstanding house and vintage that is delightfully approachable now but also displaying such a fine future with perfect balance.
The nine vintages of Château Montrose were served in three flights from youngest to oldest with accompanying food courses served each time after an appropriate 10 minutes first for studied wine reflection. A few brief impressions by your scribe:
2003 CHATEAU MONTROSE: Highly touted because the clay soils of St. Estephe retained their moisture better during that infamous Summer heat year. Deep dark colour with atypical ripe opulent almost jammy cassis mocha notes with lower acidity. Intense long and enticing but softer textures and tannins than normal from this property. Likeable & already approachable.
2000 CHATEAU MONTROSE: Dense darkest fruits but just starting to open up. Firmer more structured with buckets of classic fruit and polished tannins. So powerful yet balanced. Wonderful now but could use more cellaring to become one of their best vintages of all time. What a future!
1996 CHATEAU MONTROSE: Palest of first flight with a browning rim. Open evolving herbal red fruits. Not a big rich tannic St. Estephe but leaner more ready to pair with food presently. Very good but in very tough company here in this first flight against those super stars 2003 & 2000.
1990 CHATEAU MONTROSE: Fun to compare again this celebrated 1990 with the twin 1989. Your scribe always prefers the 1990 and here it is darker deeper and so very impressive. Maybe not 100 points but most worthy of very high recognition indeed. Extra mid-palate intensity and pure sweetness here! Seems to be meshing together better with more complexity ever time tasted as the years go by. Winner.
1989 CHATEAU MONTROSE: Good depth but a slightly more paling edge. Bouquet has floral herbal notes with almost a touch of eucalyptus – where did that come from? Can start to enjoy this now but no rush. Would drink it before your treasured 1990. Excellent but over-shadowed again this time next to that magnificent 1990.
1985: CHATEAU MONTROSE: Much lighter and easier drinking here. Produced during the less dense more merlot period by Montrose from 1976 to 1985 inclusive. However still shows some of that typical 1985 vintage charm which is so likeable. Simpler herbal softer styling but enjoyable nonetheless. Surprised with the duck course
1982 CHATEAU MONTROSE: Dark looking with a good clean bottle on the nose presented here. This Montrose always showed well early on but still is on a beautiful plateau today. Nice freshness here and underrated. Enjoy.
1975 CHATEAU MONTROSE: Have tried more of this vintage of Montrose than any other. Tends to be bottle variable but recently have enjoyed some stellar very St. Estephe examples. Always like the very high cabernet sauvignon (70%+) this year provides but strong old style austere tannins can be forceful. This bottle is quite brown and disappoints as slightly musty. Wine has lots of structure if stored well preserving the drying out fruit.
1970 CHATEAU MONTROSE: Blend of 65/25/10 cab sauv/merlot/cab franc at 50 years old. Looks dark and much more youthful. So much fruit left and showing the class of a second growth here. Tried many bottles of this over the decades and find it so consistent. One of the treasures from 1970 and a true classic.
Reinforces my long held opinion on the deserved second growth status of this property. Some of the best preserved older wines from Bordeaux IMHO have been Chateau Montrose with very fond personal memories recalled among others of that superb pair of 1953 & 1952, 1945, 1928, and 1870. A good cellar investment in great vintages for sure.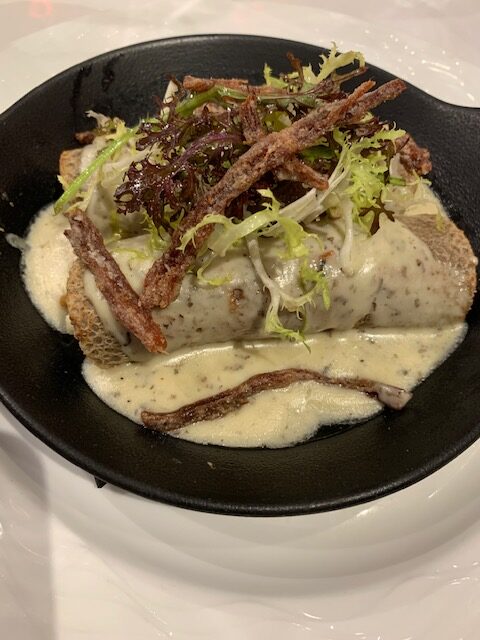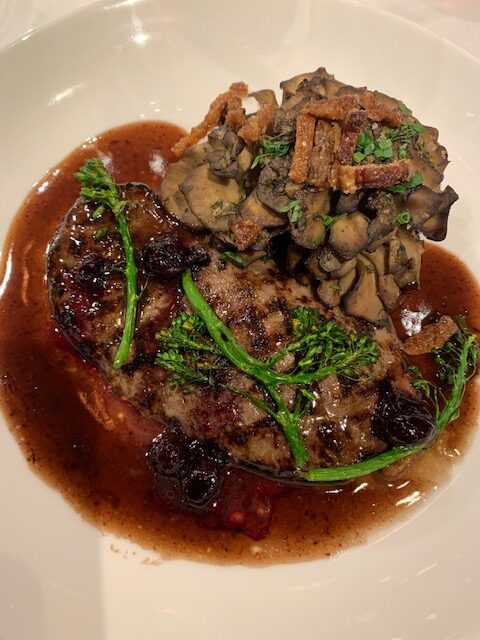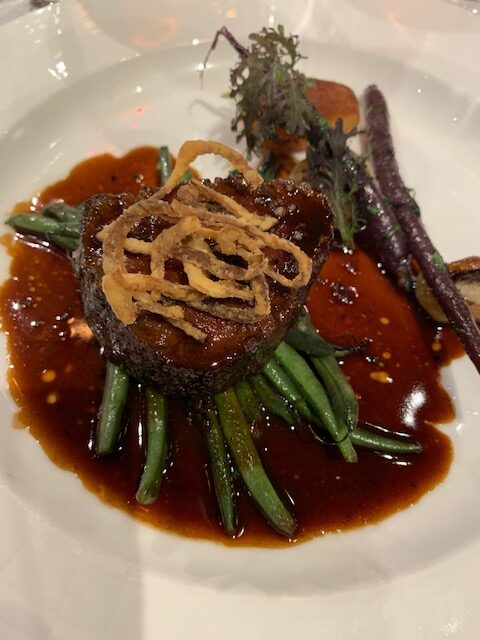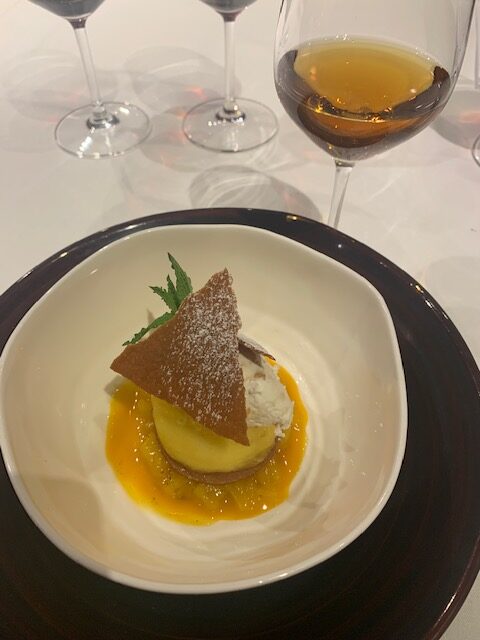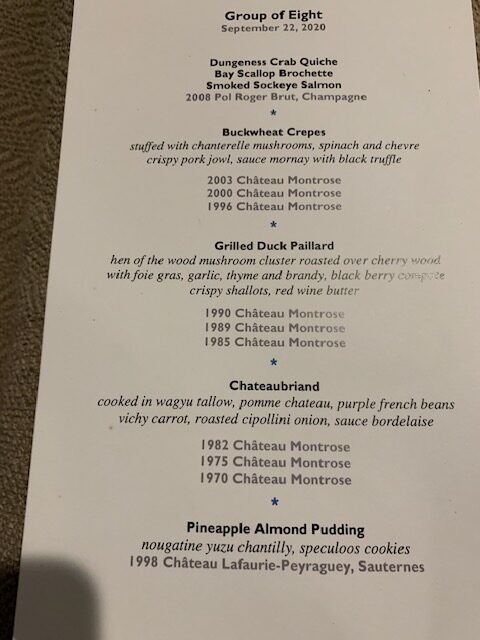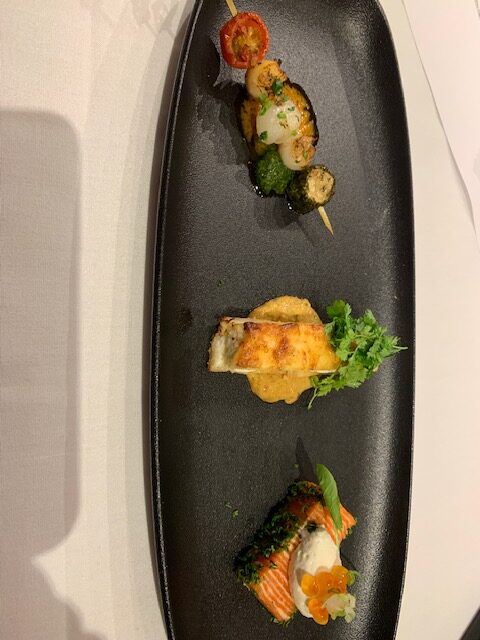 ---
You might also like: