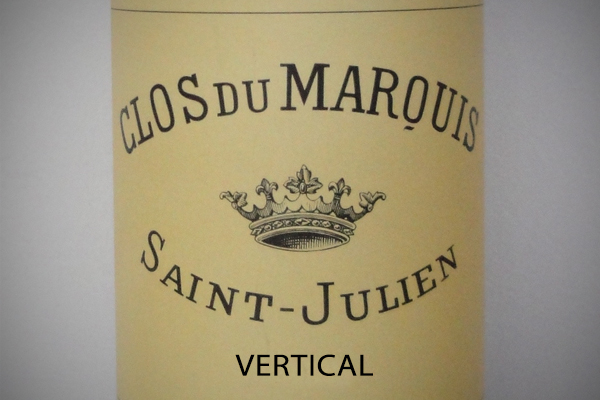 By Tomas er (Own work) [CC BY-SA 3.0 or GFDL], via Wikimedia Commons
It is a real treat and an honour to conduct each September a red Bordeaux tasting in Vancouver with my good friend "Mr. Sauternes" Bill Blatch. This year we featured 8 vintages of that unclassified St. Julien but equivalent to a 3rd or 4th growth Clos du Marquis. Now a part of the Domaines-Delon.com which includes the prestigious Chateau Leoville Las Cases 2nd growth St. Julien, Chateau Nenin in Pomerol, and Chateau Potensac Medoc it was brilliantly managed from 1976-2000 by Michel Delon and most impressive wines these days by Jean-Hubert Delon. It is not a second wine of Las Cases (which is Petit Lion first started in 2007) but specific vineyard plots used since 1902. The wine is capable of complexity, power, and refinement as was shown here at this tasting. Some brief impressions with detailed stats that Bill obtained for us from the Chateau:
1990: 70/22/8 of Cabernet Sauvignon, Merlot, and Cabernet Franc harvested 20 September to 6 October Alcohol 12.95 Early budburst & flowering, hot dry Summer with rainstorms end of August but optimum conditions for ripeness. Shows mature colour but enticing coffee chocolate elegant bouquet with concentration of seemless balance. Oldest wine and very popular choice at this tasting.
1998: 54CS/36M/7CF + 3 Petit Verdot harvested 23 Sept-12 Oct Alcohol 12.70 Better vintage for Right Bank but seems still quite fresh though in a more herbal style that Bill preferred more than your scribe. I suggested pairing it superbly with a green pepper pizza but Bill felt it would age further and match well with most foods. Quite nice.
2003: 54CS/43M/3PV Early harvest 11-26 Sept. Natural alcohol 13.3 Exceptionally hot March & April + rain in June during blossoming + real heat wave Summer (over 40C) + blessing of early Sept. rain. No acidification. Unique smoky sweet cherries & ripe fennel. Drinking well presently.
2004: 57CS/38M/2CF/3PV Late Harvest 4-17 Oct. Alcohol 13.15 Flowering good but cool Summer. Much softer entry with earthy dank tobacco flavours and outclassed here.
2005: 50CS/37M/12CF/1PV 21 Sept-7 Oct. Alcohol 13.45 Dry cold winter with early budburst beginning of April + even blossoming last week of May. Sunny and very dry Summer resulted in thick skin small berries (Bill says: "dry juice & not opulent sweet"). Cedar forest floor concentrated fruit impress but not singing now. Disjointed. Bill feels the wine confirms the old saying that CS gives round long tannins but high Merlot % gives rougher square tannins that are presently displayed here. Surprisingly low CS for this vintage.
2007: 58CS/35M/5CF/2PV Sept 24-Oct 7 Alcohol 13.44 Very hot Spring but cooler July & August slowed it down with good Sept. On fine drinking plateau now in generous style with their less ideal fruit going into first time 2nd wine Petit Lion. Less depth. Simpler.
2009: 70CS/20M/8CF/2PV Sept 22-Oct 7 Alcohol 13.66 Best possible flowering & berry set. Hot with very little rain. Now a walled enclosed vineyard as the Clos name indicates. Great vintage shows in a fatter velvet silky easier to drink attractive cassis style. Less acid seems almost oily but so charming. Bill feels it is starting to close up and destined for a long life.
2010: 75CS/17M/8CF Sept 28-Oct 13 Alcohol 13.8 Very dry hot April but slowed down by cool May & June. Sunny July-Sept. Bill says it was hot but interrupted by brutal storms and temperature changes that has made the vintage more chunky and evolving. Another outstanding wine that shows a more graphite classic style with a long finish but  is much less showy. Friendly debate between us of comparing old 1959 & 1961 styles to current 2009 & 2010 but of course entirely different times. Will be interesting to monitor how this current pair evolves with time in the bottle and which one ages the best. Asked Bill about preferred service of either one at a dinner presently and he recommends decanting at 8 am.
Finished up with 2003 Chateau La Tour Blanche Sauternes with the highest ever very sweet 191 grams/litre of sugar. Did one picking instead of their usual 3-8 time passes. Bill points out the defining unique "spearmint" of this property and the freshness remaining that will likely turn to butterscotch with more bottle age. He is a big fan of 2001 Sauternes but now feels 2009 will be the best ultimately.
What are your thoughts on the preferred Bordeaux red vintage between 2009 or 2010?
---
You might also like:

Loading ...