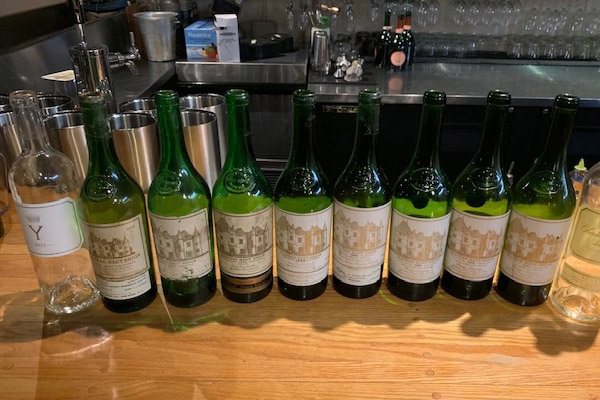 Your scribe already has received several enquiries as to the best wine tasted during the year 2019. Hopefully it might be still to come during this festive season before the next decade of the "twenty-twenties" arrives. However, presently it is 1989 Château Haut-Brion (H-B) from Pessac-Leognan in Bordeaux France. In fact it could be several wines of this property as shown at two recent vertical tastings one held in February and another in October. My admiration for H-B goes back a long way to the seventies and eighties including the legendary Marvin Overton hosted extensive vertical at his Texas ranch over several days in April 1986. The late Jean-Bernard Delmas brought along directly from the Château their outstanding 1947 "fresh" white in magnum (1919 was also sensational) but the reds shone too with very special bottles of classic 1961, charming 1959 & 1953, structured 1947, monumental 1945 (again superb at the Château in July 2015), 1934, 1929 (better than 1928), and 1924. Older wines 1923, 1921, 1920, 1919, 1918, 1907, and 1899 very mature bottles and not showing as well on this occasion. Remember Saturday June 27, 1998 after several hours researching the historic wine archives at Daniel Lawton's offices a most memorable intimate dinner at the Château with M/Ms Jean Delmas, H.R.H. Prince Robert of Luxembourg and a close friend from Chicago studying blind the 1982 & 1964 among other treasures. Certainly 1989 is truly outstanding but 1990, 1995, 1998 and 2000 are also great wines. More recently under the continuing astute direction of Prince Robert, deputy managing director of expanding Domaine Clarence Dillon Jean-Philippe Delmas (since 2003), oenologist Jean-Phillpe Masclef and outside consultant Stephane Derenoncourt (from 2004) the property goes from strength to strength. Even the current release vintage 2016 is receiving rave reviews with several 100 point scores using a blend of 56% merlot, 37+ cab sauv and 6+ cab franc in another balanced intense elegant terroir specific winner.
The two 2019 verticals of Château Haut-Brion were as follows:
(A) February 11 : 2002, 1998, 1995, 1986, 1985, 1979, 1978, and 1966.
(B) October 22: 2002, 1999, 1996, 1995, 1989, 1983, 1982, 1976, and 1966.
You will see that 2002, 1995, and 1966 were served at both events but 14 different vintages were compared. Some quoted property ratings and stats plus brief personal impressions:
2002: "A Good Year 336 mm rainfall long and very elegant". More potential than expected from youngest vintage showing concentrated silky tannic fruit structure. Surprise. Bottles consistent.
1999: "A Good Year wild weather 567 mm rainfall softness delightful". Lighter easy accessible charming most drinkable with olives and herbs plus some finesse.
1998: "A Very Good Year 537 mm rainfall August exceptionally hot Ripe Smooth Coffee & Cocoa". Rich full and very stylish has minerals with a full harmony of elements with a long finish.
1996: "A Good Year 516 mm rainfall 23 days above 30C – Vintage of contrasts Grapes sour but wine supple CS/CF better than Merlot". Tad musty to start Cleared somewhat Some greenness. Disappointed.
1995: "A Very Good Year 348 mm rainfall 30 days above 30C Discernable tannic structure but mellowed Typical burnt aromas of H-B dominate nose". Cleaner than 1996 has preferred riper merlot fruit with good structure. More serious more depth. Stylish. First bottle less dramatic but showed forwardly tobacco notes.
1989: "A Very Outstanding Year 359 mm rainfall 22 days above 30C Very hot very dry. Aromatic & harmonious quite low acidity Reminiscent of 1959". Fortunate to try this wine several times this year and always is a consistent beauty of harmony with a subtle yet complex bouquet and refined smooth flavours. Should last a long time with this perfect balance. Amazing to combine such power + finesse together – a difficult thing to do!
1986: "A Good Year 386 mm rainfall 18 days above 30C Very tannic typical Graves burnt nuances & slightly caramelized fruit that will age relatively slowly". Softer than expected for a tannic vintage with some surprising charm drinking well.
1985: "A Very Good Year" 368 mm rainfall 17 days above 30C Great, velvety and elegant with breeding very distinctive of the estate, long on the palate and great complexity". Excellent showing with dark colour, impressive feminine nose and delicious palate. So much finesse.
1983: 'A Good Year 477 mm rainfall 21 days over 30C Supple Round Well-structured Long". Good micro-climate for Margaux & Graves in 1983 but this bottle was badly corked.
1982: "An Outstanding Year 402 mm rainfall 16 days over 30C Superb vintage Tannins rich supple and mature Finish remarkably full and complex". A delicious treat as expected but softening now compared to more vibrancy when tasted back in 1998. Perfect plateau of enjoyment.
1979: "A Very Good Year 427 mm rainfall 11 days above 30C Tannin-rich powerful thoroughbred". Darker than 1978 with higher acidity. Some power but drying and simpler.
1978: "A Good Year 337 mm rainfall 11 days over 30C Very rich, dense and harmonious with remarkable balance full of charm dominated by ripe fruit". Lighter look than 1979 but charming and aromatic Quite tasty and enjoyable.
1976: "A Good Year 427 mm rainfall 27 days over 30C Gentleness, charm and wealth of diverse fruit aromas Supple". Big surprise of second tasting from a well stored bottle. Unheralded but fresh charming elegant with finesse. Very H-B elegance and lovely typical "burnt-caramel" of this property. Impressed.
1966: "A Very Good Year 373 mm rainfall 8 days above 30C Vigor and youth Body & Volume". At 50+ showing the sinewy long distance runner characteristics of this vintage but very good (La Mission Haut-Brion better) Second tasting bottle disappointed with a detracting volative acidity VA issue.
Congrats to Château Haut-Brion! Thanks for that magnificent 1989 – and many others.


center
---
You might also like: