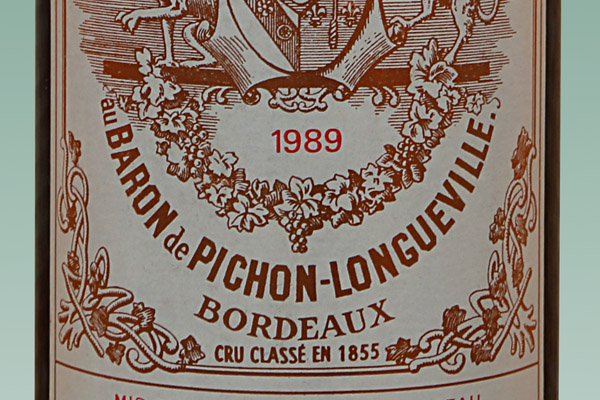 By Jamain (Own work) [GFDL or CC BY-SA 3.0], via Wikimedia Commons
Hard to believe the 25th anniversary has already arrived for the 1989 vintage. An excellent year for wines in many parts of the world. Bordeaux flourished with a hot summer resulting in a large early very ripe harvest at lower acidity levels released at high prices. Enjoyed last week two retrospectives on 1989 Bordeaux one in Vancouver by our Commanderie de Bordeaux group and another in Yountville California by Society of Bacchus America. I have some mixed feelings overall on the consistency of this year but there are some great bottles. So if you have any of these stored away it might be a good time to check them out.
In Vancouver the generally well thought of region of Pomerol didn't sing. Vieux Chateau Certan which started picking their merlot early at the end of August appeared in shades of brown showing its age rather weak thin and drying out – bad storage?; the Fleur de Gay 100% older vines merlot from La Croix de Gay showed deeper reddish colour with a lovely intense ripe sweetness but rather one dimensional; Le Gay with 35 cab franc in the mix had a dark look with floral elements on the bouquet but very soft low acidity for drinking now; and the usually powerful L'Evangile (82, 90, 00) OK with slight iron minerality underneath but light and aging rapidly in colour and taste. The Left Bank faired better with Pichon-Longueville-Baron the clear winner. I have been following this wine even before it won in 1992 the Wine Spectator Wine of the Year Award. Displays now an impressive dark young red colour right to the rim with buckets of round ripe rich complex fruit. A knockout structured Pauillac with the right kind of tannins and fun to compare with their delicious 1990 both vintages drinking well but no rush to consume. Outshone the less rich spicy Latour, the elegant lovely stylish textbook St Julien Leoville Las Cases and a disappointing browner rustic Calon Segur from St. Estephe.
In California my impressions were slightly different. The Clinet showed success of lovely floral herbal ripe Pomerol stylish fruit. Pichon Baron disjointed with a surprisingly acid edge atypical for this vintage while a second bottle showed better balanced fruit but still leaner than expected. Why? Storage? Even Lynch Bages was more together with a better showing of smooth full round sweet fruit. Montrose as expected dark solid powerful extracted (like 1990) but coarser with loads of potential but way too young presently. The two stars for me resulted in a dead heat finish between Haut Brion & Margaux. Fortunate to try this HB 100 pointer RMP several times and always is truly outstanding. Picking here commenced August 31 and again style, elegance and vibrancy impress but seemed harder, more tannins and still almost closed in to me. Last month a bottle of 1989 La Mission Haut Brion (another 100 pointer) was more impressively open with a spectacular bouquet. The 1989 Margaux amazed combining that elusive combo of elegance with power in a rounder classy cab sauv statement of complex perfumes from exotic flowers. So fresh alive and truly delicious. This wine seems to show improvement ever time I try it – but then this one was served in a double magnum three litre format! I am sure it is outstanding in 750 ml as well.
All in all a pretty good showing by 1989 Bordeaux at 25 but variable from property to property. Look forward to comparing the twin vintage of 1990 next year.
Please chime in with your comments on a 1989 Bordeaux you have experienced or a 1989 from any other wine region you have enjoyed.

Loading ...