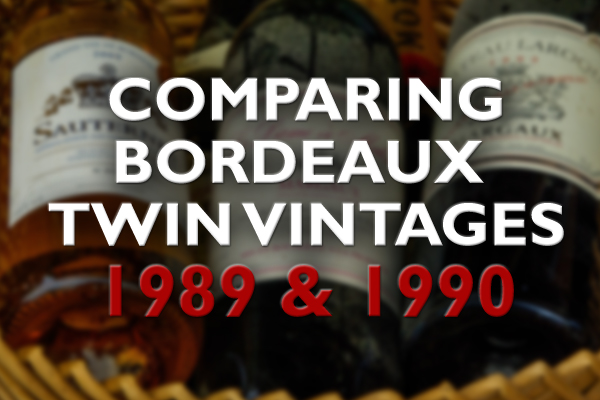 Over the past year I enjoyed 4 dinners each featuring 9 different 25 year old top Bordeaux organized into the left and right banks and from the vintages 1989 and 1990. The purpose was to see how the wines have developed and whether one vintage is clearly better than the other. Certainly the weather conditions were somewhat similar. The 1989 was initially heralded as vintage of the century when picking commenced in late August the earliest start since 1893. The 1990 was at the time one of the most sunny, dry and hot vintages in Bordeaux history. Both had big productions from smaller berries with quite low acid and higher tannins.
1989 Right Bank: All wines on an easy drinking fleshy plateau. Solid vintage for Pomerol. Slight nod to Trotanoy though Canon (St. Emilion) also shining brightly. Support for L'Angelus, Vieux Ch. Certan, La Fleur Petrus, La Fleur De Gay & the more unique Figeac. Underrated La Dominique lovely with La Grave Trignant de Boisset serviceable with food. Good showing group.
1989 Left Bank: Mouton the clear winner for me exhibiting power, structure and cedary class though others preferred Wine Spectator Wine of the Year intense flavourful Pichon Baron. Impressive solid fruit Montrose, lighter but more elegant seductive Palmer, and the plummy forwardly Latour all had supporters. Lynch Bages combined power with minty finesse while the Pape Clement showed more earthy. Leoville Barton and Gruaud Larose both good but drier and more angular in this company. Some outstanding wines.
1990 Right Bank: Canon showed well again as did Trotanoy and L'Angelus but the clear winner on the night was the outstanding Cheval Blanc. Troplong Mondot & Parker 100 pointer Beausejour D-L competing well while Vieux Ch. Certan & La Dominque showed better in 1989.  Mixed results.
1990 Left Bank: Montrose coming around with big fruit but more charm than I expected and maybe approaching that 100 point Parker rating. Lafite superb but still closed needing another 5-10 years to blossom out. Prefer the better depth of fruit and structure on the Pichon Baron over the also very good 1989 (noticed this before). Leoville Barton has that iodine noted deep fruit, Rauzan Segla creamy texture and long finish, and Lagrange classy with buckets of fruit and best value of all these wines. Palmer had that always astonishingly attractive nose but leaner and drier (1989 better), Pape Clement ripe and jammy, but the big expectations for Leoville Las Cases were unfounded as unfortunately it was corked. Mouton & Pichon Lalande not in this flight but have shown rather disappointing in other tastings compared to their 1989s.
Conclusion: Both 1989 and 1990 have developed well at 25 years of age on the right and left banks. As you would expect some properties have done better in one vintage than the other. My favourite group as a whole was the 1990 Left Bank wines (even with Las Cases corked!) but all four events had some treasures. Do you tend to prefer one vintage of the twins over the other?
---
You might also like:

Loading ...