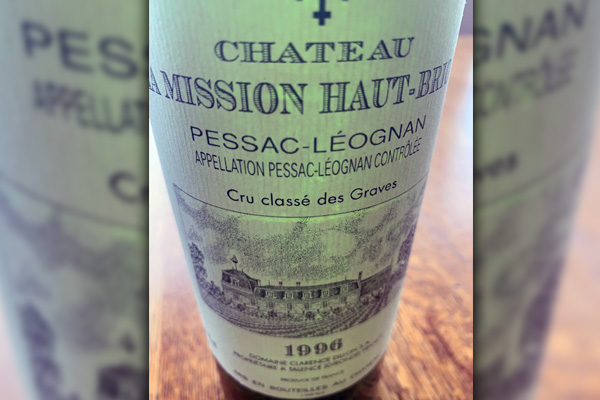 Your scribe is a long time big fan of the Pessac-Leognan property of Château La Mission Haut-Brion (LMHB). Check out the posting on this Blog of December 16 last year on their sister property of Château Haut-Brion (HB). LMHB was owned for most of the 20th century by the Woltner family until acquired in late 1983 by Domaine Clarence Dillon (altready owners of HB). Some of the greatest intense Bordeaux of all time were made by the Woltners including that remarkable run during the dry hot fourties of 45, 47, and especially the explosive truffled outstanding 49! The Dillon family has carried on this great tradition and added to these glories with some treasures including those incredible twin legends of 1989 at both HB & LMHB. LMHB under the Dillon family has evolved in style into a more elegant wine every year consistently receiving high critic scores with more recently 2005, 2009, 2010, 2015, and 2016 all approaching 100 perfection. The vineyard is planted with 47/42.7/10.3 of cabernet sauvignon, merlot, and cabernet franc on their special gravelly-sandy clay subsoil at density of 10,000 plants /hectare. In Vancouver on February 10, 2020 another mini-vertical of 8 vintages in two flights of LMHB was experienced but uniquely served arguably not to best advantage with a Fishworks restaurant dinner of two white fish courses rather than a more classic pairing. Quite a buzz of anticipation in the room as to how these wines would match up with fish. All LMHB vintages showed surprisingly well probably because both sablefish & sturgeon were well chosen for their weight and cooking methods used rather than a more delicate or assertive fishy oily variety. Interesting and educational for sure but your scribe believes the tannic textures of the LMHB wines would have been enhanced even further by a more usual protein mate. The classy aperitif deserves a mention as Krug Grande Cuvee 163rd edition (currently have released the 168th) is composed of 73% of 2007 vintage (almost equal chardonnay, pinot noir, and pinot meunier) plus Reserve wines from 11 previous years (back to 1990) adding to the overall complex creamy roundness. A joy!
A few factual notes on the 8 LMHB from the Château plus my impressions:
1999: 567 mm rainfall, 18 days over 30C (86F) Wild weather. "Lively since release and consistently drinkable till 2030". Nice cocoa full textures with softer tannins. Surprise.
1996: 516 mm rainfall, 23 days over 30C Inconsistent weather. "Very aromatic dominated by Cabernet". Found it most classic concentrated year with more austere tannins coming around but still a deep youngster. Much better than expected.
1995: 348 mm rainfall, 30 days over 30C Early year. "Powerful nose Equilibrium Unusual softness". Drinkable perhaps overrated following 4 more modest vintages from 1991-1994 softer solid but simpler.
1990: 291 mm rainfall, 31 days over 30C Abundant healthy crop. "Ripe slightly stewed fruit and tannins drinkable to 2030." Drinking smooth full riper lush and lovely but not as refined as silky legendary 1989 (tried recently but not served tonight).
1988: 365 mm rainfall, 11 days over 30C Skins thick and rich with beautiful structure. "Nose very typical LMHB rich with taut tannins drinkable to 2030." Bright look harder cedar nose Bit severe with more acid & structure than attractive fruit presently. This one actually improves with the sablefish.
1986: 386 mm rainfall, 18 days over 30C Cold Spring Hot & Dry summer continuing till end of harvest. "Scent of rather heavy wild game Soft but chunky Can age." Dark with open bouquet of cigar box and tobacco with some turned earth. Impresses.
1985: 368 mm rainfall, 17 days over 30C Longest drought Late year "Nose violent of licorce and wild game Concentration of tannin Acidity zing Splendid." Cedar nose Elegant Attractive More Merlot Smoky Quite Graves in character showing.
1983: 477 mm rainfall, 21 days over 30C August hot but humid. Harvest weather beautiful. "Burnt wood, caramel, tobacco, and cocoa powder. Finale slightly dry. Wonderful bottle that is tannic and still strong." Good red colour Old style earthy mushrooms Entry good but dries on the finish with tannins still there. Needs drinking now. Doesn't show special advantage of 1983 Graves micro-climate.


center
---
You might also like: