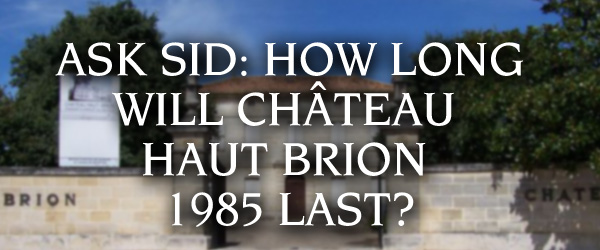 By Henry Salomé (Own work) [GFDL or CC BY-SA 4.0-3.0-2.5-2.0-1.0], via Wikimedia Commons
Question: We have a bottle of Château Haut Brion, 1985, Graves, Red Bordeaux Wine. When is the latest that it should be consumed?
Answer: What a treasure you have there! 1985 Bordeaux are underrated generally because they were so delicious right out of the gate and concerns were expressed that they would not last. Haut-Brion is a star in every vintage because of their unique special terroir providing wines with outstanding balance. Robert Parker in his Bordeaux book 4th edition (2003) gave your 1985 a solid 95 score and his stated "Anticipated maturity: now – 2012" but it will last a lot longer. Now at 30 years of age where well stored it still should be on a fantastic plateau of elegant charming enjoyment. I tried a bottle of 1985 Haut-Brion in 2015 that was mature but a pure stylish delight. Best vintages of Haut-Brion surprise you as they seem to go on forever. Last year at the Château I tried the 1945 (granted a fantastic concentrated vintage) that was still amazingly complex yet fresh and it is 40 years older than your 1985! Wonderful to drink the 1985 now but it will last at least several decades more. Impossible to give you a specific definite ending date. Another alternative you always have is to auction it off with current prices in the $400 US range and continuing to go up. Enjoy!
---
You might also like:

Loading ...