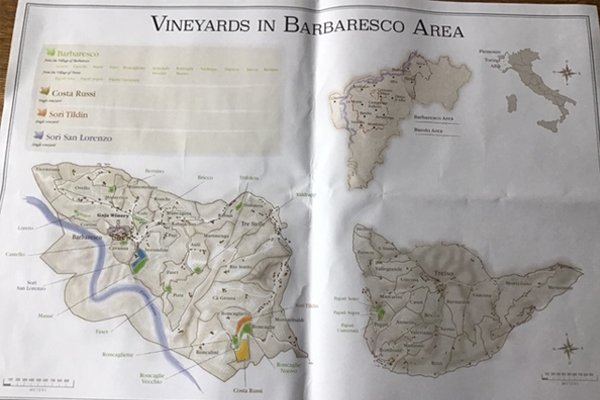 Always enjoy a visit to the vineyards in the Barbaresco area of Italy which includes that wonderful village plus Neive & Treiso. They are still so uniquely quaint when compared with the always increasing in size Alba and much busier Barolo region. In fact they posted a sign on the main road of Barbaresco "No cars beyond this point" on Tuesday October 8, 2019 saying "The Nebbiolo Harvest is happening now". What a total community effort saying "You are welcome to walk and watch". Got to like that. The last 2 weeks before harvest were perfect for nebbiolo ripening with cool mornings, warm afternoons, and cool nights. Encouraging. So many small wineries but being led by the quality for price Produttori del Barbaresco and the iconic Gaja. Visited both for updates this month and continue to be very impressed with their outstanding wines.
PRODUTTORI Del BARBARESCO: Spent most of October 7 (the day before their 2019 harvest of nebbiolo commenced) with the incomparable so knowledgeable Aldo Vacca including a tour of their 2 wineries & vineyards, a wine tasting, and a tarajin tartufo bianco d'Alba lunch at next door Antica Torre. Aldo spent 4 years at Gaja but now 25 at PdB bringing them to their elite status. Unbelievable how he has brought all 54 members farming 110 hectares onto the same page focusing on what is best for overall quality of the coop including reliable flagship Barbaresco. Their 9 single-cru Riservas launched in 1967 are now sensational at showing the terroir differences in those vineyards. They range from powerful full "Barolo of Barbaresco" Montestefano, austere sharper finish Montefico, bright high acid affected by northern winds and closest to Tanaro river Paje – improving by global climate change, softer more approachable Pora & Rio Sordo, and highest at 320 metres where the 15% & 24% calcium soils meet for the most complete elegant Rabaja (not easy to appreciate young). PdB has larger holding in lively Ovello and Aldo says they could increase the cru bottling by 6 times there while in Paje not much land owned so most of it goes into that cru. Good to know as this makes Ovello perhaps most reliable in difficult vintages by their best selection. The coop elects 9 members to a Board for 3 year terms and appoint a president with meetings held monthly. Interesting decision how in 2010 (a great Barolo vintage) no crus were declared because more rain and wet soil in Barbaresco. Some members had excellent quality grapes and were paid accordingly but that improved the 2010 Barbaresco. 2014 was the reverse with Barbaresco enjoying better weather than Barolo (who had more August & September rain) with a smaller resulting production but turned out better than consumers realize. They are presently available at BC LDB stores at relative value of $70.99 Canadian a bottle (with mags of Montestefano, Ovello, and Rabaja at $145.99). Aldo has been mentoring Luca one of the family members for the last 5 years and eventually hopes to step aside to find time to ride his bicycle more and perhaps remain in a role as reception room host. Your scribe also elicted from Aldo on this trip seven more learned gems:
1. Overall quality of nebbiolo vines has improved now as all clonal selection used since 1995 must come from University of Torino research on low yielding fruit best aromatics virus free 12 dozen mother plants propagated supplied by the nursey.
2. Better weather plus old clones with vine age and these choice new plants are resulting in the best nebbiolo wines ever produced.
3. Dolcetto now a tendency to get too ripe or being picked too early so some being replanted with nebbiolo.
4. Alcohol levels go by .5 degrees so where it says 14.5 on the label it actually could be anywhere from 14.1 to 14.9.
5. 2018 is good but perhaps not complex enough. Keep separate now but may blend later. Like 2010 may be too much on the light side.
6. 2015 is a fantastic vintage mellow and very ripe while 2016 also exciting being very bright.
7. Regulations allow both Barolo & Barbaresco to use screw cap closures. Might be a good marketing opportunity for some producer to try.
GAJA: What can you say about this historic family. So great. What leadership with a continuing emphasis on quality that they have provided for the whole Piedmont region. From 1961 only using their own grapes. Great history lesson again at the winery from the always personable Sonia Franco but they normally don't take visitors. Lots of old botti including #1. Wood can dry out during hot summers so spray to keep humidity up. Enjoyed time again with Gaia Gaja who is following her father Angelo. She spent 2 years in San Franciso before coming back and we reminisced about the Mondavis and the Napa wine scene. She tried from their own cellar recently a Carneros Pinot Noir from the seventies that was still very good. Also that her last visit to Vancouver for a wine event was held on the unusual site of the Canucks ice hockey rink floor. Gaia feels the 2015 is very good for them with healthy grapes, good acidity and lots of finesse too – an impressive Barolo Sperss. 2016 is vibrant & fresh as shown by oldest vines Costa Russi, higher up Sori Tildin & richer complex Sori San Lorenzo all opened at 8:30 for a noon tasting. Aged 1999 Barbaresco so elegant with a remarkable mature bouquet of true tar & roses combining power & delicacy. Surprise was how fresh the 2006 chardonnay remained with complex pineapple and pears. Nothing but admiration for Gaja.
So much fun just walking through the vineyards and spending time trying to understand their uniqueness better. A 11K jaunt to Neive round trip was super and found there a new high quality wine inventory store Vinoland with free tasting run by young enthusiast Vincenzo Nicotra from Sicily. Also check out Bottega Dei Grandi Vini di Treiso Enoteca Comunale and amazing culinary treats and vast cellar at La Ciau del Tornavento. In Barbaresco the new keen to excel Campamac restaurant and informal fun Koki wine bar are a must. Highest recommendation to stay right in the town at Casa Boffo Camere with Carlo & Laura for comfort & tremendous hospitality.
---
You might also like: