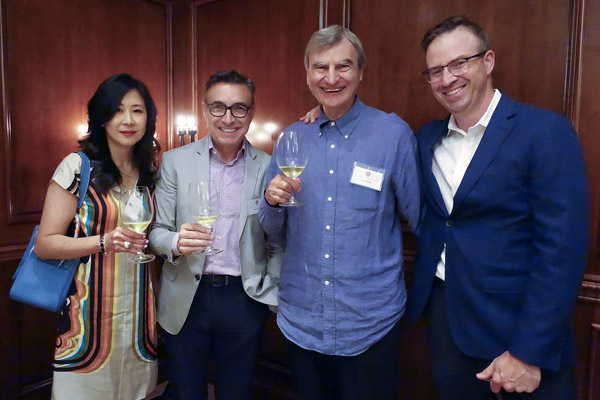 La Paulee de Meursault originated this great idea of a celebratory lunch with attendees bringing along bottles of wine to contribute. Nevertheless a Paulee is much more than a simple BYOB but a most sociable lively convivial sharing around in the joys of wine. The original one is now the last key Monday component of the annual Les Trois Glorieuses in Burgundy held on the third weekend in November. However this concept has proved popular and has now expanded with similiar events around the world. For nearly 20 years successful ones in New York & San Francisco feature some of the greatest wines of Burgundy at tastings, seminars and dinners. Other wine regions of the world have been slower to adopt this unique vision for showcasing their wines though I noted on this Blog last year with a November 26 posting a remarkable dinner Bordeaux Paulee of First Growths.
The Robertsons (Jim & Melina) longtime dedicated leaders of the successful Vancouver Branch of the IWFS decided to organize with the outstanding team at Boulevard restaurant a Paulee de Bordeaux dinner on September 4, 2019. The menu by celebrated Chef Roger Ma & his brigade provided food courses that paired well with the variety of Bordeaux bottles that showed up. The event was truly a lot of fun. Executive GM & Wine Director JP Potters expertly opened and decanted many bottles and supplied so many perfect clean Bordeaux appropriate wine glasses. He also provided knowledgeable wine commentary for our group as a most useful educational element on wine tasting that included a white wine blind (a somewhat difficult to identify Italian Soave). There was a 10 question Bordeaux quiz to try and correctly answer for a magnum of 2009 Meursault Genevrieres Bouchard Pere. Your scribe didn't enter but his wonderful spouse did and won the prize. Joan says "it is amazing what you can learn through long-time osmosis" Some tricky ones. Try and see how many you can get without using a search engine. One of the best parts of this friendly evening was IWFS members going around and providing small pours of their contributed wine to others. This was where magnums became useful like a delicious 2006 Pavillon Blanc du Chateau Margaux. This moving around visiting and sharing of wine with focused conversations proved to be a really big hit!
After starting with a variety of bubbles for the aperitif there were lots of interesting bottles to try and savour with the food resulting in many highlights. Among the whites the quality of Domaine de Chevalier Blanc is always stellar though a 1995 was quite mature showing a lot of distinctive cinnamon notes. The low yields of 100% sauvignon blanc with oak in the 2009 Pavillon Blanc contrasted nicely with the same grape variety but with lively higher yields in 2010 Le Secret Grand Bateau. Liked comparing and studying two vintages of improved Chateau de Fieuzal Blanc Pessac-Leognan with 2009 rich, full but softer & 2010 fresh more vibrant & structured. Mostly reds with a 1978 Chateau Siran Margaux mag still in good shape with that distinctive miracle vintage "herbal" touch compared with a 10 year younger Margaux of 1988 Chateau Fontarney (second wine of Chateau Desmirail). The Right Bank had a drinking well 1995 Chateau L'Arrosee and one of the real stars of the night (my silver medal winner) a concentrated so well balanced youngster of 2010 Chateau Canon (cellar this) both showing lovely St. Emilion terroir. Another Chanel owned wine started the Left Bank "fashion" show with ripe smooth 2009 Segla (second of Rauzan-Segla), solid intense Chateau Leoville-Poyferre St Julien, and very likeable easy quite complex drinking already 2000 Chateau d'Armailhac Pauillac. The Left Bank treasures included two vintages of Chateau Gruaud-Larose a classic text-book St. Julien delight of 1983 and the wine of the night 1982 (my gold medal award) contributed by the Robertsons plus high over 70% cabernet sauvignon 1975 Chateau Montrose St. Estephe finally with those strong tannins dropping and yet with still some fruit left. Finished up with an outstanding pairing of luscious Chateau Suduiraut 1999 Sauternes with that excellent work of art peach tart. Memorable event.
Recommend you try a Paulee event with your IWFS Branch – doesn't necessarily have to be traditional Burgundy – and it can be a lot of educational fun.


center
---
You might also like: