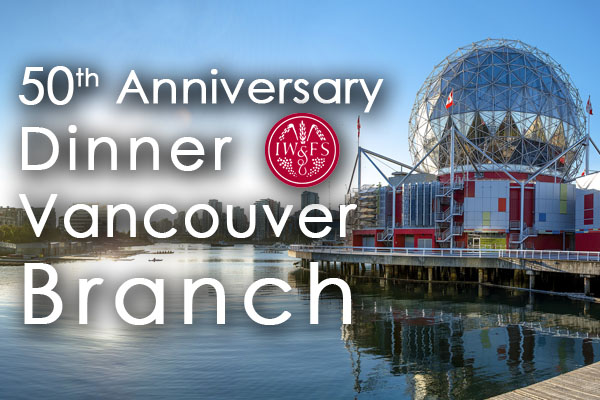 The International Wine & Food Society is alive and thriving in Vancouver. Last night our Vancouver Branch held their 50th Anniversary dinner (menu attached) at the Vancouver Club the same place where it all began back in 1967. Some wonderful stories and reminiscences throughout the evening. We toasted Andre L Simon (1877-1970) the Founder of our wonderful worldwide non-profit society in 1933 with a clear focus to bring together and serve all who believe that a right understanding of both wine and food is an essential part of personal contentment and health. We referred to the inaugural opening IWFS dinner in January 1934 for some 400 at the Savoy in London followed almost immediately by Andre's journey to America establishing the first branches in Boston & Chicago in 1934 then by San Francisco, Los Angeles & New Orleans the following year. We remembered his previous career talking and selling Champagne highlighted by the story of the 1895 Pommery showing an unclear smoky sediment after release with the whole shipment being recalled on buyer full payback price + 5%. This decision resulted in an enhanced credible reputation for both Andre & Pommery with increased sales for the heralded vintages of 1900, 1904, and 1906 and those that followed. Andre Simon also lectured and wrote books as a hobby initially and later became editor of the esteemed Wine & Food Journal from 1934-1962. Lots of admiration mentioned for his 104 published books over 66 years with the 3 favourites perhaps being By Request (1957), In the Twilight (1969) and A Wine & Food Bedside Book (1972) by then Secretary of the IWFS Claude Morny with 70 articles selected from Wine & Food Journals. Some of us old-timers recalled memorable visits to the old IWFS headquarters then at Marble Arch House at 44 Edgware Road in London.
We spoke of some of the earlier International Festivals: 1971 Paris (top restaurants), 1974 San Francisco & Los Angeles (so many memorable winemakers including legends Joe Heitz & Robert Mondavi), 1977 (drinking the 1945 Chateau Latour collected for us by Andre), 1980 Australia (so many wine legends involved including Len Evans, Murray Tyrrell, Max Lake…), 1983 Vancouver (50th anniversary included delicious 1933 Moulin Touchais & 1933 Seppelt Para Liqueur Port) and 29 years later in 2012 it again returned to Vancouver. We are proud of hosting our two Festivals which both had all local members total participation!
The Vancouver Branch is in good hands presently under the continued leadership of Milena & Jim Robertson. They were heartily congratulated and honoured with the Awards of BGA Gold for Milena & the International Andre Simon Bronze for Jim. Both richly deserved!
How many years for your Branch of the IWFS?
---
You might also like:

Loading ...