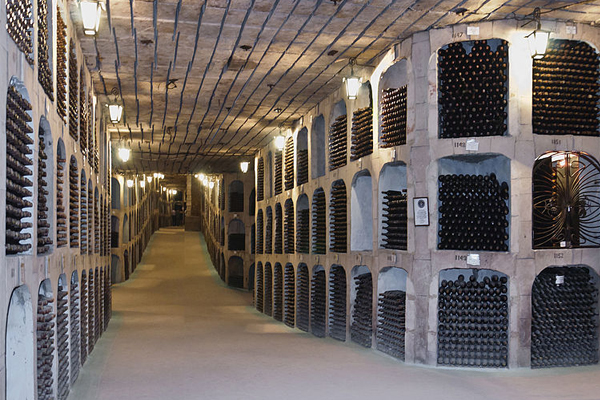 Photo: Myrabella / Wikimedia Commons, via Wikimedia Commons
By Joseph Temple
Last month, runners from around the world competed in a historic 10 kilometre race that occurred in perhaps the oddest place to hold such an event – an underground wine cellar! Sprinting past giant oak barrels and through dimly lit limestone caves, one runner told Reuters, "It's unlike any race I've ever done, a once in a lifetime experience. Running through a wine cellar is unlike anything else and there were just people cheering everywhere."
And just as this was no ordinary race, it was also no ordinary wine cellar. Located just outside Moldova's capital city of Chișinău, the Milestii Mici winery has the distinction, according to Guinness World Records, of being the world's largest wine cellar. Storing approximately 1.5 million bottles across 35 miles of underground galleries, this state-owned winery proved to be the perfect spot to hold such a contest.
Situated in a country that many Americans can't find on a map, this whole ordeal leads to a much larger question: how did Moldova, both the poorest and least visited country in Europe, end up with the distinction of having the world's largest wine cellar?
The answer becomes obvious when you take a closer look at the Republic of Moldova's rich winemaking history that dates back nearly 5,000 years. Nestled between Romania and Ukraine, Moldova has the highest density of grapevines per person than anywhere else in the world. In fact, almost ten percent of its land is covered in vines. However, unlike other former Soviet republics which have mineral, oil, and gas resources to fuel their respective economies, Moldova is dependent on agriculture, which represented 43 percent of its GDP and was responsible for half of the active labor force when the republic became independent in 1991. Simply put, Moldova loves and needs its wine.
Even more volatile is the country's political history; in the last 200 years, Moldavia (as it was known back then) was invaded at least nine times including an annexation by the Soviet Union in 1944. After creating a client state known as the Moldavian Soviet Socialist Republic (MSSR), Moscow quickly put the nation's wine industry first and foremost as part of its central planning.
Viewing wine as something that could showcase Soviet success to the entire world, diktats were given by the Ministry of Economy and Food Products to "liquidate the backwardness in the wine industry." Starting in the 1950s, as part of a production led approach, a massive vineyard planting program was initiated, which topped 550,000 acres by 1960. This was accompanied by an investment in research and mechanization for Moldovan wines, which were already popular with the citizens of Moscow. At its peak, Moldova was responsible for a quarter of all wine consumed in the Soviet Union – a record 9.6 million hectoliters by 1983, making it the sixth largest producer in the world.
It is during this period of continual five-year plans that the Milestii Mici winery was built. Named after the town bearing the same name, construction began in the late 1950s with the first bottles being stored in 1968. Unfortunately, with Gorbachev's anti-alcohol campaigns of the 1980s, which led to digging up over 75,000, the pride of having the the world's largest wine cellar meant little as the country fell on hard times.
Thankfully, events like this race are helping to spread the word that Moldova is a hidden gem just waiting to be discovered. With vineyards extending along the southern coasts and around Chisinau, a vibrant capital full of tree-lined boulevards and a lively café culture, Moldova has plenty to offer for wine lovers. And the crown jewel is Milestii Mici – a winery that every oenophile needs to visit!
Sources:
Domine, Andre. Wine. Königswinter: Könemann, 2004.
Egan, James. 3000 Country Facts. Lulu.com
Gilby, Caroline. The Wines of Bulgaria, Romania and Moldova. Oxford: Infinite Ideas, 2018.
Philpott, Don. The World of Wine and Food: A Guide to Varieties, Tastes, History, and Pairings. Lanham: Rowman & Littlefield, 2016.
---
You might also like: