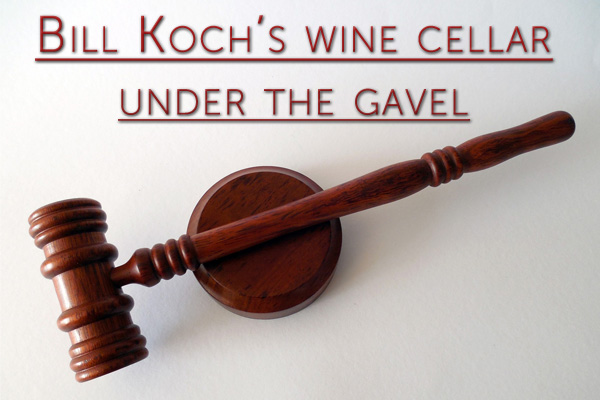 By Joseph Temple
Last week the wine world was abuzz after billionaire Bill Koch announced that he was auctioning off part of his massive collection to the general public. According to CNBC, approximately 20,000 bottles are up for grabs with Sotheby's estimating that the entire collection will raise somewhere in the neighborhood of $10 to $15 million dollars. Oenophiles may know Koch as the man who (besides his last name) spent large sums of money battling counterfeiters, most notably in the case surrounding a series of bottles purportedly owned by Thomas Jefferson. Writing about his penchant for wine collecting, author Benjamin Wallace in the 2008 book The Billionaire's Vinegar states, "He [Koch] started buying an average of 5,000 bottles a year, an acquisition rate he would maintain through the late 1980s. Systematically, Koch set out to assemble drop verticals of four iconic wines; eventually he would own 95 years of Petrus, 100 years of Latour, 120 years of Mouton, and 150 years of Lafite."
With such an impressive selection of the rarest wines from Bordeaux and Burgundy, wealthy collectors from around the world are expected to bid top dollar when all these bottles go up on the auction block in May. "Even if you don't like his family's politics, Koch's name alone on the wine list, is enough to entice the most discriminating buyer, " said Adrien Falcon, wine director at two Michelin ranked restaurants. And below are just five lots that eager aficionados will surely fight tooth and nail over to acquire.
---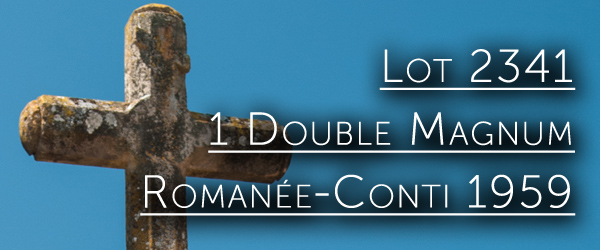 By Michal Osmenda from Brussels, Belgium (Domaine de la Romanée-Conti) [CC BY 2.0], via Wikimedia Commons
For Burgundy collectors, their mecca sits on just 4.46 acres of land in the region of Côte de Nuits. It is here where Romanée-Conti, a grand-cru owned by the legendary Aubert de Villaine gave the world some of the finest pinot noir ever made. Seeking out the very best from this iconic vineyard, many point to the 1959 vintage, which Michael Broadbent described as "faultless" with "excellent tannin and acidity." Of course, the year also marked a turning point in wine collecting. With a devalued French franc, many Americans decided that it was the perfect time to enter the marketplace. Under this backdrop, Sotheby's expects that just three precious liters of Romanée-Conti 1959 are likely to earn Koch up to forty thousand dollars.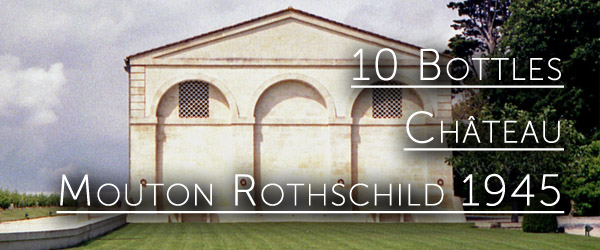 By Benjamin Zingg, Switzerland (Own work) [CC BY-SA 2.5], via Wikimedia Commons
Another lot that's guaranteed to sell quickly contains ten scarce bottles of Château Mouton Rothschild's 1945 vintage—a vintage Decanter magazine called "the greatest claret of the 20th century" and that Robert Parker christened "a consistent 100-point wine (only because my point scale stops at that number)." But in addition to what's inside the bottle is the iconic "V for victory" label design. Beginning in 1945 and signaling a bold new era in wine marketing, owner Baron Philippe de Rothschild would commission a different artist each year to design their now famous label. This decision, along with some exceptional harvests eventually led to Mouton Rothschild's upgrade to a First Growth Bordeaux in 1973. Don't be surprised if Sotheby's receives several six-figure bids on this lot.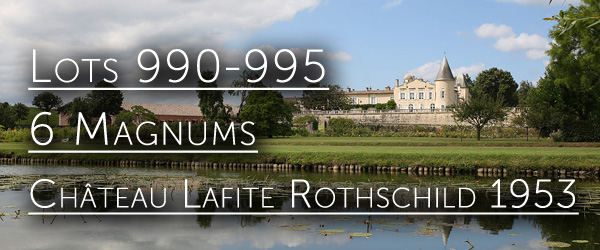 By PA (Own work) [CC BY-SA 4.0], via Wikimedia Commons
With roots that date back to the Middle Ages, Château Lafite Rothschild, the largest of the First Growths experienced a tremendous run of outstanding vintages from about 1945 to 1962. While never quite as good as Latour, wine writer Oz Clarke identifies two years in which the famous Lafite towered over its competition before entering a period of malaise: 1976 and 1953. According to Michael Broadbent the latter is "… not a wine to describe. Words simply cannot do it justice. If you are ever fortunate to share a bottle, just let it speak for itself." Unfortunately, this experience won't be cheap; a lot of six magnums may cost you $35,000 at auction.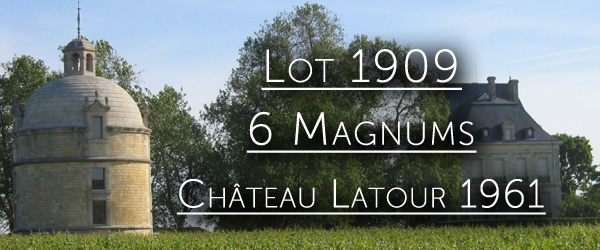 By BillBl (originally posted to Flickr as Chateau Latour I) [CC BY 2.0], via Wikimedia Commons
Today, many oenophiles tend to roll their eyes whenever a particular year is dubbed "the vintage of the century." Just like overzealous boxing promoters who declare their next prizefight to be the battle of the century, its overuse has turned the description into a worn-out cliché. However in 1961, the public really took to the idea that two phenomenal vintages could occur in just three years. And right they were! In this case, the '61 really did deserve the praise it received, especially at Château Latour, which The Wine Cellar Insider describes as "Powerful, full bodied, intense and deep … elegance meshed with power." Praised universally by wine critics—including a 100-point score from Robert Parker, the six magnums for sale could collectively go as high as $60,000.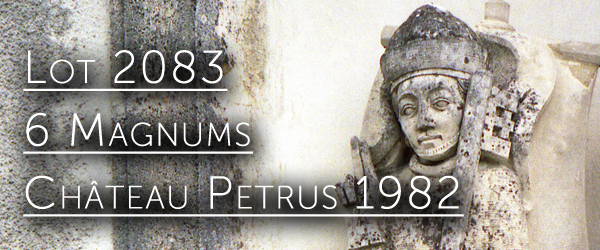 By Benjamin Zingg, Switzerland (Own work) [CC BY-SA 2.5], via Wikimedia Commons
Every fan of Bordeaux knows all about the magical year that was 1982. Possessing near-perfect grapes throughout the region, Robert Parker of The Wine Advocate declared it to be (yet again) the "vintage of the century"—a watershed moment that sparked unparalleled interest in wine collecting. Symbolizing the best of the best, Château Petrus, the undisputed king of Pomerol produced what Parker described as "the most perfect and symmetrical wine" that he had ever tasted. So expect six magnum bottles from this year to reach as much as $10,000 each.
Sources:
Broadbent, Michael. Michael Broadbent's Pocket Vintage Wine Companion. London: Anova Books, 2007.
Broadbent, John Michael. Michael Broadbent's Vintage Wine: Fifty Years of Tasting Three Centuries of Wine. Boston: Houghton Mifflin Harcourt, 2002.
Clarke, Oz. Oz Clarke's Bordeaux: The Wines, the Vineyards, the Winemakers. Boston: Houghton Mifflin Harcourt, 2007.
Coates, Clive. The Wines of Bordeaux: Vintages and Tasting Notes 1952-2003. Berkeley: University of California Press, 2004.
Geier, Ben. (2016, March 30). Bill Koch is selling off his epic $15M wine cellar. Fortune. Retrieved from http://fortune.com.
Greene, Kerima. (2016, April 2). William Koch's wine collection headed to auction. CNBC. Retrieved from http://cnbc.com.
McCoy, Elin. The Emperor of Wine: The Rise of Robert M. Parker Jr., and the Reign of American Taste. New York: HarperCollins, 2005.
Potter, Maximillian. Shadows in the Vineyard: The True Story of the Plot to Poison the World's Greatest Wine. New York: Grand Central Publishing, 2014.
Wallace, Benjamin. The Billionaire's Vinegar: The Mystery of the Most Expensive Bottle of Wine. New York: Three Rivers Press, 2009.
Wine Legends of 2011: Château Mouton Rothschild 1945 . Decanter. Retrieved from http://www.decanter.com.
---
You might also like:

Loading ...