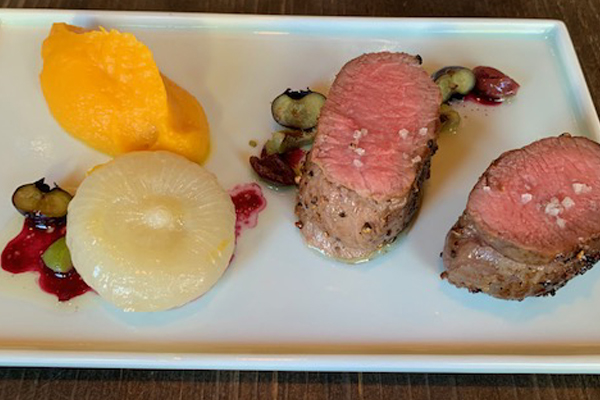 Your scribe had heard lots of complimentary reports about the cuisine of James Beard acclaimed Chef Kevin Binkley. Therefore it was with eager anticipation to attend a special dinner held at his restaurant in Phoenix Arizona on January 26, 2019. Everything very impressive indeed from the warm welcoming ambience start to the finish with each course utilizing seasonally ingredients so perfectly prepared. It was also a joy to unite again with Christian Giles who was at Charlie Trotter's in Chicago for 16 years and is now their general manager. An excellent team in place and an outstanding menu served:
Hors d'oeuvre – Seared scallop sandwich with marinated cucumber & dill; Salmon tartare vol-au-vent; Foie Gras filled kumquats (innovative way to enjoy this combo); Truffle Avocado Slider of charred sweet onion & watercress; Ham Biscuit with pear butter. All matched superbly well with that great 2008 balanced Champagne vintage of Guy Charlemagne Grand Cru Blanc de Blancs from old vines. Liked the alternative aperitif choice too of the intense minerally 2010 Valmur Grand Cru Chablis from William Fevre in Magnum.
First course was a brilliant artistic painting of half seared on one side Bluefin Tuna in paillard style with tangerine, slow roasted pineapple, cucumber, arugula, and lime pickled red onion. Outstanding presentation with true flavours paired well with a young classic 2013 Meursault Genevrieres of Latour-Giraud in Magnum.
Second course of a so-called Perfect Paprika Farm Egg was just that. Never experienced an egg with such a bright concentrated orange colour that blended into the special many hour preparation whipped potatoes (better than Joel Robuchon rendition) and delicious mushroom ragout. Heavenly and earthy a wonderful teaming with the 2003 Pommard Les Grands Epenots of Michel Ganoux – again in Magnums.
Third course main was a lightly smoked lamb loin au poivre with butter nut squash, cippolini onion, olive & huckleberry vinaigrette. One of the world's best wines was served with it of a young vibrant complex 2005 Clos de Tart. Sublime.
To finish was the Delice de Bourgogne cheese served at exquisite ripeness with appropriate stewed prunes, spiced walnuts, and crostini. Never had one in such perfect condition. The attention to detail in all the items prepared and the service was truly outstanding.
If you are ever in Phoenix this is a must detour. Check them out at www.binkleysrestaurant.com.


center
---
You might also like: