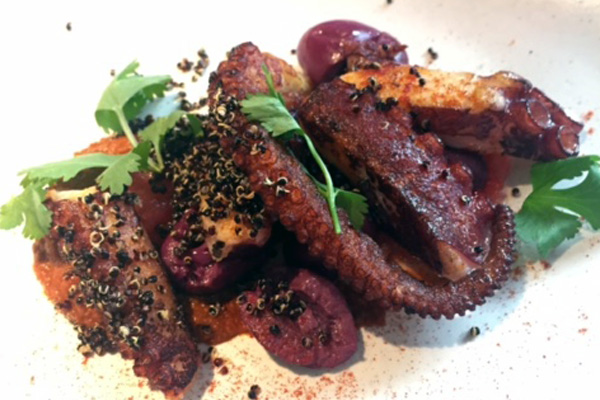 On June 26 2017 this Blog highlighted the delicious dishes prepared at Nopi restaurant in London of talented Chef Yotam Ottolenghi. After nearly another year of experimenting in our home kitchen with more innovative recipes from his treasury of cookbooks it was with great anticipation that your scribe returned again to check it all out live. We were not disappointed but enthralled.
This time the sampling of his excellent flavour combinations was at his informal location near the hot trendy Spitalfields market scene – a must visit! This larger 70 person capacity spot now open for 3 years was alive with relaxed patrons including families enjoying this Middle Eastern culinary style with an emphasis on vegetables. The salads are the key either by themselves or as sides with a main course. Tried for £22.80 each (which includes two salads out of your choice of eight avaiable) two amazingly inviting hot mains: Fried sardines (deboned first) with black olive tapenade and smoked labneh (thicker strained yogurt) & Octopus in chraimeh sauce (tomato puree with different spices – adapt your own combo from his Jerusalem cookbook recipe), botija olives and black crisp quinoa. The salads are always enticing features of their own with the char-grilled broccoli with chili and garlic always a big hit. This time the new Romano red peppers, green goddess, fried manouri (Greek whey cheese by-product of Feta) stole the show. My old favourite of green beans and samphire with watercress, pickled shallots and roasted grapes was bright and crunchy. In fact this time slightly undercooked IMHO as would have been sweeter more complex flavoured yet still crisp with 30 seconds more cooking before their cold water blanching. The chef at this location agrees however he prefers them with a "greener" lift to his taste.
The wine list is surprising with some diverse well chosen items. The Gonzalo Grijalba Gran Cerdo Spanish white aromatic Viura blend & red earthy biodynamic Tempranillo both at £5.75 for a 125ml glass is great value and works well with the food. Service is friendly and food knowledgeable. There was some social media buzz out there about smaller portions being done now but we didn't find that at this lunch. Perhaps more of a concern with shared plates at a dinner.
Excited about still another new location Rovi opening at 55 Wells Street in Fitzrovia end of June to check out next time. Some of the staff including their talented bartender will be moving there for the expected vibrant bar scene with cocktails based on seasonal spices. There will also be a fresh focus on fermentation and cooking over fire as well as vegetables to look forward to trying. Always environmentally aware they will be working to reduce waste by using leftover wine and coffee grounds in vinegars and even some recipes. Watch out!
Hope you are on top of the Ottolenghi culinary phenomenon.
---
You might also like: