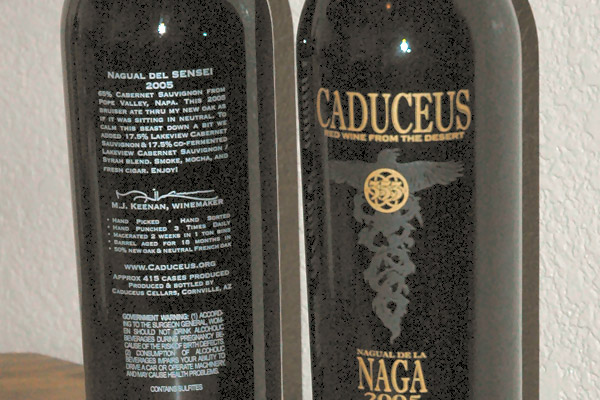 By Joseph Temple
***WARNING – SPOILER ALERT***
Back in the carefree 90s, if you were a fan of metal, then you definitely listened to Tool.  Formed in 1990, the band's thundering guitar riffs combined with an avant-garde stage presence made its members into rock royalty with hit songs such as "Sober," "Stinkfist" and "Schism." So when I saw that a documentary had been produced about Tool's eccentric front man, Maynard James Keenan and his second career as an amateur winemaker in northern Arizona, the subject matter definitely peaked my curiosity.
The 2010 film Blood Into Wine, directed by Ryan Page and Christopher Pomerenke sets out to show that Keenan is definitely not your typical celebrity vintner.  Today with everyone from Brangelina to Drew Barrymore buying up lavish vineyards, it has almost become a cliché in Hollywood to own one.  But Tool's lead singer is clearly different from the rest in that he is no prima donna.  On the contrary, throughout the film, he is very eager to get down on his knees and plant grape vines in the blistering sun.  After all, as his business partner Eric Glomski tells us, the wine business is 90% labor.
Setting up Caduceus Cellars and Merkin Vineyards in the town of Jerome, Arizona, it's easy to see that Keenan and Glomski are both passionate about being in what they describe as the "frontier of viticulture."  While many associate the Grand Canyon State with cactus trees and cement that you could fry an egg on, much to my surprise, the situation north of Phoenix is very different.  In fact, during one wine tasting, Keenan tells us that the Verde Valley gets snow in the winter and that he has more problems dealing with the cold frost than he does with the summer heat.
Although a good portion of the film is dedicated to Tool's front man and trying to figure out what got him so interested in wine, the real star of this film is Glomski. Being an ardent ecologist, he has a gift for telling great stories like how drinking wine furthered his sense of smell and comparing the fermentation process to making tea. Without question, his interviews are what takes the movie to the next level, making it much more than a celebrity-becomes-winemaker narrative.
However, during a tour to promote their latest vintage, we see that the biggest asset for Caduceus Cellars is clearly the star power of its co-owner.  Filming those waiting in line to get their bottles autographed, there appears to be no shortage of Gothic apparel and tattoos bearing the Tool name and logo–not the type of folks you usually associate with wine culture. Obviously with fans more excited to see their rock hero rather than his wine, Glomski jokingly refers to himself as "the guy sitting next to Maynard" during one autograph session at a local grocery store.
But that is what makes Blood Into Wine such a great documentary.  Maynard Keenan's celebrity status acts as the hook to get people who may have little to no interest in wine to understand more about the subject.  During the film, Keenan willingly shares the spotlight, allowing us to hear from numerous Arizona winemakers about their trials and tribulations in getting the state noticed on the wine map.  And as the viewer gets to see the entire process from the first harvest to when James Suckling of the Wine Spectator judges the final product, you'll learn a lot more about the industry through this film than a Wine for Dummies DVD.
With a hip soundtrack, colorful characters, excellent camera work and some surprise cameos from Patton Oswalt, Milla Jovovich and Bob Odenkirk, Blood Into Wine serves a great vehicle for getting a crossover audience interested in wine appreciation.
---
You might also like:

Loading ...