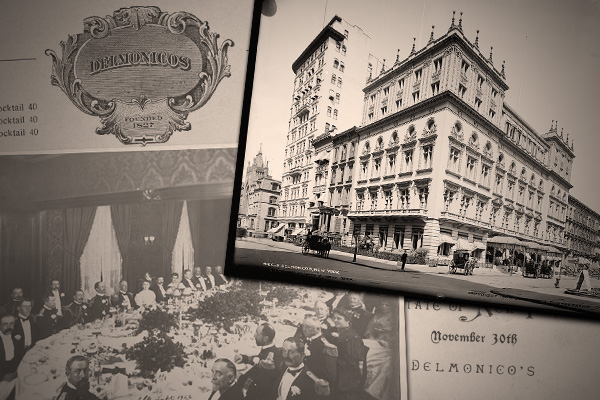 By Joseph Temple
Prior to 1830, before brothers Giovanni and Peter Delmonico decided to convert their small café into New York's poshest restaurant, American dining was, as described by Charles Dickens, "piles of indigestible matter." Eating exclusively at home and stuffing cold sandwiches in your coat pocket during the work day, the idea of going out to enjoy first-rate dishes was clearly a foreign concept. But by completely transforming the landscape of what we now know to be fine dining, Delmonico's became world-famous by offering patrons an experience of a lifetime! Modeled after the restaurants of Paris, one ate their Lobster Newberg or Chicken a la King in an ambience consisting of marble columns, glowing gaslights and only the finest silverware – a clear contrast from the numerous taverns and saloons that were ubiquitous around Manhattan.
Having ten locations during its existence from 1830 to 1923, Delmonico's broke the mold by popularizing concepts that today we take for granted: table linens, a separate wine list and à la carte menus. Easily the most popular restaurant of the nineteenth century, its rich history maybe unparalleled in the history of American dining. So have a look below at ten interesting facts that made Delmonico's legendary!
---

1. Delmonico's was one of the first restaurants in the United States to print their menus in both French and English (on the backside).

blank

2. Known for its extravagance, one banquet in 1863 had fourteen courses with an unheard of 46 dishes listed on the menu.

blank

3. The restaurant was the first to offer Manhattanites something called the business lunch. During the 1830s, it was nearly impossible to get a hot meal during daylight hours.

blank

4. Head chef Charles Ranhofer, author of The Epicurean, was known to name dishes after its famous patrons. In honor of Secretary of State William Seward's purchase of Alaska from Russia in 1867, he created the dessert Baked Alaska!

blank

5. Before Delmonico's, wealthy families held balls and receptions at private homes. The restaurant became the first to serve as a meeting place for the elite's most prominent events.

blank

6. Prominent guests included the Prince of Wales, Mark Twain, and every President of the United States after 1832. Abraham Lincoln, dining during the Civil War, told one of the Delmonico brothers that, "In Washington, where I live, there are many mansions, but no cooks like yours."

blank

7. During the Civil War, Delmonico's became known as a hot spot for the many Confederate sympathizers
living in New York

.


blank

8. The restaurant also earned itself a progressive reputation by being the first establishment to allow women to dine unaccompanied by men in 1868.

blank

9. Samuel F.B. Morse sent the first cablegram across the Atlantic from Delmonico's in front of 350 diners.

blank

10. During the election of 1884, presidential candidate James G. Blaine hosted a dinner at Delmonico's. Given its reputation for exorbitant and costly dishes, his opponent Grover Cleveland used it against him, tarnishing him as a puppet for "fat cat" millionaires.

blank
Sources:
Andrews, Peter. Delmonico's: A History. New Word City, 2017.
Freedman, Paul. Ten Restaurants That Changed America. New York: Liveright Publishing, 2016.
Grimes, William. Appetite City: A Culinary History of New York. New York: Farrar, Straus and Giroux, 2009.
Haff, Harry. The Founders of American Cuisine: Seven Cookbook Authors, with Historical Recipes. Jefferson: McFarland, 2011.
Kamp, David. The United States of Arugula: How We Became a Gourmet Nation. New York: Broadway Books, 2006.
Mariana, John F. How Italian Food Conquered America. New York: St. Martin's Press, 2011.
Maruzzi, Peter. Classic Dining: Discovering Americas' Finest Mid-Century Restaurants. Layton: Gibbs Smith, 2012.
Walker, John R. Restaurant Concepts, Management, and Operations. Wiley Global Education, 2017.
---
You might also like: