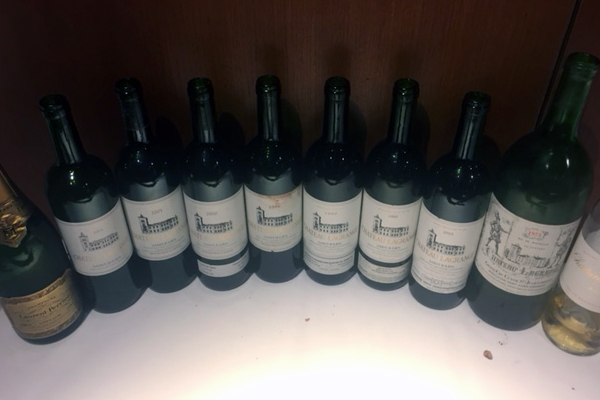 Château Lagrange is a classified Third Growth St. Julien that still remains somewhat under the radar for a top value well made Bordeaux choice. Since November 1983 when a sale to Suntory was government approved (might have been more difficult to get today) this château has gone from strength to strength with vineyard replanting, winery investment, and quality improvements in the wine. The hiring of Marcel Ducasse from Haut-Pyrennes region who studied at Bordeaux University and is a disciple of Emile Peynaud was a wise choice indeed. Several visits there and tasting-interviews with him. Impressed also with his record keeping since 1984 and all the stats on the Grand Vin and second wine Les Fiefs. Extensive time spent in June 1997 when plantings were 64.8% cabernet sauvignon (70.7 hectares), 27.9 merlot (30.4ha) and 7.3 petit verdot (7.9ha). This latter variety not much used till 1990 when major 12% added that "blueberry" element to the complexity. At that time the total production was 63,000 cases with 23,000 Château Lagrange (55% new oak) and 40,000 Les Fiefs de Lagrange (20%). Tasting the young 1996 & 1995 vintages was surprised then by the major differences in their grape mixes with 1996 Lagrange 57CS/36M/7PV and 1995 Lagrange 44CS/43 M/13PV while 1995 Les Fiefs is 87CS/13M.  All this was reinforced to your scribe at a vertical tasting-dinner at Blue Water in Vancouver on September 11, 2018. Some brief comments:
2005 Lagrange: 46CS/45M/9PV Young dark excellent deep ripe cassis full rich flavours with brilliant mid-palate still in a structured balanced "shell" needing more time to really sing. Outstanding vintage!
2001 Lagrange: 62CS/27M/11PV Palest rim of first flight of three is more open, spicy cloves, elegant and forwardly drinking but simpler lighter bodied.
2000 Lagrange: 76CS/24M Dense somewhat browning edge with attractive St. Julien bouquet developing from large percentage of beautiful cab sauv in this blend- so smooth & stylish. The neighbouring Gruaud Larose & Talbot on north and east side showing in the terroir here. Collected this vintage of Château Lagrange and it is very good indeed. Can be a little bottle variable but a super vintage.
1999 Lagrange: 58CS/25M/17PV Lighter colour with evolved classic nose leaner tighter palate but a good 1999.
1990 Lagrange: 44CS/44M/12PV picking started September 22 ending October 10 using 16% press wine with great quality selection using only 32% in Grand Vin, 50 Les Fiefs and 18 Lot 3. Paler rim showing earthy open mature bouquet drinking well now in an attractive older Bordeaux style. Tried last year a fresher bottle that was much more youthfully impressive.
1989 Lagrange: 55CS/45M/picking earlier September 6 finishing September 28 using 13% press wine with 44% Lagrange, 52 Les Fiefs, and 4 in Lot 3. Darker colour right to the rim best bottle showing structure and vibrancy. No rush.
1988 Lagrange: 59CS/41M picking later October 3 to 19th using 14% press wine 42% Grand Vin, 55 Les Fiefs, and 3 in Lot 3. Good colour and style despite more herbal notes. The sleeper of the tasting but showing more style of the bordering vineyards of St. Laurent on the west like Belgrave & Camensac.
1975 Lagrange Magnum: Don't have exact grape mix but higher merlot. Big surprise of the tasting from a tougher tannic vintage and before the Château improvements. For 43 years old has a remarkable red colour with maturing rim. Old style classic drier Bordeaux excelling more with the grilled lamb T-bone chops than on its own with softening tannins. Lovely.
Your scribe has tried this year also the 1986, 2002, & especially ripe 2003 (57CS/33M/10PV) which reinforces the quality value of the wines from this property. Highly recommend buying some of the 2016 and 2015 presently in the market for cellaring!
Have you tried any vintages of this Château Lagrange St. Julien?


center
---
You might also like:

Loading ...