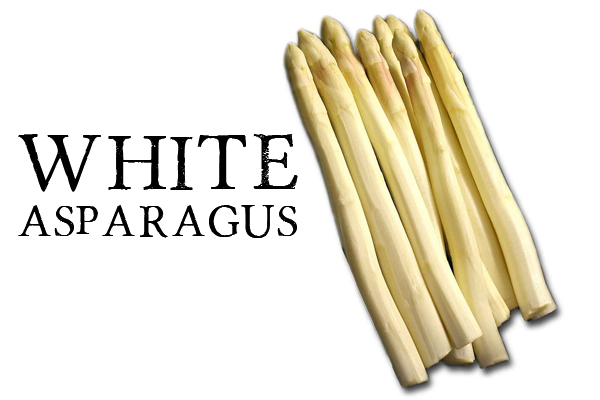 Green asparagus is popular in North America but the milder more tender succulent white asparagus needs more love. More work to grow because the process requires mounding the earth around the stalk to deprive it of light which produces that green chlorophyll. Previously Germany had sent for a while their juicy Spargel to Canada but when the fresh quality of the shipments deteriorated the imports eventually stopped. Bigger size is better. Also tricky customs regulation hurdles to be able to bring in a product containing dirt from Europe. Nevertheless this didn't worry the Dutch Consul General in Vancouver who rather than just celebrating the beautiful Spring tulips also held at his residence the First Dutch White Asparagus Festival in Vancouver in collaboration with Martens Asperges sponsor & the Confrerie de l'asperge Limbourgondie. Beautiful white thick impressive stalks imported for this event by Kuehne & Nagel and to be marketed in the future by www.ponderosa-mushrooms.com.  Chefs from the Hostellerie de Hamert in the Netherlands attended to prepare a wonderful 7 course lunch menu all matched well with a lively fresh 2014 Vivace Pinot Grigio by La Stella (www.lastella.ca) from the Okanagan Valley BC Canada. Thought you might appreciate knowing some of the diverse uses for this prized vegetable:
1. Cocktail Prince Willem-Alexander: Recipe created when King Willem-Alexander of the Netherlands was born  on April 27, 1967 making a white asparagus cocktail with chicken, fresh orange slices, and curry/ginger mayonnaise
2. Dutch Gin marinated wild salmon with a tagliatelle of white asparagus & herbs
3. Creamy veloute soup of white asparagus
4. Steamed white asparagus with scallops, wild mushrooms, and slow cooked pork belly "smoked bacon"
5. Stir fried white asparagus with garlic seasoned Canadian lamb
6. White asparagus "Comme il faut" (Proper – or the way it is supposed to be eaten) with Livar boiled ham, boiled egg, small potatoes & asparagus-butter sauce
7. Dessert Dutch "Haagse Bluf" (Hague Bluff  – joke that people from Hague are full of hot air) Iced coffee with caramelized white asparagus, currants, and egg foam
---
You might also like:

Loading ...