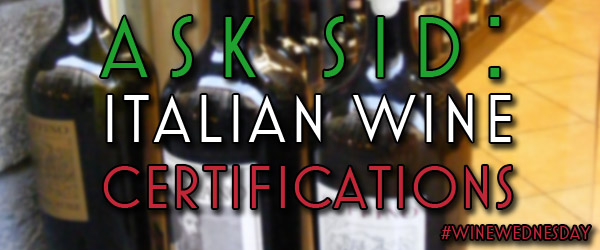 Question: Thanks Sid for the useful information on French wine appellation "protegee". Would you kindly please update as well on Italian wine classifications?
Answer: The latest stats at the end of 2014 shows 523 quality wines recognized as follows:
DOCG – 73 with Controlled Designation of Origin Guaranteed  These are the highest produced in specific geographic wine regions already classified under DOC for at least 5 years.
DOC – 332 with Controlled Designation of Origin. This certifies that the wine has been produced from grapes harvested from a specific delimited wine area in accordance with specific production protocol.
IGT – 118 for wines with Protected Geographical Indication. These are for quality table wines from wider wine regions with a less restrictive protocol. Note it is also interesting that Italy presently also has 269 food products with recognition:
DOP (PDO in English) – 161 Protected Designation of Origin. Produced, processed and prepared in a given geographical area using recognised
know-how.
IGP (PGI in English)   –  106 Protected Geographical Indication. Closely linked to the geographical area with at least one of the stages of production, processing or preparation taking place there.
STG (TSG in English) –  2 Traditional Specialities Guarantee. Traditional character. There is the European brand of the green leaf BIO symbol for Organic agro-food products for foods and since 2010 for wines.
---
You might also like:

Loading ...