As we all know, climate change is impacting wines produced around the world. Bordeaux experienced hot extreme Summer heat in 2003 with a reported 20 days (previous high 15 days in 1990) over 30C (86F) and 6 over 40C (104F). Compare that to the classic 2005 with only 2 days over 35C. In the last 6 years since 2018 (mildew issues like 2023 affecting Merlot more than Cabernet grapes) through to the surprisingly successful 2022 and unique now in Vendange 2023 the Bordeaux weather has seen lots of drought, heat & water stress, earlier picking, and riper grapes. However vineyard management has found clever innovations for these different conditions plus the vines themselves and clonal selections are adapting well. Some excellent recent wines are being produced. Nature is an amazing thing! Last week your scribe was delighted to participate in two Bordeaux wine tastings, first a repeat 2003 vertical (see link here from 2015) with so knowledgeable Bill Blatch of ten wines and the second a media preview (for the BCLDB 2020 Release on September 23) by Barb Philip MW of fifteen wines. Lots of differences between these two vintages 17 years apart but surprisingly some key similarities too.

The 2003s:

1. DE REIGNAC Bordeaux Superieur (west side of Entre-Deux-Mers): 140 hectares/79 planted, Green harvested to 35hl/ha, 20 months 100% new oak, 75% Merlot/25 Cab 13.5 abv Purchased by Vatelot in 1990 called it Reignac Prestige. Rich but coarser now ready. Prefer their 3 hectare old vines Balthus since 2002.

2. BELLEFONT-BELCIER St. Emilion: 20 hectares (13 planted) near Tertre-Roteboeuf and owned by Francois Mitjaville in the sixties. Several owners since including Chinese. 13.5 from 70%Merlot/20CF/10CS. Spicy rounded rather simple making better wine today with a good 2018.

3. LYNSOLENCE St. Emilion: Garagiste 6.5 hectares St. Sulpice near Monbousquet & Valandraud (best grapes) of 100% old vines Merlot of low yields from different soils in 100% new oak (only 850 cases). Personable owner Denis Barraud since 1971 died earlier this year. Highest alcohol on label at 14 and full rich and unique. Ready.

4. GISCOURS Margaux: Third Growth: Favourite from Nicolas Tari in 1966 & 1970 but fell on harder times in 80s & 90s. Large estate of 300 hectares with 82 planted on very diverse soils on 3 hills. Revived by Alexander Van Beek Manager since 1998 with denser plantings and more cab sauv. Softer lush riper. Still good value with a great 2015.

5. CLOS DE MARQUIS St. Julien: Started as 2nd wine of Leoville Las Cases but now has its own Brand and vineyard with softer tannins and better early accessibility but has Delon magic touch. Compare this 54CS/43M/3PV vs LLC 70CS/17M/13CF yet both picked September 11-26. Shows classy structure as forwardly drinking beauty again.

6. GRAND PUY DUCASSE Pauillac: Improving with consultants first Denis Dubourdieu and since 2013 Hubert de Bouard of Angelus with renovations and optical sorters. 2003 earthy brett forest floor touch of tobacco from 2/3 CS & 1/3 M. Enjoyed deep punted very heavy bottle of surprising 1958 earlier this year but producing better wines since 2015 and in 2020.

7. GRAND PUY LACOSTE Pauillac: Another 5th growth but at a much higher standard with fantastic 1982 & 1986. Here shows a gentler softer blowsy personality with less classic usual structure. My opinion is that the deep gravel soils are not ideal for this very hot dry year resulting in drier figgy-pruney fruit with autumn leaves and a touch of eucalyptus rather than pure cassis.

8. DUHART MILON Pauillac: 4th Growth among three 5th Growth Pauillacs. Best in 2003 and clearly best again here. Continues to improve in bottle. So classy sweet cassis cedar lead pencil licorice. Delicious. WOW!

9. LYNCH BAGES Pauillac: 75%CS/15M/8CF/2PV shows the vintage as too rich, opulent, seductive, riper fruit. Buy the great 2016 and impressive 2020.

10. LA TOUR BLANCHE Sauternes: Dark gold colour already with Bill's comment "very Muscat" so true in the aromatics. Has botrytis and spice but needs some more balancing acidity for 83 Semillon, 12SB, and 5 Muscadelle. Right behind d'Yquem in 1855 but fell behind with Minister of Agriculture management from 1910 to mid-80s but bounced back in 1988 with lower yields and 100% new oak. Great 1990 & 2001.

The 2020s:

Barb Philip MW mentioned 3rd successful vintage in a row but your personal choice between "2018 riper some almost Chateauneuf du Pape notes, 2019 more tannins and more finesse, and 2020 differently ripe too and changing of the style – very hands on extracting less and gentle balance is the key."  Your scribe added the new buzz word "infusion" as well. Tasted the structured polished 2020 Chateau Margaux $1600 but was also impressed with other wines. Beychevelle $200 has St. Julien depth but atypical 45 Merlot blended with 51 CS & 4PV but only 55% selection making the Grand Vin. 2020 Grand Puy Ducasse $95 way better than 2003 but still somewhat coarser fruit. Impressed most (as in 2003) by those undervalued St. Estephe reds grown in wetter cooler clay soils that suits the hot conditions. Charming Lilian Ladouys $55 is my top value choice followed by vibrant Phelan Segur $110. Keep an eye out for trendy fav Chateau Meyney! Pomerols are always rather expensive with demand exceeding the supply but they too did well in 2020 on the clay. Rouget is way up in price (from the earlier drinking 2003) at $120 but now has an amazing new depth of fruit and the rich dense Gazin $220 will cellar into something very special indeed.

2020 has some 2003 similarities but show even better managed vineyards and winery know-how in the lovely resulting wines. Well done!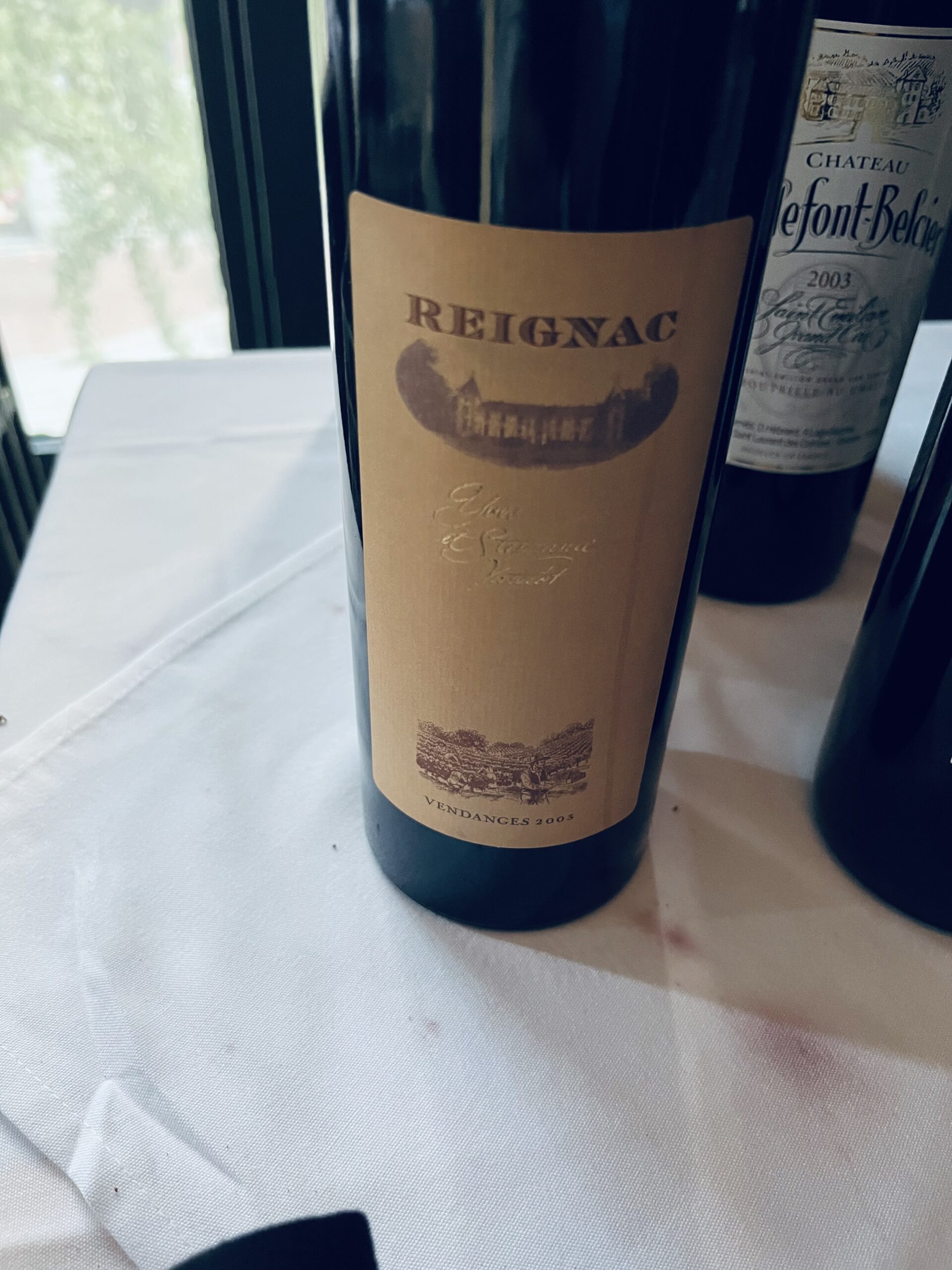 ---
You might also like: