Don't usually age Canadian white wines but appreciate the fresh vibrancy they usually bring for drinking younger. However some grape varieties with better acidity balance and higher extract certainly lend themselves to some bottle age for an improved resulting wine. Riesling comes first to mind but some would say Chardonnay. However, Chenin Blanc and white Rhone blends also can develop some interesting nuances with more time in the bottle. Certainly have marvelled over very old textured Savennieres (of Chenin Blanc) from the Loire Valley in France including Clos de la Coulee de Serrant (Joly family monopoly). Your scribe was fortunate to try last year mature Chave 1978 white Hermitage (usually 80% Marsanne & 20% Roussanne) from the northern Rhone that ages brilliantly. Note the success of Esprit de Tablas Blanc (mainly Roussanne but blend a total of 6 grapes from Chateau de Beaucastel cuttings) from Tablas Creek Vineyard in Paso Robles California and Marsanne from Tahbilk (established in 1860 in Victoria, Australia).

How do those grapes develop in the wines from the Okanagan Valley in British Columbia? Present leaders include Road 13 Vineyards for old vines Chenin Blanc planted on the Golden Mile Bench in 1968 and now made into ageable Sparkling too. Moon Curser Vineyards Roussanne Marsanne on the Osoyoos East Bench (even initially made under the old Twisted Tree winery name) with currently 2021 a successful blend of 82% Roussanne & 18% Marsanne. Also Le Vieux Pin with a single varietal late ripening Roussanne since 2014 plus their lovely Ava blend of 3 grapes but in 2021 now Roussanne dominant with 53%, 30% Viognier and 17% Marsanne.

In the early days of wine in the Okanagan Valley there were several pioneers that didn't receive enough credit for their foresight. One was Howard Soon who joined Calona Wines in 1980 starting the wonderful "Small Lots" program for premium lots. Another was Hungarian Sandor Mayer who moved with his family to the Okanagan in 1988 and became winemaker for Okanagan Vineyards Winery (OVW) in 1992 developing the famous single vineyard Dark Horse Estate Vineyard near Oliver. In 1996 OVW was purchased by Inniskillin Wines (established in Ontario in 1975 by co-founders Donald Ziraldo & Karl Kaiser) and later in 2006 became part of Constellation Brands.

Admired what Sandor did with his Discovery Series ("small lots embodying Inniskillin's spirit of adventure and passion for crafting wines of outstanding character") including first planted Zinfandel, Tempranillo, and other red varieties. Your scribe particularly liked what Sandor was doing with his limited production whites and complimented him on them several times and encouraged him to do more. Enjoyed his early production of both 2005 chenin blanc & 2006 marsanne roussanne which were pretty good tasting early on. Decided to age the 2006 vintage of both and they certainly did improve dramatically in bottle. Saved my last bottle of each to open last week after 17 years and what a surprise was in store. The 2006 Chenin (2500 cases at 14 abv) was quite a dark yellow colour but not maderized or oxidized but displaying typical rich minerality of the variety plus as Sandor said "generous sweet salty honey & ripe honeydew and lingering flavours of apple, guava, and pineapple." Suggest you drink now at the end of its delightful plateau.

The surprising star and inspiration for this wine column today was his Discovery Series 2006 Marsanne Roussanne (only 78 cases at 13 abv). Not sure who supplied these grapes – probably Golden Mile Bench – because Dark Horse Vineyard was not planted with them till 2006. What an amazing wine with time standing still for this 50/50 blend. An unbelievable pale light green Chablis-like look. How is this possible? Unusual as Marsanne gets darker with age and Roussanne is prone to oxidation. Shows some floral notes with prominent juicy apples, ripe pear, almonds, and apricot stone fruits. Still has what Sandor called "well balanced with crisp acidity on the finish." Not yet as oily as expected. This wine may go on almost forever with the outstanding structure and complexity in this bottle. It matched sublimely with a delicious fresh local wild King Salmon dinner. Pure joy of dining. Sandor after 25 years of valuable contributions to the early BC wine industry moved back to Hungary in 2014. Sure he would appreciate that this special wine he was trying to produce turned out to be a fantastic one indeed. What a positive inspiration and encouragement for other wineries presently trying to make complex ageable Marsanne Roussanne. Our congrats!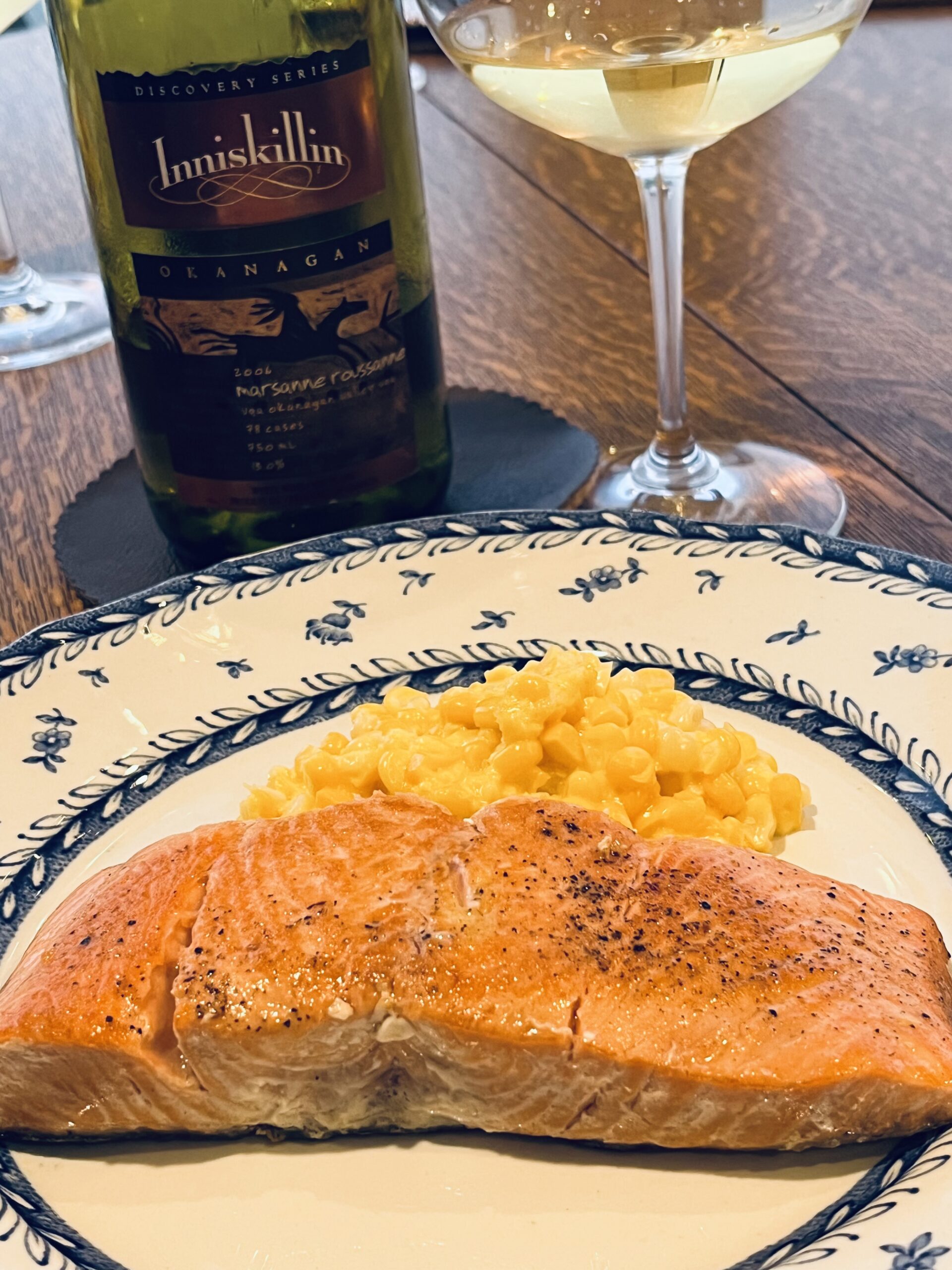 ---
You might also like: