The Sous-Commanderie de Vancouver of the Confrérie des Chevaliers du Tastevin held their annual Summer Paulee extended lunch event on August 26, 2023 at Acquafarina, a Michelin Guide recommended fine-dining restaurant. Our always exciting Paulee events from previous years are posted on this Blog but the last time the theme was Grand Cru Chablis was in 2017 (and 2011) so the link dated September 4 is here. Your scribe describes the 7 Grand Cru vineyards in more detail on what makes them really unique. There also is another posting June 1, 2020 linked here of a Chablis tasting your scribe conducted on Zoom for The Wine & Food Society of Boston (est.1934) rating many vintages both pre-2010 & every year 2010- 2019 inclusive. Time for an update.

Grand Senechal George Loverock does excellent work with his Chef du Protocol Randy Rae in organizing these events. Well done. Admired how Cellier Blair Curtis chose "simpler" reds to match the outstanding 6 course cuisine by Executive Chef Jefferson Alvarez and his brigade so that the Grand Cru Chablis would be the stars. That 2009 Pavelot SLB Aux Guettes was not simple but great even if not quite as complex as their 2009 La Dominode. Another top highlight was the 2010 Butteaux 1er Cru from Francois Raveneau that shone so brightly as a Grand Cru wannabe of top quality. So young.

This opportunity to study and compare some 40 Grand Cru Chablis is irresistible for me who doesn't take advantage of the wonderful social aspect of the Paulee but instead just intensely focuses on quickly tasting to get an overall impression on all the wines. Shown is the printed list of some 36 (but of course more were added by late comers) ranging from 2000 to 2021. The main producer was Domaine Wiliam Fevre (DWF) with about a dozen followed by half a dozen Domaine Christian Moreau (DCM) – both important suppliers to the British Columbia wine market. Les Clos (IMHO clearly the best cru) led the way with over 1/3 of them followed by Bougros (7), Preuses, Vaudesir (including Moutonne), Blanchots, Valmur and zero Grenouilles.

Knowledgeable member friend Ritchie Younger spoke briefly on the long history of the region and his concern of 10x growth of Chablis from 500 hectares in 1950 to 5800 in 2023. He thought all the wines were pretty solid but felt 2014 was clearly the best vintage. Agreed! He picked a Top 5 (different from mine) led by two Dauvissat Les Preuses 2016 & 2007 with 2014 Les Clos DCM 3rd, Faiveley 2009 Les Clos 4th, and his own mag of 2010 Les Preuses DWF 5th.

Your scribe was more critical with some pre-mox of older wines worrisome but probably bottle variation. Worst was 2008 Bougros DWF but usual fav Les Clos 2000 DWF & 2005 DCM both were maderizing – surprising for that long aging vineyard at 20 years.

2007: Variable not consistent with stormy April 21 and later hail but Dauvissat made a good selection with rounder Les Preuses approachable earlier than Les Clos.

2008: Less rain than Cote d'Or plus no hail, botrytis or rot in a later harvest gave more dry extract & glycerol as shown in Les Clos DWF.

2009: Bigger crop warmer less acidity often more grape-like Chardonnay called Beaunois (same in 2018 & 2019) than pure Chablis definition but Faiveley Les Clos well balanced with menthol licorice notes.

2010: Yields down intense minerality is perfect in Les Clos DWF but Les Preuses though fresh in Mag has a dank unclean nose. Decanting might have helped the bouquet.

2011: Rather cool rainy July, August, September resulted in lighter ready now style even for fuller Valmur DCM.

2012: Shorter crop irregular flowering lovely not as mineral as 2010.

2013: Difficult year with mushroom exotic notes but Drouhin-Vaudon Vaudesir a clean surprise.

2014: Classic dense with aromatic freshness. All the 2014 tasted showed a really outstanding vintage led by Les Clos DCM saline minerality complexity. The Louis Michel Les Clos (white pepper) & Vaudesir (coconut) plus Billaud-Simon (acquired in 2014 by Faiveley) Blanchots and Vaudesir Long-Depaquit (Bichot) were all bright, fresh, stylish and lighter bodied showing their individual cru distinct definition brilliantly.

2015: Atypically Burgundian rich earlier picking with harvest hail on August 31/September 1. Les Clos DCM on a delicious plateau.

2016: Frost hit April 26/27 plus May 13 & 27 followed by rain and warm Summer. Small crop is "patchy" but another special selection by Dauvissat Les Preuses for earlier enjoyment.

2017: Mid-April frosts for lower yields with energetic balance. Like the comment of Fabien Moreau DCM that it "took 10 vines to fill one basket in 2017 but only 1 vine/basket in 2018 bigger yields.

2018: Heat spikes softer rounded peachier style even in Les Clos and Olivier Leflaive Vaudesir.

2019: Also heat spikes but August was not as blisteringly hot so some balancing tension for the super concentrated Chardonnay-like style. Three Bougros are indeed defined by the usual generous and robust character of the cru but positively less earthy than usual. Not delicate or subtle.

2020: Some similarity to 2017 more classic style but not the 2014 outstanding balance of acidity. Early harvest that avoided the heat spikes of 2018 & 2019. Getting good wine reviews and the Moutonne monopole impresses with the rich classy complex structured flavours getting the 2nd highest score of 97 (behind 98 for Raveneau Les Clos) in the recent 2020 extensive horizontal tasting by Decanter.

2021: Complicated and inconsistent. Some are slimmer and softer. Fun to try the new Domaine Gueguen Bougros from Celine (daughter of J-M Brocard) & Frederic (from Dom. Durup). Watch out for them.

My Top 5:
2014 Les Clos DCM
2020 Moutonne Domaine Long-Depaquit (Albert Bichot)
2010 Les Clos DWF
2014 Les Clos Domaine Louis Michel
2014 Vaudesir Domaine Louis Michel
Acquafarina is lucky to have the talented rising Sommelier star Evelyne Quinti as their Wine Director who did a wonderful difficult wine service all at perfect temperatures. Congrats.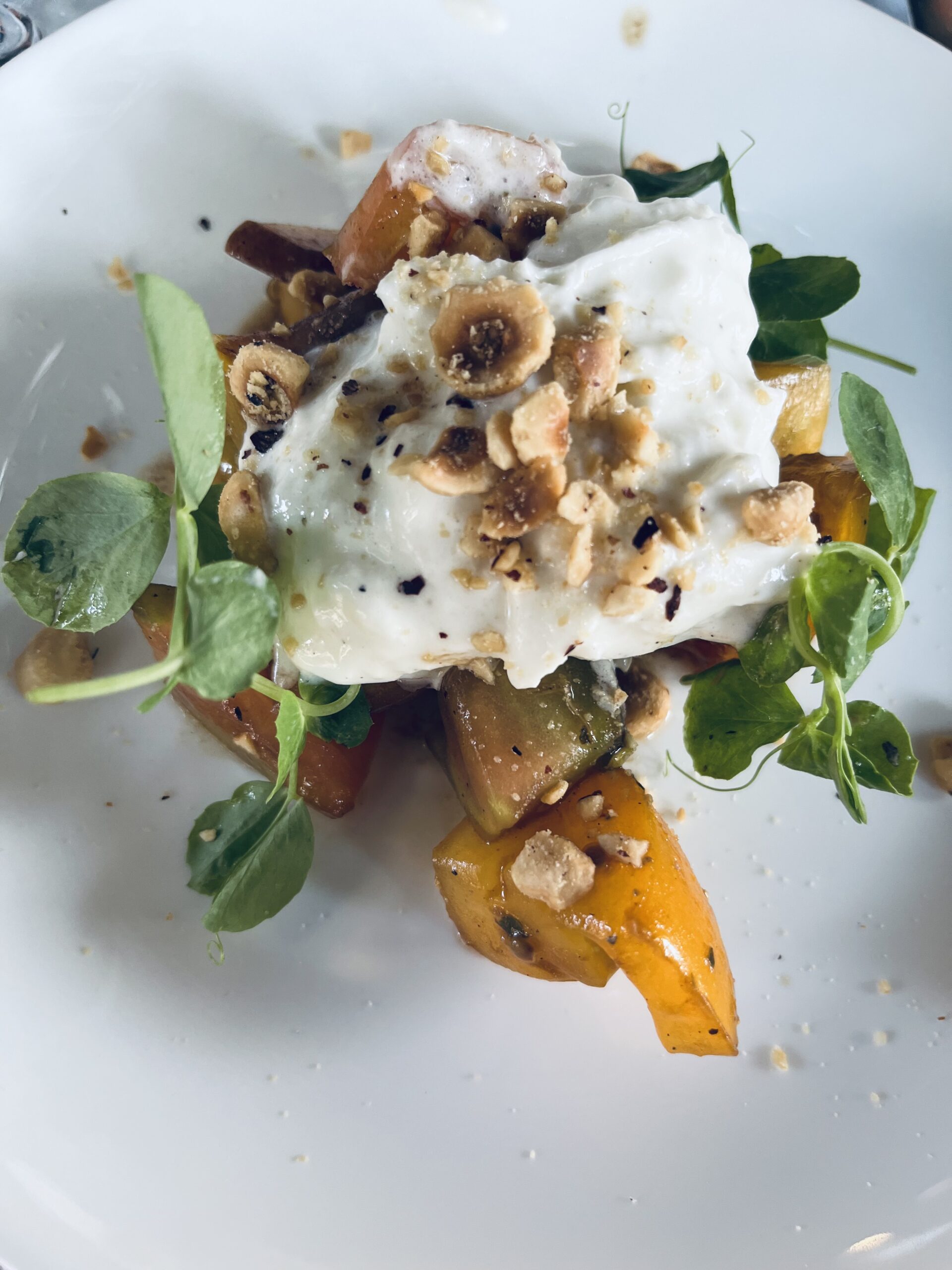 ---
You might also like: