Lots of hype for the impressive showings of 2022 red wines currently resting in oak barrels in Bordeaux. Surprising early fresh vibrancy being shown in the wines produced from smaller berries with lower acidity. The weather started out early in 2022 with very dry warm conditions and continued with drought plus very hot Summer temperatures. Reminds some of us old-timers of the 2003 vintage which also had extreme heat but with fewer cool nights diurnal cycle swing than in 2022. As well, 20 years later the vines seem to be adapting better to this climate change and the vineyard-winery management know-how has increased substantially. More cover crops for both the grapes and the soil also is helping out. The result is overall better consistency in perfectly ripening the grapes – even less over-ripe Merlot which was a problem on the Right Bank in 2003. Regular followers of this Blog will remember earlier postings on 2003 Bordeaux on July 28, 2013 here and October 5, 2015 here plus a question on our Ask Sid feature on May 13, 2015 here about the exciting 2003 Duhart Milon. On June 12, 2023 the Vancouver Branch of La Commanderie de Bordeaux showed a 2003 horizontal tasting in two flights with excellent food matching by the Five Sails restaurant. No Duhart this time but the parent chateau Lafite Rothschild showed outstandingly. A brief summary:
FIRST FLIGHT:

2003 MALESCOT ST. EXUPERY MARGAUX: Still dark red but the rim is paling. Evolving palate is starting to dry out in a leaner style but an interesting open rather non-typical 2003 fresh herbaceous minty "pretty" bouquet. Surprises. Drink up.

2003 BRANAIRE DUCRU SAINT-JULIEN: Deeper and darker right to the rim. Riper nose hinting of 2003 but balanced with rich creamy full fruit true flavours of St. Julien. Underrated property. Lovely drinking with the exquisite duck course. Enjoy now.

2003 PAVIE-DECESSE ST. EMILION: Listed on the menu as Clerc Milon but blind substitute served. Good colour but big much riper forwardly softer with a bit of jammy textures. Wondered about St. Emilion (here 90% Merlot + 10% Cab Franc) but because of the strong super mint and my expectation of Left Bank (probably Pauillac) guessed 2003 Lynch Bages. Similar to the controversial style of big sister Pavie in 2003 with lots of intense classy fruit still there to go on further. Distinctive & rather unique. No rush.

2003 GRAND-PUY DUCASSE PAUILLAC: Darkest of the flight with a more late picked styling. Simpler coarser riper Pauillac style with sweet jammy fruit but not quite as cedary and elegant as Grand Puy Lacoste.

SECOND FLIGHT:

2003 PONTET-CANET PAUILLAC: Deep solid young fruit. Ripe and graphite but not over the top. Very classy cedary Pauillac with an impressive long finish. Not quite singing as brilliantly as some of their best memorable vintages but excellent nonetheless in tough company here. Still needs time to develop more complexity.

2003 PICHON LONGUEVILLE COMTESSE DE LALANDE PAUILLAC: More elegance shows here with open delightful tertiary perfumes. Less depth concentration of fruit than the other three in this flight but lovely with 30+% Merlot showing in the blend. Softer tannins less intense but drinking beautifully tonight with superb Bison dish. Most forwardly one of this flight.

2003 LAFITE ROTHSCHILD PAUILLAC: Third Pauillac in the flight. Dark enough. Reaches another dimension on the bouquet singing beautiful music from that 86% choice perfectly ripe Cabernet Sauvignon. What an amazing definition of Pauillac this is! So well balanced in a vintage where that attribute was the hardest to find. Expected a lot because Duhart Milon is consistently delicious drinking. Lafite lives up to my expectations at 20 years with pure seductive class. Perhaps approaching that 100 point score or certainly could with even more cellar time.

2003 MONTROSE ST. ESTEPHE: Big dark very deep rich concentrated fruit is so impressive. Shows why those clay soils to retain moisture in St Estephe were so important in the scorching hot 2003 vintage. Some tobacco notes are starting to develop on the nose from the powerful cassis Cabernet and sweet ripe Merlot (high 34%) blend. Lots of still unresolved tannins to meld with the buckets of intense fruit it has to go on forever. A beauty for long term aging in your cellar. Wow.
This recent tasting shows in this last flight how sensational 2003 wines from Pauillac & St. Estephe can be. It is a hopeful shining beacon for the promising similar weather 2022 to deliver in the future some outstanding wines across many more appellations. Continue to monitor and purchase some.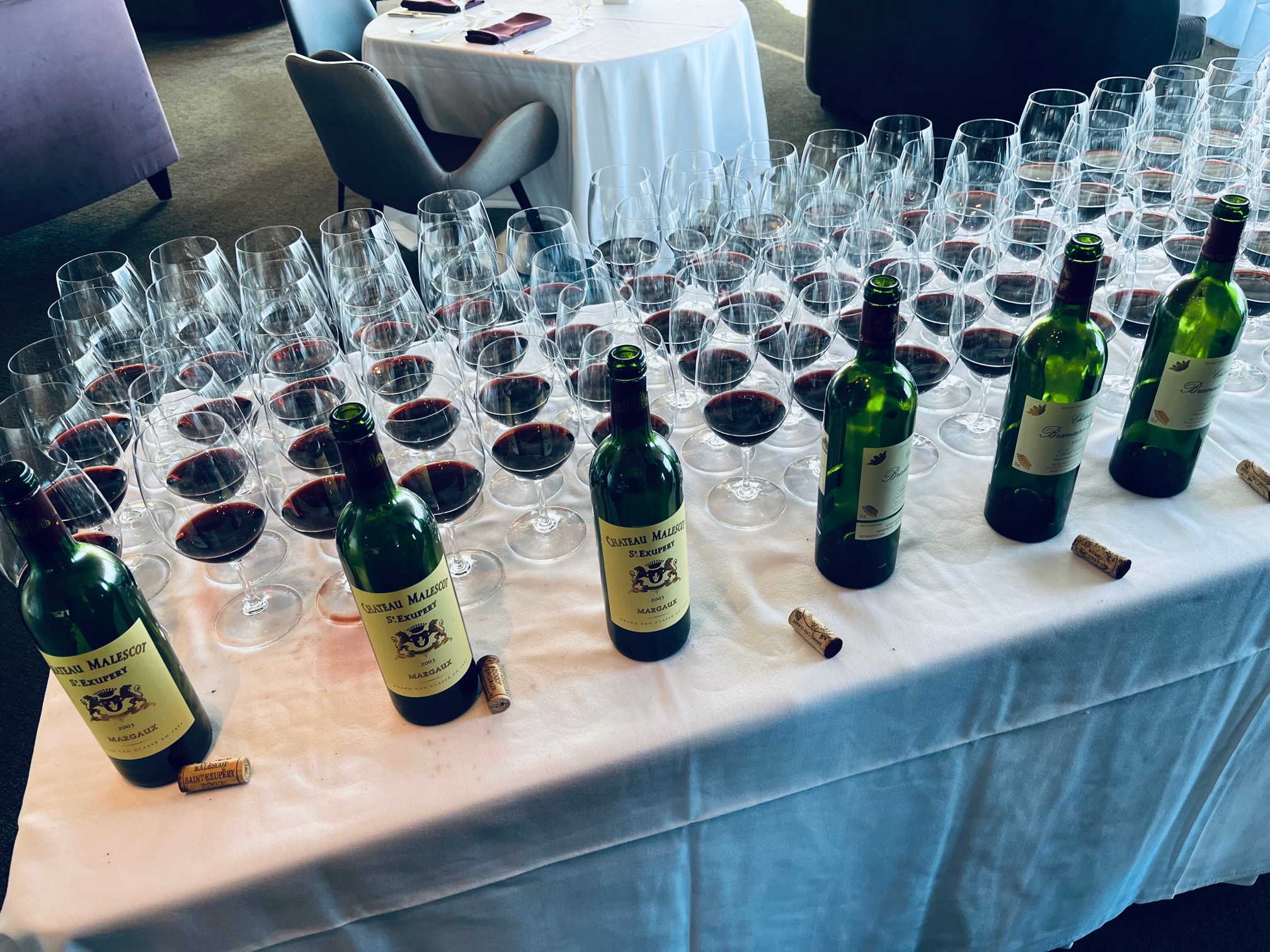 ---
You might also like: