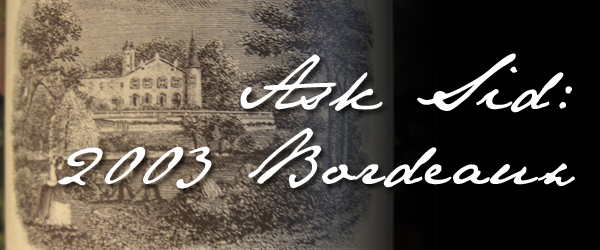 Question: I drink mainly New World wines. Just received an inheritance of some red Bordeaux mostly from the 2003 vintage including a case of Chateau Duhart Milon. Any guidance?
Answer: 2003 Bordeaux have some of the characteristics of the riper New World regions because of the heat wave experienced that year so you should enjoy them. Many were made from quite ripe grapes with lower acidity resulting in more forwardly drinking wines. In any event they are over 10 years of age and can be consumed now in that softer style. You have a real treasure in the Duhart a 4th Growth from Pauillac in the 1855 Classification but  much improved under the Lafite Rothschild management. Their replanted vineyards from the 1960s are mature and thriving. I bought this 2003 on futures at what turned out to be a bargain price as every bottle I open is better still and no rush to drink up. Low yields of just over 30hl/ha for the blend of 73% cabernet sauvignon & 27% merlot show that typical cedar cigar box complex bouquet with rich full balanced flavours. A special treat. Lucky you as this is definitely one of the stars of the 2003 vintage!
---
You might also like:

Loading ...