The 2023 British Columbia Lieutenant Governor's Wine Awards bounced back strongly after taking a pause in 2022. They have been written up on this Blog previously by your scribe. This program first established in 2003 by LG The Honourable Iona Campagnolo with support from the Government House Foundation encouraged and recognized early excellence in the Province's wine industry. Since 2018 it has become an important part of The Okanagan Wine Festivals Society and currently has been re-organized with a new Board of Directors ably led by Chair Heather Courtney and GM Kimberly Hundertmark. WInemaking and quality wines in BC have progressed by leaps & bounds over these past 20 years and the BC Lt. Gov. Awards of Excellence have been an important influence on their amazing development. We are hopeful that the 2024 judging competition will take place for the first time in Vancouver to help broaden the marketing awareness of BC wines in this region. The results of our judging were released last month posted here on thewinefestivals.com website. There were 14 top Platinum Recipients with many worthy Golds & Silvers (but no Bronze) awarded. Lots of grape varieties (and blends) used for BC wines are establishing their distinctive world class quality mark. Too many to list here but the leaders certainly include Cabernet Franc, Chardonnay, Pinot Noir, Riesling, and Syrah. Italian grapes haven't been near the top of the list for most winegrowers. We know the difficulty in capturing the character of Nebbiolo & Sangiovese outside of Piedmont & Tuscany respectively. Thought Barbera might have the same issues. However, your scribe provided in Penticton some older bottles from Sandhill produced by the legendary Howard Soon for his Small Lots Program for current assessment by the judges. As expected the 2005 Sangiovese (312 cases produced was then the only one grown in Canada) wasn't savoury and cherry fruit was drying up having lost that better level it had initially. Cleverly Sandhill has released 7 barrels of a balanced lovely charming 2022 Rose from Block 9 of those Sangiovese plantings. Surprise though that the 3 vintages (2002, 2003, & 2004) of the Barbera showed sensationally. The grape grower of all four wines was the respected Richard Cleave from Burrowing Owl Vineyard for 2002 & 2003 and Sandhill Estate Vineyard for 2004 & 2005 – all at 14.5 abv. Brief notes:

2002 BARBERA: 349 cases. "Harvest weather was warm and dry to slowly ripen and intensify the varietal characteristics. Aroma of red plums with an earthy, spicy note and a hint of leather. The slight acidity accentuates the fruit and the medium body helps it pair with flavourful foods. This is the only 100% Barbera wine produced in Canada"  Presently had mellowed and toned down the balanced acidity with lots of fruit remaining. Success. Impressive.

2003 BARBERA: 283 cases. "Fourth vintage of Barbera from our planting near the cliff at the southern tip of the BOV. Aromas of red plum & leather, with concentrated characters of red fruits, soft round
tannins and a touch of licorice." Noticeably riper and softer. Does express the Barbera variety to advantage. More like the style of many recent climate change Barberas from Alba (DOC) & Asti (DOCG) but less balanced acidity here. Ready.

2004 BARBERA: 297 cases. "5th vintage from planting near the cliff at the southern tip of the Sandhill Estate Vineyard. Ruby red in colour, it shows aromas of red plum and caramel. Well-integrated flavours of sour cherry and sweet toasted vanilla are the result of 22 months in French oak."  All the judges agreed that this bottle was so fresh, structured, and quite complex. Already planted in Argentina, Australia, and USA but Canada (BC) should consider the possibility of further plantings in the right spots. Usually a wine to enjoy youngish but age has definitely helped these beauties. Congrats to Howard Soon who got some flak for "wasting" his valuable French Oak on this maverick variety in 2004. Well done!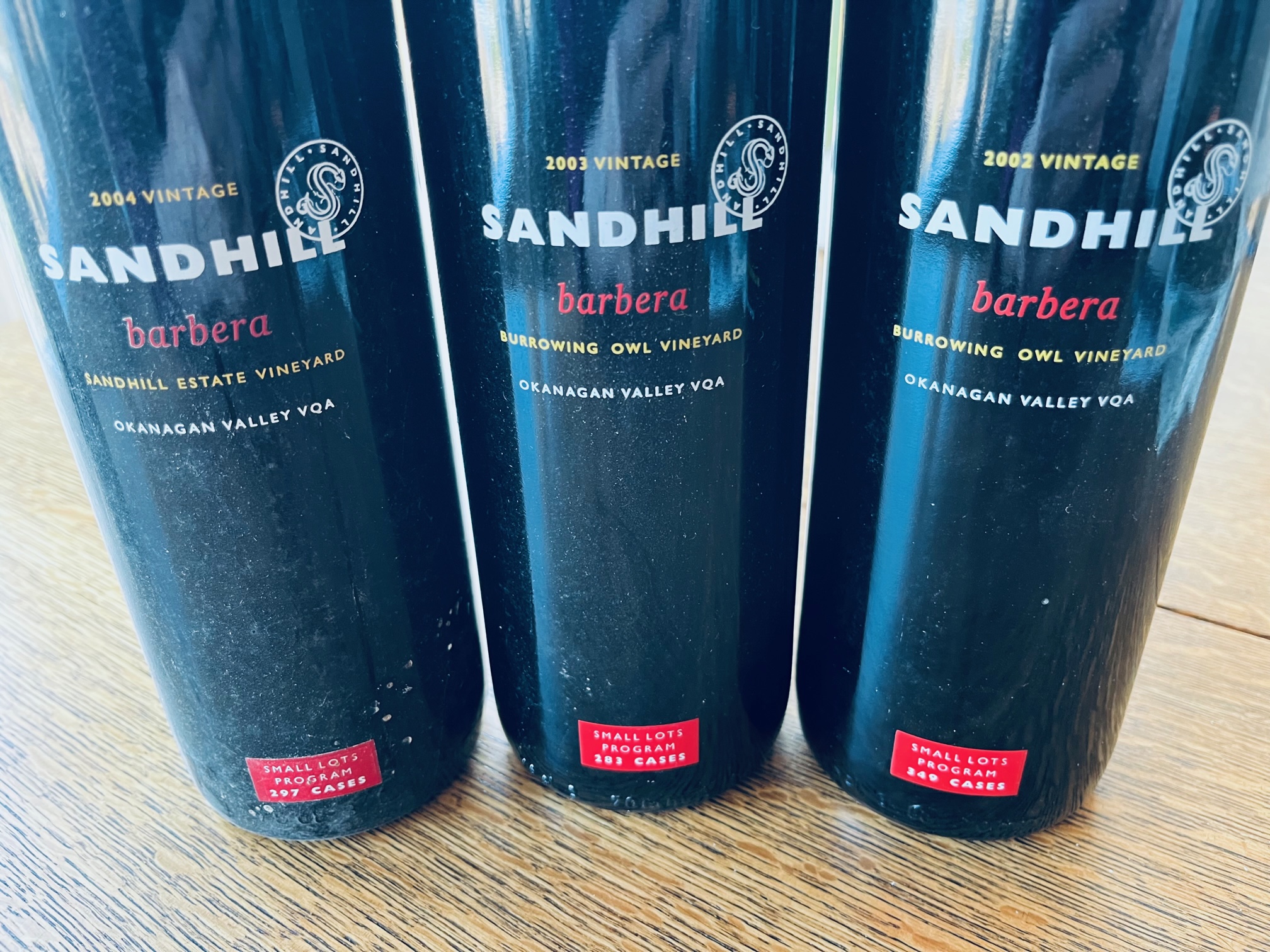 ---
You might also like: