On first release there have been many so-called vintages of the century declared. Some have worked out as really stellar years but others have disappointed with their brief longevity. 1982 Bordeaux was somewhat controversial when first presented because of lower acidity levels than previously but have provided some outstanding bottles and stood the test over time. Robert Parker made his trusted wine critic reputation with his correct early assessment of profound complex 1982 Bordeaux.

Now 40+ years of age it is interesting to check up on them and see where they are presently. Over the last few months your scribe has tasted several 1982 properties from Pauillac & St. Julien and all still showed a life of higher quality. These included a surprising Haut-Bages Liberal, value old style concentrated Leoville Barton, minty cassis Lynch-Bages, classy elegant Leoville Las Cases, and dependable Pauillac classic Grand-Puy-Lacoste. Also enjoyed on March 28, 2023 at the Group of Eight Vancouver dinner held at Blue Water Cafe were 9 more excellent 1982 examples in a horizontal tasting with my brief impressions as follows:
LA LAGUNE: Good red depth. A lot of fleshy fruit (in a Margaux-Graves or even Burgundy way) but slightly stemmy-musty notes (TCA or Brett?) that takes the edge off the underlying quality. Also had sediment in the glass even though decanted. Weakest bottle of this evening. Other bottles in the past have shown power + velvet. Can be excellent.
BRANAIRE-DUCRU: Red with lighter rim. Clean lively touch of fragrant mocha-spice in a rounder package. So elegant on a plateau of lovely enjoyment currently.
GRUAUD-LAROSE: Darker than the first two. Exquisite classic cedar almost a Pauillac cigar-box bouquet. Wonderful layering of top complexity not quite yet reached. Ian M uniquely calls it "glowering"
(dark & threatening) to indicate the optimistic evolving great future for this wine. No rush. A treasure.
BEYCHEVELLE: Darkest of the First Flight. Tasty & seductive brawny fruit. Perhaps a little 4-square with less finesse but nonetheless quite delicious now and everyone really liked it.
PICHON LALANDE: Deep intense dark look. A little reluctant on the nose. Notice the richer Merlot middle palate with excellent balance. Not quite as opulent as previous bottles but has magical textures.
Resting before making a further climb? Not 100 but bloody good! Out of curiosity opened last night the underrated 1983 that is more evolved and much more classic. Also a great Pichon – best wine of the 1983 vintage in the northern Medoc. What an outstanding pair.
LEOVILLE POYFERRE: Very dark. Deep but closed in with a reluctant bouquet. Shows its muscles in a drier, harder and more tannic style. Hope the concentrated fruit lasts until the wine softens up. Same
issues with Leoville Barton. Continue to monitor them as they progress.
DUCRU-BEAUCAILLOU: Similar but a paler edge. Very stylish with a higher Cabernet Sauvignon component from that wonderful St. Julien terroir site. Like the special minerality with the rounder tannins in this exquisite fleshy wine. On a perfect long plateau of special drinking pleasure.
HAUT-BRION: Seems darker than previously Putting on weight? Most fragrant! Classy but a different blend (45CS, 37M, and 18CF) results in a lighter red fruit styling. Lovely but not near the incomparable 1989.
VIEUX CHÂTEAU CERTAN: This was a mystery bottle but we were close about a Right Bank 1982. Second darkest behind Leoville Poyferre. Nose somewhat closed at first but opening up with a peppered chocolate statement – very typical of this property. Midweight complex flavours with higher Merlot content noted. Quite different Pomerol styling from the other 1982s and easier softer drinking.
Memorable bottles and definitely shows 1982 Bordeaux continuing as a truly great vintage with remarkable consistency at all levels right across the board. Obviously one of the very best vintages of the (last) Century.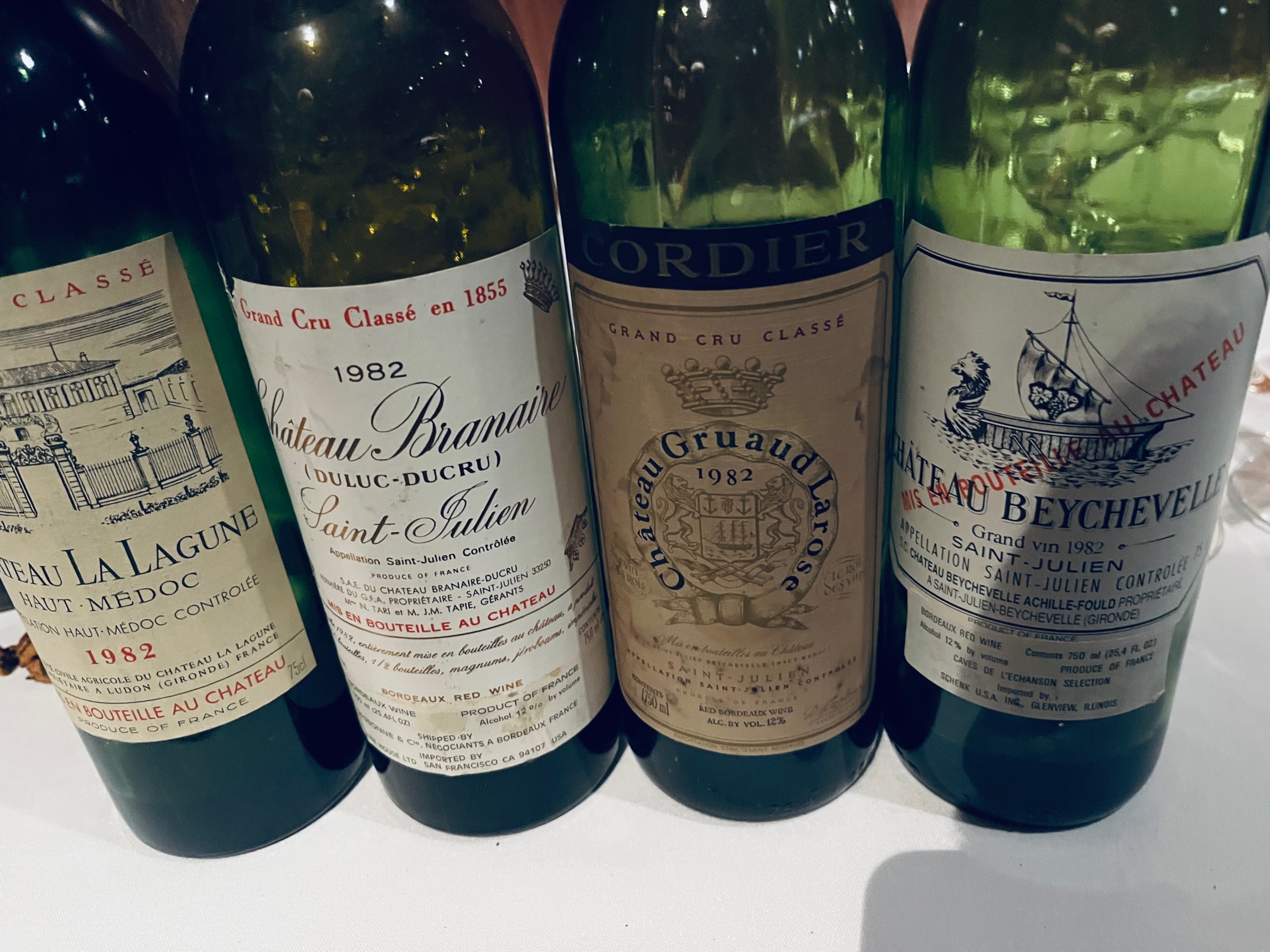 ---
You might also like: