Followers of this Blog are aware of my fondness for aged wines produced from the Nebbiolo grape variety in Piedmont. Some interesting more recent vintages out there to monitor led by the classic style of 2016. Purchased bottles from Produttori del Barbaresco – especially their rich Riserva Crus from Rabaja & Montestefano – in Magnum format and am now wondering how long before these will be on their best plateau of drinkability. Barbaresco had better weather conditions than Barolo in 2014 but both excelled in 2013. Top Barolo (and Barbaresco) can age brilliantly. Alessandro Masnaghetti with his insightful most helpful maps and Menzioni Geografiche Aggiuntive (MGA) Encyclopedia is a treasure in helping us to understand the amazing diversity of the vineyards in Piedmont. Check out the Ask Sid question on Barolo Vineyard Maps on August 23, 2017 here. Intensive and fun project for the avid consumer to study them looking for similarities and differences.

Over the last few decades your scribe has been enthralled by the regional differences of Barolo as well as the specific vineyards within them. Enjoy them all yet the historic Brunate vineyard in La Morra (but extends down the hill into Barolo) from Marcarini (traditionalists now 6 generations) has been, until more recently, the one most easily available in the Vancouver market. Marcarini Brunate at 300 metres altitude facing S/SW was lower priced and on release often showed quite acidic, angular and tannic. Ironic as La Morra generally tends to be fresh, fruity and less weighty than other regions including Serralunga d'Alba & Monforte d'Alba – less structured & more aromatic, elegant, and for earlier drinking. Also clay, calcareous, and argillaceous with magnesium soils tended to do better in drier late vintages than early wet ones. Tried this last week comparing the outstanding vintage 2010 (see Blog "Barolo -The Hot Collector Wine" on February 23, 2015 here) and the late picked 2004 of Marcarini Brunate. Age has helped them both to develop into wonderful food wines with dinner showing admirable texture and complex smoothness. Good value that with patience improved considerably with bottle age. An under the radar traditional old style producer that is recommended and currently available wines are even better than they did previously with a more careful vineyard selection of grapes.

2010 BAROLO BRUNATE MARCARINI Very tannic when released with variable scores. Vines planted 1985 & 1986 spent 50 days in cement fermenters on the skins and 2 years in medium sized oak barrels of 20/40 hl size resulting in 2000 cases. In 2023 starting to come around with a real depth of intense velvety fruit with surprising structure and length. Tertiary development starting with a depth of spice, balsamic, tobacco, some "tar & roses", really rather complex. Impressive. Delicious with starter eggplant parmigiana and main dish of boneless lamb shank. No rush at all with this. Confident it will develop even more Brunate distinct terroir with better open bouquet and supple delicate textures with more cellaring. Patience. Value. On my last visit to Marcarini in October 2019 was advised by them that there will be an upcoming release this decade of 2010 magnums. Watch out for them. Excellent potential.

2004 BAROLO BRUNATE MARCARINI Also good garnet-red right to the rim but lighter tones than 2010. Less depth. Lovely pure open aromatics with more underbrush, mushroom, and menthol styling. Finish is a bit dry plus less intense and not as long a finish as 2010. Developing nicely in its second decade resulting in a beautiful match with a course of sweet tender lamb shoulder, parsnips, squash, and appropriate Sicilian Casarecce (short "S" shape with narrow grooves) pasta. Value. Drink presently.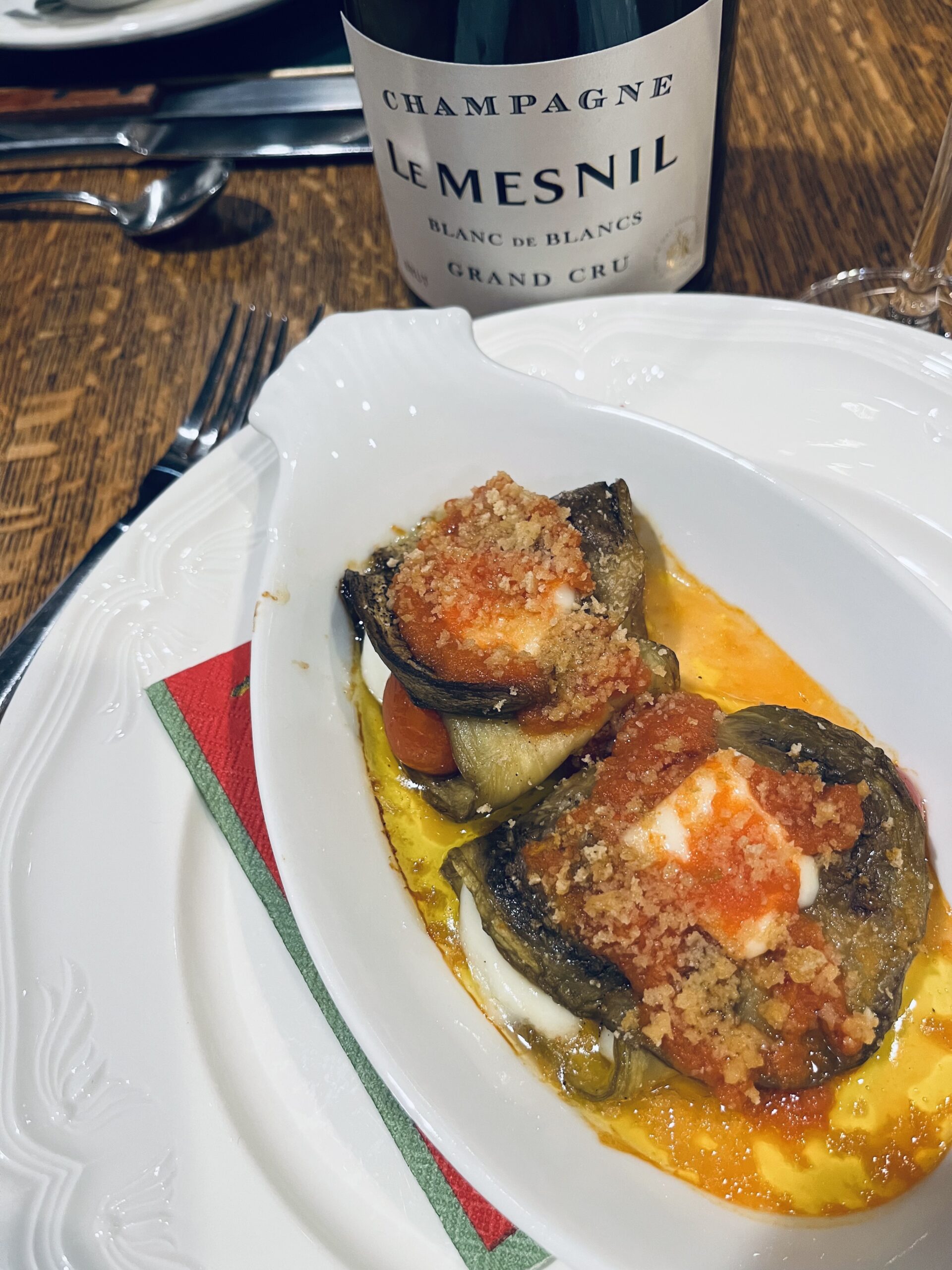 ---
You might also like: