On November 24, 2022 the chef competition for Canada's Great Kitchen Party (formerly Gold Medal Plates) returned to Vancouver at the Westin Bayshore Inn – the last regional qualifier of 9 cities leading to the Grand Finale of Canadian Culinary Championship (CCC) in Ottawa, Ontario on February 3 & 4, 2023. Check out for more details of this event on their website of greatkitchenparty.com/ca @GKitchenParty on Twitter & @GreatKitchenParty on both Facebook and especially Instagram.

Your scribe was a judge for this main event and also the Wine Competition organized by David Lawrason National Wine Advisor (First: 2020 Mission Hill Jagged Rock Vineyard Syrah Terroir Collection 15 months in combo of French Oak barrels, Foudre, and Puncheon, Second: 2020 Tantalus Old Vines Riesling 12.7abv, and Third: 2020 Black Hills Ipso Facto 55% Cabernet Sauvignon & 45% Syrah). The final placings for the 2022 Great Kitchen Party Vancouver are: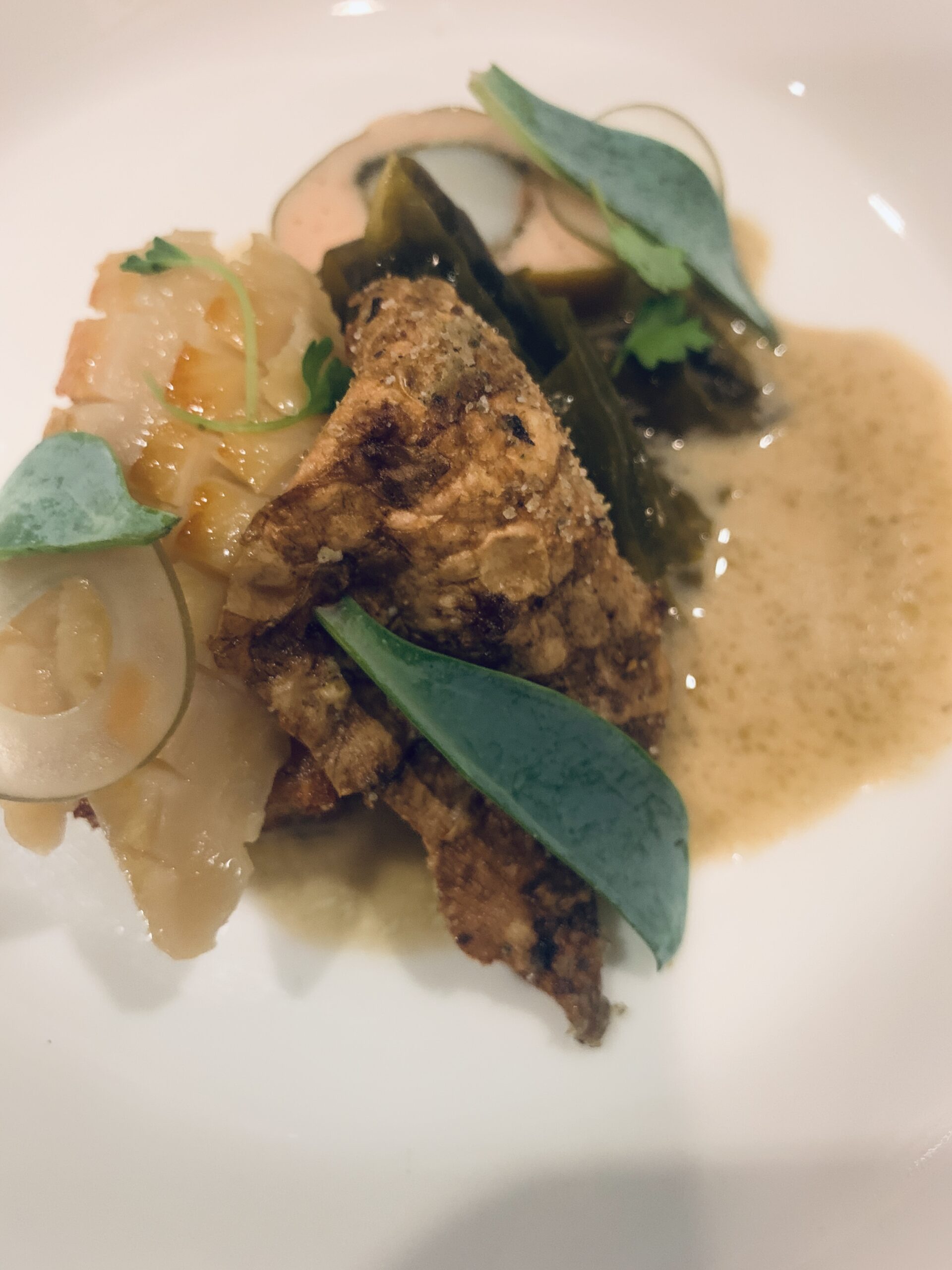 1. BOBBY MILHERON (Homer St. Cafe & Bar, Tableau Bar Bistro, Maxine's Cafe & Bar) with his innovative brilliant dish of lightly smoked Canadian Geoduck & BC Spot Prawn terrine with pickled Bull Kelp, Sunchoke and shellfish jus. He also provided a wonderful most insightful brochure with QR code scan for ingredient producers all clasped by an amazing geoduck shaped clasp. Also received the People's Choice Award. Well done!

2. MIKE TUANGKITKUN (Chef de Cuisine at Maenam) Southern Thai style Turmeric Curry with a mosaic of BC Sockeye Salmon, mussel, side-striped prawn, fresh young coconut, and squid ink cracker with housemade "Tomyum" seasoning.

3. VISH MAYEKAR (Caffe La Tana, Pepino's) "Surf & Turf" Lamb Agnolotti & Seared Scallop with South Indian Curry Sauce, Curry Leaf Foam and Lime Crumb.

An outstanding inspired hors d'oeuvre of pate en croute was prepared by Chef Roger Ma (Boulevard in Vancouver) reigning CCC champion clearly showing his talented worthiness for this title. There is an excellent write-up summary on the evening prepared by ourleader National Culinary Advisor James Chatto posted here. Follow the exciting CCC in Ottawa early February.
---
Bobby Milheron of Homer St. Café and Bar wins gold at Vancouver's Great Kitchen Party

Flying into Vancouver from Saskatoon gifted us a certain magic – we landed before we took off, and found a city still cradled by autumn, golden leaves not yet fallen from the trees. We were tempted to linger by the placid waters of Coal Harbour, but only for a moment. We had a party to go to – and a splendid party it turned out to be. Our Vancouver event was the first across the country to sell out, which may have been because of the awesome musical line-up assembled, headlined by Bill Henderson and Chilliwack, who rocked on late into the night, Neil Osborne and Dave Osborne of 54-40, Kandle Osborne and Geoffrey Kelly of Spirit of the West. We have had so much incredible music throughout this campaign and we ended it on a stratospheric high. Heather Moyse was our sparkling emcee and Beckie Scott had the whole room in the palm of her hand as she talked about the charity she has created and which is one of those that the Great Kitchen Party supports – Spirit North, empowering Indigenous youth through sport and play.

We included another special moment in the evening – a tribute to Andrew Morrison who was our co-Senior Judge in Vancouver for 14 years and a beloved member of our team, lost to cancer in 2021. The Great Kitchen Party has created a bursary in his name to be awarded annually and in perpetuity to a deserving culinary student from Vancouver Community College. Last night the recipient was Sara Li.

Andrew would have had a great deal to say about the dishes we tasted last night. The standard was exceptionally high all round, with gorgeous sauces in particular evidence, but a clear and unanimous winner emerged in the minds of the judges. Our jury included some of the finest palates in the land, led by Vancouver Senior Judge Joie Alvaro Kent (cookbook author, food writer, culinary judge, entrepreneur, and sipper of Boulevardiers) together with Sid Cross (wine food guru: globally respected educator-judge-media personality & bon vivant), Andrea Carlson (chef, owner of Burdock & Co. Restaurant, Bar Gobo, Harvest Community Foods), Hamid Salimian (VCC Culinary Arts instructor, GoodFlour co-founder, Culinary Olympics coach and gold medallist), Douglas Chang (chef turned quality knife and houseware dealer but forever an eater), and Roger Ma, the Vancouver gold medallist in 2019 and reigning Canadian Culinary Champion. The canapé he prepared for the VIP reception was a stunning slice of paté en croute with a circle of venison loin held in place by a pork and duck farce studded with chopped pistachios and truffles and finished with a quail aspic – an incredibly delicious start to everyone's evening!

We awarded the bronze medal to Vish Mayekar from Caffè LaTana and Pepino's Spaghetti House. His dish was a play on surf and turf that combined his roots in Mumbai with his life in Canada and paid homage to the Italian restaurants that have been such a part of his career so far. He presented two hand-rolled agnolotti, striped with squid ink, filled with a farce made of lamb shoulder and belly, seasoned with toasted Indian spices and leavened with a little ricotta. Beside them was a whole scallop, seared in ghee to give a bronze crust and brightened with lemon. The sauce was a carefully
judged, long-simmered melange of tomato, curry leaves, 10 different spices, cilantro and mint while a curry leaf foam echoed some of its flavours in a different, more ethereal form. Tangy lime breadcrumbs added crunch while a coriander oil contributed freshy herbal notes. Chef chose a natural wine for his pairing, the fruity, boldly acidic 2021 Roussanne/Viognier from Artakama in Oliver, B.C.

Our silver medal went to Thachaya "Mike" Tuangkitkun from Maenam. He presented a mosaic of wild sockeye salmon that he brined for an hour with lemongrass, makrut lime leaf and galangal then smoked very briefly with grated dry coconut and brushed with squid ink. The fish was wrapped in betel leaf then sliced to beautiful effect. Beside it in the bowl was a single perfect Salt Spring Island mussel and a single perfect sidestripe shrimp, both of them steamed with a bouquet of Thai herbs. The sauce was the scene-stealer – a rich opulent yellow curry, silky with coconut cream, coloured by turmeric and soothed with fresh young coconut juice. A sturdy puffed tapioca cracker had the flavour to stand up to the sauce's heat, dusted with a Tom Yum seasoning of lemongrass, lime leaf and galangal. Finishing garnishes included a lovely piece of fresh young coconut meat, lime leaf and microgreens. Chef's wine choice was a perennial Canadian star, the tangy, elegant 2020 Old Vines Riesling from Tantalus in B.C.'s Okanagan Valley.

The gold medallist – and also winner of the People's Choice award – was Bobby Milheron from Homer St. Cafe & Bar, Tableau Bar Bistro, and Maxine's Cafe & Bar. He turned to the ocean for inspiration. Geoduck can be awfully chewy – Chef Milheron cured his with salt, citrus and sugar, lightly smoked it, poached and then very briefly seared it to a remarkable tenderness. Its subtle marine flavour was echoed in the second element of the dish – a slice of spot prawn held in a matrix of shellfish mousseline, wrapped in bull kelp. Beneath the geoduck was a finger of grated sunchoke cake, creamy inside, crispy on the surface. Pickled bull kelp provided acidity and another taste of the sea. Chef's sauce was a rich shellfish jus made from kelp and geoduck and he used more sunchokes to make scrumptious crisps. A scattering of intensely flavourful oyster leaves tasted just actual oysters – another marine nuance on this cleverly cross-referential plate. Chef's wine was the refreshing, dry but fruity 2021 Reserve Rosé from Mission Hill in the Okanagan Valley.

So there we have it. Chef Milheron completes our line-up of champions heading off to Ottawa in February for the gruelling gastronomic trifecta that is the Canadian Culinary Championship. I can hardly wait!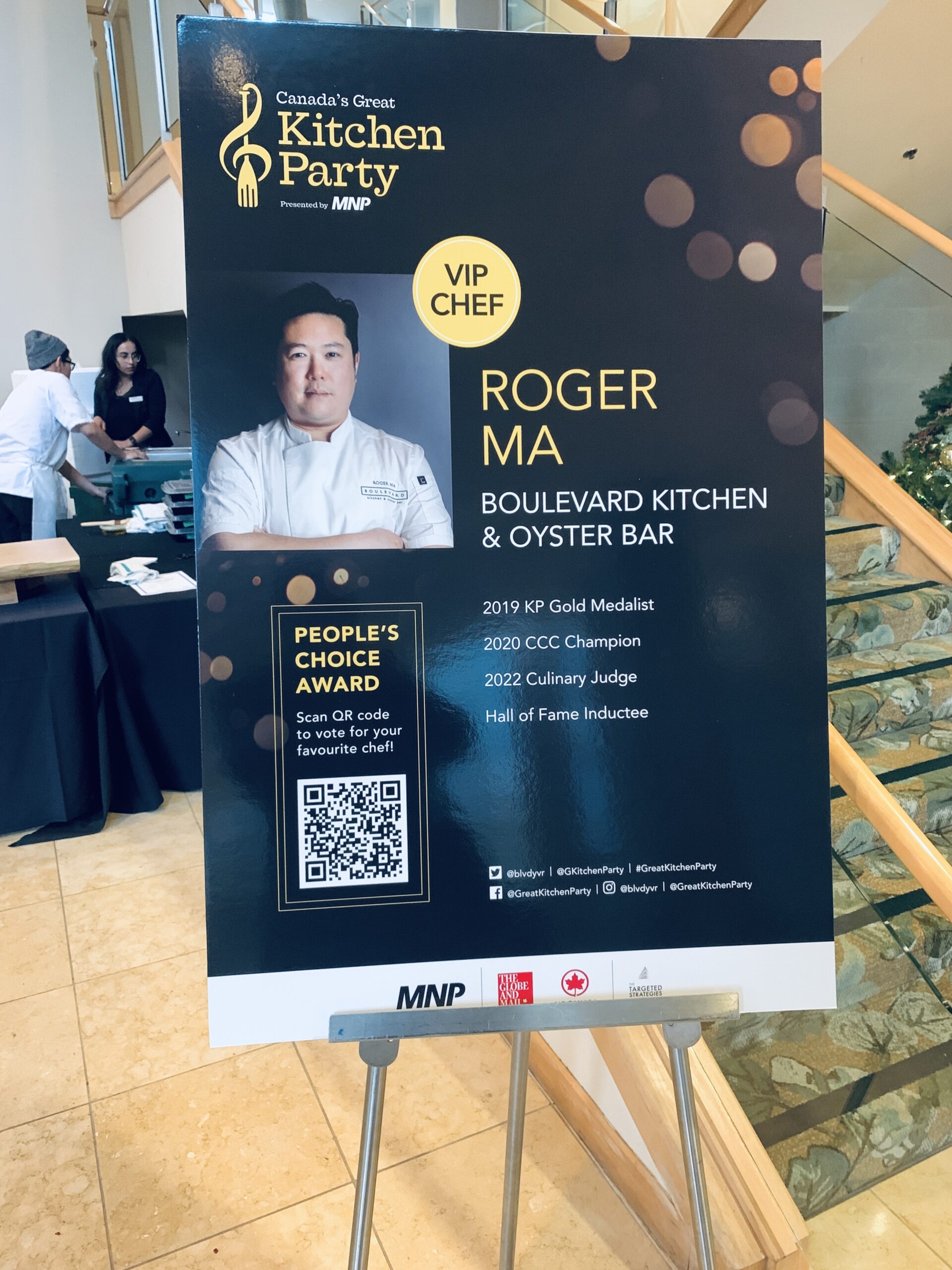 ---
You might also like: