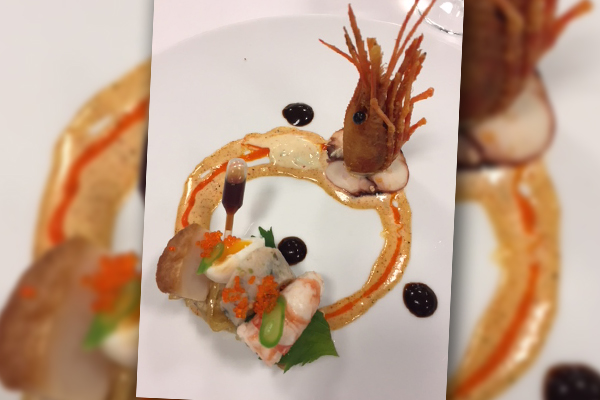 Ito's gold medal dish in Victoria
Gold Medal Plates has evolved after 12 years of raising over $15 million for Canadian Olympic athletes to a brand new initiative with broader goals as Canada's Great Kitchen Party (CGKP). The three main pillars of CGKP are: 1) B2ten for amateur sport 2) MusiCounts for music & musical instruments in schools and 3) Community Food Centres Canada for teaching children how to grow, cook, and share healthy food as our next generation of chefs & food leaders. On the culinary front there are 11 cities with their own regional competition awarding gold, silver & bronze with the gold winner still proceeding to the Canadian Culinary Championships (CCC) February 1 & 2, 2019 in Kelowna British Columbia. Most of the key players are back including James Chatto as National Head Judge & Culinary Adviser with David Lawrason as knowledgeable wine, beer & spirits specialist. Your scribe continues as a culinary and wine judge both in BC and at the CCC. Salivating to read the following detailed most erudite comments by James Chatto on the gold winners in 2018 from 10 cities across Canada:
"Chef Irwin MacKinnon of Papa Joe's Restaurant in Charlottetown, P.E.I won gold in Moncton, New Brunswick. He began by painting a broad runway of toasted-miso-butternut-squash purée across the plate. At one end he set a whole, immaculately seared scallop, pale and quivering inside its golden crust and dusted with a tiny suggestion of black garlic salt. Beneath it was a spoonful of slaw made with a medley of finely julienned vegetables and flavoured with sesame and ginger. At the other end of the squash purée highway, a piece of beef rib bone served as a plinth for a glossy, spherical parcel of deeply flavourful, admirably moist braised P.E.I. beef short rib, wrapped in a membrane of savoy cabbage. Strewn between these two edifices (the apotheosis of surf 'n' turf) were all sorts of treasures – supple golden chanterelles Chef had foraged himself then lightly pickled; softly roasted miniature candy cane and golden beets; fresh sweet peas and their seedlings, bringing their own lively green taste. Yellow dots of spicy sweet potato purée and black dots of fermented black garlic purée were the ideal condiments. Two lotus root chips brought crunch and visual appeal. As a dish, it united so many of the region's best culinary ingredients – and Chef's beverage match was inspired – the forthright, citrussy, hoppy Go Devil American IPA from Upstreet Craft Brewery, P.E.I's latest microbrewery.
Our Montreal gold medal was thoroughly deserved by a chef who has competed twice before while at his other restaurant, Le Fantôme. These days Jason Morris is cooking at Restaurant Pastel and I have to say his talent has reached a new level of finesse. His dish consisted of seven distinct elements, each set far apart from each other on an expansive white plate. Four of them were cauliflower – tiny, perfectly textured florets of purple, green and yellow varieties, and a wee dab of silky, buttery white cauliflower purée. A golden sphere the size of a golf ball (or a quidditch snitch, if you prefer) turned out to be a cromesquis of juicy confited duck leg seasoned with burned thyme, sage and burned onion, mouthwateringly tender beneath a crunchy crust of fried potato flakes. A cylinder of foie gras torchon, half an inch long and no thicker than my pinkie, was wrapped in a membrane of jelly made from salt-fermented edible flower petals that tasted faintly of quinine. The star of the show was a slender circular slice of duck ballotine, its strips of duck magret macerated in a purée of wild mushrooms. Grilled over binchotan white charcoal, the ruby red meat had a delightful texture – a hint of chewiness, nothing pasty – in its mushroom matrix, all held together by a delicate rim of duck mousseline. As a final touch, Chef poured on a little rich jus made from the duck breast bones – a disarmingly pure reduction that amplified the flavours of the ballotine. The chosen beverage was the bold, fruity Izumi genshu junmai sake produced in Toronto's Distillery District, its creamy weight nicely judged against the textures of the dish, its floral nose working particularly well with the multicoloured cauliflower jewels.
We awarded the Ottawa-Gatineau gold medal to the chef who had won silver last year – Yannick LaSalle of Restaurant Les Fougères in Chelsea, Quebec. He explained that the inspiration for this year's creation came from the red currants growing in the restaurant's garden. Two or three of these tart crimson jewels appeared whole on the plate, part of a sauce made with red currant vinegar and sweet, earthy beet syrup. Chef drizzled a spoonful around the dish as he set it down and it pooled and beaded in the sheen of hazelnut oil on the plate. The beets returned as a vegetable, having been lightly poached with lemon verbena then grated and pressed with tangerine marigold, also from the garden at Les Fougères. We are all accustomed to treating protein as the heart of a dish but in this case it was so well balanced and integrated into the whole that it did not dominate. Tucked away, almost, beneath the other ingredients were slices of cured duck breast, each with a new moon of soft white fat at its rim. Chopped crispy duck skin added textural variety, as did crisp loonie-sized potato chips seasoned with black garlic salt. More black garlic became a purée, spiked with grainy mustard – the sort of condiment they have on charcuterie boards in heaven. Quebec black walnuts provided the coup de grace, shaved over nasturtium and marigold leaves, echoing the nuttiness of the hazelnut oil. The dish had exemplary intellectual integrity – very much to do with a certain place and a certain time of the year. It was also absolutely delicious. And the wine match was brilliant, its acidity alluding to the red currants, its spiciness perfect with the walnuts – Meldville Vineyards 2015 Cabernet Franc from Niagara's Lincoln Lakeshore VQA.
Davina Moraiko of Edmonton's RGE RD won the gold medal. The heart of her dish was a sturdy puck of lightly spiced blood sausage studded with lardo and pearl barley – a most delicious boudin. It sat in a wee pool of cider-sweetened hollandaise as rich and golden as egg yolk. Freshness came in from several directions – from a brunoise of fresh honeycrisp apple; from crunchy, lightly fermented green cabbage, chopped as finely as any slaw; and from a kale and roasted onion fluid gel. A fine green dusting on the plate was made from dehydrated, powdered kale and grated, cured pork heart. Pork crackling chicharrons provided ethereal crunch and a garnish of fresh chervil brought a subtle fennel flavour to the finish. It was a beautifully judged dish, balanced and flawlessly executed, and a perfect match for Chef's chosen wine, the apple-scented 2016 Riesling from Red Rooster on B.C.'s Naramata Bench.
Thomas Carey of Fresh Twenty One was our champion this night in Halifax. He began by curing foie gras but rather than turning it into a mousse or a straight torchon, he conjured a texture much more like pan-seared foie. Each dish got just a little of it, encircled by a ring of pulled oxtail, the braised meat admirably juicy and flavourful. As a sauce he made a sunchoke soubise, light and foamy as air, and used it to poach an oyster just beyond rawness. I loved the textural similarity of the oyster and the foie gras, the contrasting land and sea flavours. Crispy dulse was sprinkled on top and there were crunchy pickles to add other variety and cut the richness. Crowning everything was a little salad of mustard greens, frisée and fennel fronds – fresh and herbal and so much more than a garnish. Chef's wine match was a winner in my book – a funky, yeasty rosé fermented in a cement egg with plenty of minerality to reach out to the oyster and the soubise – the 2017 Wild Ferment Cabernet Franc Rosé from Benjamin Bridge in Wolfville, Nova Scotia.
Chef Katie Hayes of Bonavista Social Club in Upper Amherst Cove won gold in St. John's, Newfoundland. Her main protein was moose, prepared two ways. At six o'clock on the plate, she had piled thin slices of seared tenderloin, cooked medium-rare and delectably tender and juicy, its subtle flavour enhanced by a thin jus. At ten o'clock stood a vol-au-vent of exceptionally lightweight, buttery puff pastry, filled with a rich stew of moose shank flecked with onion and carrot, as tasty as any stew you might remember from your garndmother's kitchen. The third element was a triangular wedge of a technically impeccable pavé of yellow beet and potato, cooked to a perfect firm-tender texture. Multicoloured spheres proved to be a crunchy parisienne of beet, turnip and carrot, and acting as a base for the roots was a deep spread of silky parsnip purée topped with a loonie-sized disc of dark green cabbage leaf. Crispy garlic chips added crunch to the moose tenderloin; dots of partridgeberry gel and parsley oil made sure that no two forkfuls tasted the same. All the vegetables came from the restaurant's steep, cliff-side garden, which gave them a gratifying intellectual integrity that matched their lovely flavours. Chef chose a splendid wine that was just right with the moose and a wonderful match for the partridgeberry – the fruit-forward, supremely elegant 2015 Grower's Blend Cabernet Franc from Tawse Winery in Niagara, Ontario.
This year's gold medallist is Takashi Ito from AURA waterfront restaurant + patio in Victoria. He presented a little orchestra of local seafood, starting with a dramatic, sculptural whole prawn head karaage, fried to a crunch, that shattered like puff pastry when one bit into it. Beside it was a very thin slice of pressed octopus "sheet" powerfully seasoned with sea salt while various sauces formed a delta of strong flavours across the plate – a black garlic aïoli, another aïoli flavoured with red pepper and gochujang and a togarashi mayonnaise. The second cluster of treats on the plate was based upon a slim quilt of okonomiyaki pancake stuffed with shrimp, Taiwanese cabbage and tenkasu, topped with shiso leaf and a delicate onion and soy salad. Neatly lined up on this busy bed was half a butter-seared scallop that had been deglazed with sake, a tender spot prawn poached in sake, half a soft-boiled quail's egg garnished with fish roe, and a morsel of a soft, sweet Dungeness crab terrine. A tiny pipette of soy sauce was provided to give a final umame spritz but it really wasn't needed – the flavours were big and brave, speaking most eloquently of the sea. Chef chose sake for his pairing – an admirable decision: it was the pungent, fruity, unfiltered Renaissance Fraser Valler Junmai Nigori sake from Osake, made on Granville Island in Vancouver.
Christopher Hill of Taste Restaurant Group in Saskatoon won the gold medal, something he has done before. He named his dish "After The Fire" and presented it alongside a belljar in which wood chips smouldered. At its heart was a roulade of lightly cured, lightly smoked duck breast, confited and rolled with wild boar sausage, the meat blessed with a wonderfully juicy toothsome texture. Behind it Chef piped an aerated foie gras mousse with an ethereal texture, its surface tinted red with beet juice. Here was a parsnip purée, subtly flavoured with rosemary, there a whole morel sautéed in butter, and there a small mound of tender-crunchy cabbage. A hank of reindeer moss spoke of the woods while dots of intense sour cherry syrup recalled the orchard. A strip of chewy "bark" was made of salsify cooked in birch syrup, adding an intriguingly dark and bitter note to the spectrum of flavours. Juniper jus and flower petals finished the dish. A whisp of smoke from the belljar hung in the air – as it once did over the vineyard that produced the wine Chef chose, the 2017 Pinot Noir from Meyer Family Vineyards in the Okanagan Valley, a mouthful of spicy cherries. In that year, wild fires raged over the surrounding hills, though the grapes survived untouched.
We gave the gold medal to Elia Herrera of Los Colibris in Toronto. She too chose pork belly as her protein, giving it three separate cures over three days then cooking it sous vide for 12 hours, before cutting it into slices and finishing each one in a hot pan to crisp the meat's surfaces. On top of the pork we found a small quenelle of a smooth greeny-brown purée that Chef described as a Yucatan-style salsa of ground pumpkin seed spiked with habanero chilies and garlic. "Spread it over the meat," she advised and we obeyed. Too fiery to eat on its own, it was a perfectly judged amount to work as a condiment when carefully spread, adding delightful heat and complexity. Talking of complexity, Chef created a Oaxacan-style mole negro as the dish's sauce; smooth and almost black it seethed with the dark, smoky flavours of various chilies and bitter chocolate. The pork sat on a slice of corn tamal, its texture turned from a polenta into something as smooth as a mousseline by the addition of pork fat. Cutting these riches was a supreme of fresh orange marinated in orange flower water and a suggestion of cinnamon. Tiny drops of pumpkin seed oil seasoned with ancho and chapulin added a finishing touch. It's always exciting when a chef cooks from the heart, offering food he or she is passionate about rather than some anonymous competition dish. "The more of this you eat, the more you enjoy it," pointed out one of the judges. Chef's chosen wine was a good choice, adding fruity reinforcement to the refreshing orange on the plate: dry but full of red berry flavours, it was the 2016 Estate Cabernet Ros´from Southbrook Vineyards in Niagara-on-the-Lake.
We awarded our gold medal to Chef Dave Bohati of Murrietta's in Calgary, who has also won gold with us before. He chose to work with Brant Lake wagyu beef cheek, first brining it like pastrami for 72 hours then smoking it, crusting it, slow-cooking it sous vide and finally braising it. The result was astonishingly tender meat that fell apart at the touch of a fork, subtly flavoured with sweet smoke and spices. Chef paired it with four different preparations of Jerusalem artichoke – a rich purée, small roasted nuggets of the root, crunchy crisps and dime-sized slices of raw sunchoke that he briefly acidulated and vacuum-packed to keep them fresh and firm. Kabocha squash was the other major ingredient, used as a second purée, as a tender brunoise and also to make lovely little gnocchi, finished in a sauté pan with some roasted bone marrow and shaved fresh Burgundy truffles. Saskatoon berries served as a condiment, macerated in Chef's chosen Pinot Noir but still whole and juicy. A little green herb oil was the finishing touch, bringing colour to the plate. That Pinot Noir, the 2016 Tantalus from Kelowna, BC, was an inspired choice made, Chef Bohati explained, because of the wine's peppery notes and unusually high alcohol."
The 11th city Winnipeg holds their culinary competition of November 8 so check out the website at www.greatkitchenparty.com for results and more details. Check out these hot chefs and their restaurants if you are in the region. Shaping up again for another intense CCC for these gold medal winning chefs on February 1 & 2 in Kelowna. Consider attending to learn about food plus for an amazing insight into what skills it takes to win this challenging Culinary Championship!
---
You might also like: