Attended a most unique event on May 25, 2022 showcasing classy Cognac instead of wine – paired with several courses over dinner. The wonderful hosts Drs. Jean & Alastair Carruthers are aficionados of the finest wines but also had collected some treasured old bottles of rare vintage dated Cognacs to share among friends. They astutely arranged for talented couple Sommelier Nessa van Bergen & Chef Dino Renaerts of Bon Vivant Catering to orchestrate this splendid evening to great success. Their pairing ideas with excellent hospitality really worked out well. The Chef cleverly incorporated cognac reduction with delicious lobster plus made a brandy cream jus to bring out the best of the spirit matched to the beef course with porcini risotto. Note there are 3 principal developments that occur during the maturation of Cognac: Chemical changes from the air & wood; it takes on colour from the Limousin oak casks; and the alcohol content & volume of liquid diminishes. Check out the biggest wholesaler Tesseron (of Ch. Pontet-Canet) Lot 29 pre-phylloxera and vintage 1825-1906 in 25 liter glass demi-johns plus oak casks of 1907 and following. These ten Cognacs were all quite different (see the colour variations) as well as a few Single Malt Scotch Whisky (Springbank Campbeltown 25 year, Aberlour 16, Glenmorangie Legends The Tayne) thrown in for comparison. A Tasting-Dinner unlike anything else! Marvelous.
HUDSON'S BAY BRAND FINE CHAMPAGNE COGNAC SUPERIOR QUALITY BERRY BROTHERS AND RUDD (BBR): Sweeter & attractively styled.
TIFFON GRANDE CHAMPAGNE AND FINS BOIS: A bit turpy at first but developed some interesting coffee notes.
80 YEAR OLD BORDERIES TIFFON GRANDE CHAMPAGNE COGNAC BBR: More wood more complex yet admire the floral delicate perfumes here.
ROBERT CHEVILLON VIEILLE FINE MARC DE BOURGOGNE: More powerful tannic caramel notes
ADAM & EVE BARBIER EAU DE VIE DE VIN BOTTLED BY VINCENT BARBIER: Wine spirit brandy but prefer them made out of fruit.
1948 ARMAGNAC NISMES-DELCLOU BBR: Distinctly different soils and not double distilled like Cognac with less alcohol.
HENNESSY XO COGNAC: Benchmark reputed to be around 1200 cognacs some up to 100 years of age. Shows smooth as rich butterscotch & dried fruits with a long spicy finish.
1967 LIGNIERES & SONNEVILLE (single villages) GRANDE CHAMPAGNE BOTTLED BY DELAMAIN (From early 1600s-no vineyards) IN 1995 (AT 28 YEARS) BBR: Much lighter colour than Hennessy XO but exquisite.
1948 OLD LANDED PALE COGNAC SHIPPED BY THOMAS HINE (Firm since 1763-Married Delamain's daughter) LANDED 1949 BOTTLED 1980 (32 YEARS) BBR: Interesting in only 68 cl. bottle is also pale but subtle and so well-balanced.
1904 VERRIERES GRAND CHAMPAGNE COGNAC LANDED 1956 & BOTTLED 1965 (61 YEARS in wood) BBR in 24 fl. ozs. bottle: Hit of the Night! Dark looking with a fantastic bouquet so open and full of round flavours with finesse. So many complex perfume elements of fragrant flowers, marmalade of dry figgy plum fruits & orange peel to mocha cinnamon spiced acacia honey. A rare treat to experience.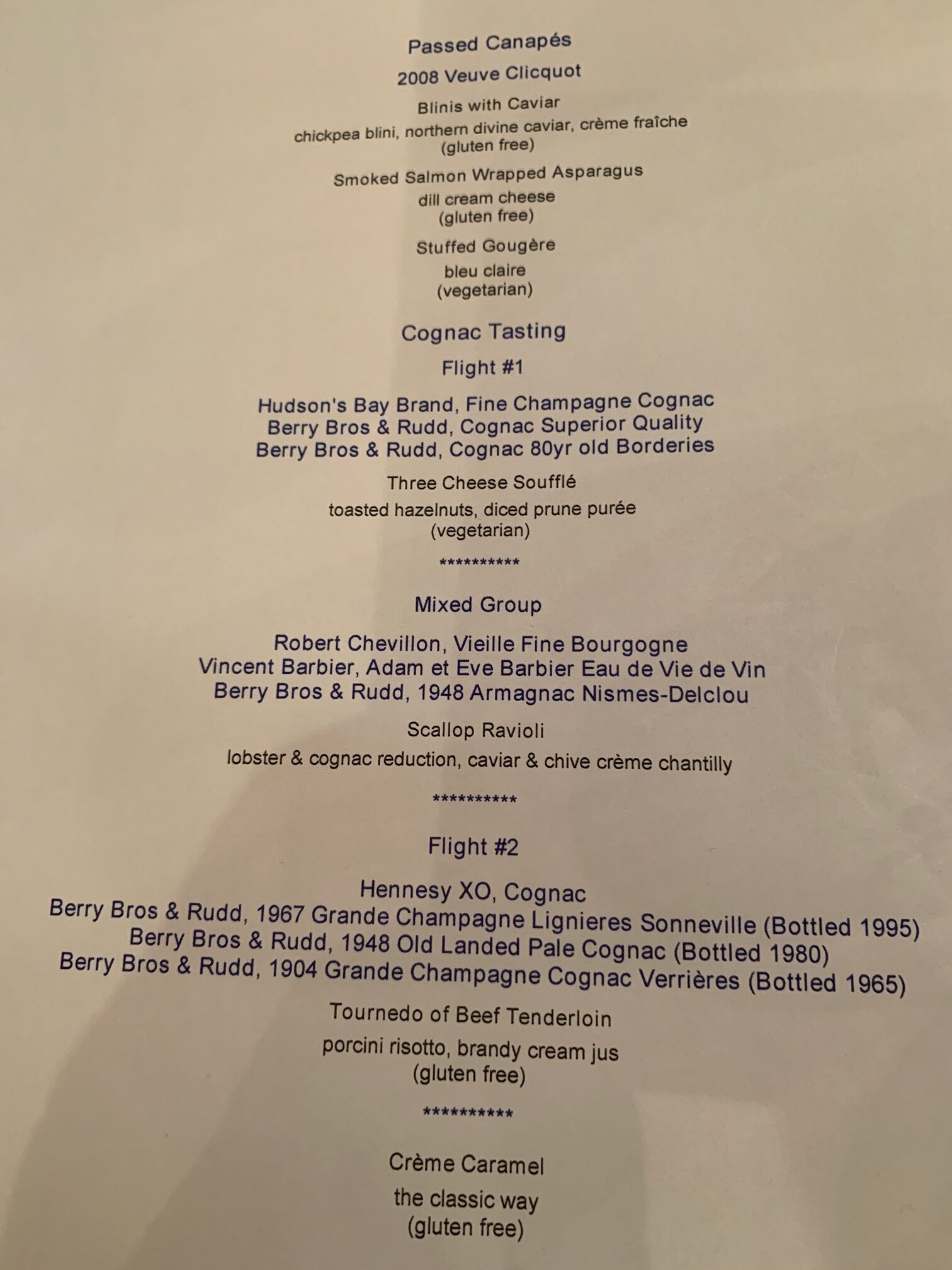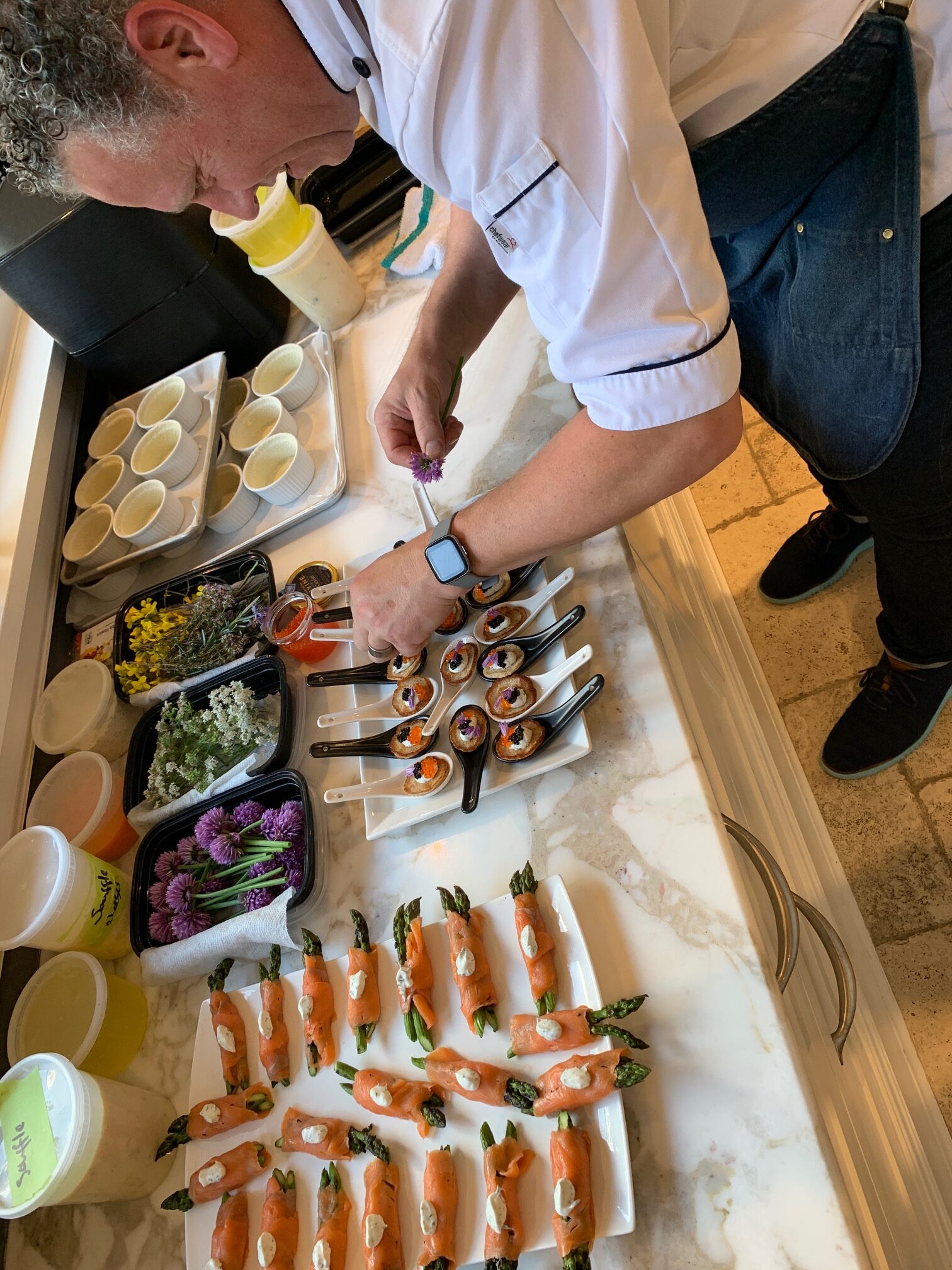 ---
You might also like: