The Vancouver Branch of The International Wine & Food Society held their insightful Annual Wine Tour of the Okanagan organized superbly by knowledgeable member Larry Burr for three full days May 27-29, 2022. This time the focus was on Similkameen & South Okanagan limited to 16 enthusiastic members in a Top Cat Tours van, staying at Watermark Resort, and visiting 12 key wineries. Lots of educational benefits plus camaraderie fun with a few highlights noted from your scribe as follows:
DAY 1: The Similkameen Valley in Southern BC west of Osoyoos has hot dry very windy conditions at higher altitude (400-480 metres) with 633+ acres planted by 15 wineries (6% BC vineyard acreage). Steep mountain walls background vineyards with diverse soils ranging from rich sandy loam to gravel & large granite rocks. Also growing there lots of fruits and vegetables with two towns of Keremeos named "Fruit Stand Capital of Canada" and Cawston the "Organic Farming Capital of Canada." We visited four wineries:
1. VANESSA VINEYARD: Legendary winemaker Howard Soon (only 2 wineries over 42 year of experience) with Kristi Short Tasting Room Manager showed us their "carved from stone, fueled by sun, a vineyard like no other" in a wind tunnel with rows of rocks everywhere advising that "sometimes a bear comes down the steep hill to enjoy their juicy Syrah grapes".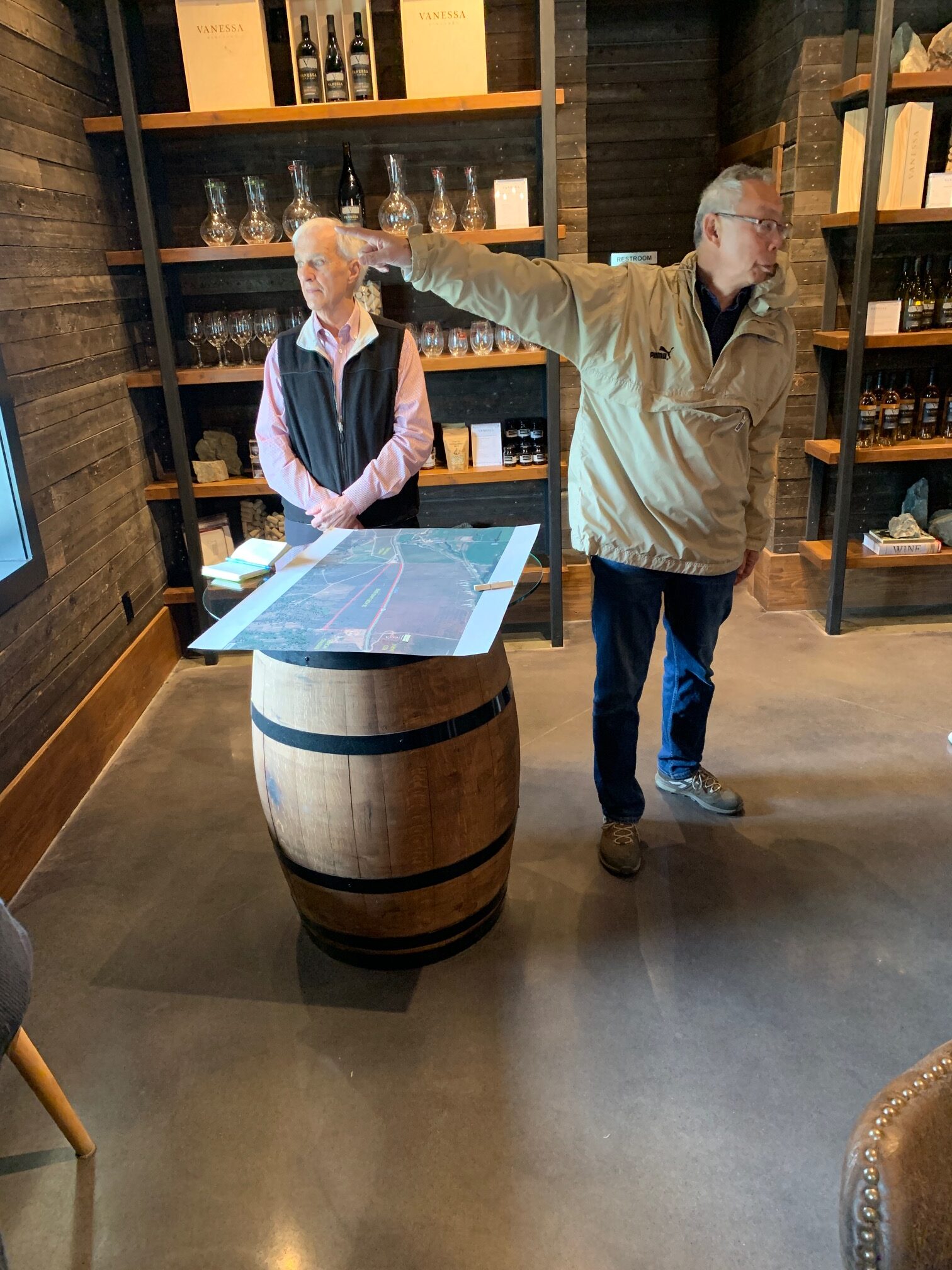 Sampled 5 wines:

(a) 2021 V Series: new white blend 12 abv 70% Semillon & 30% Riesling shows interesting ripe smooth textures;
(b) 2021 Rose: 2/3 Syrah & 1/3 Merlot very pale pink but dry and acid balanced with only 250 cases at 14.1 abv;
(c) 2018 Syrah: First of three powerful reds all from 100% Estate grown fruit and all long aging in American & French oak. 27 barrels (co-fermented with Viognier) 20 months open spicy enticing aromas. Full peppery statement 15.2 abv;
(d) 2018 Right Bank: Merlot-dominant 24 barrels served decanted displaying unique "sagebrush" terroir 15 abv;
(e) 2018 Meritage: Cabernet-dominant 31 barrels Big rich and loaded but needs time. Getting up there at 15.6 abv
2. OROFINO VINEYARDS: Owners John & Virginia Weber are "Purveyors of Premium Wine" focusing on wines from vineyard specific sites to show the terroir with all reds unfiltered and unfined.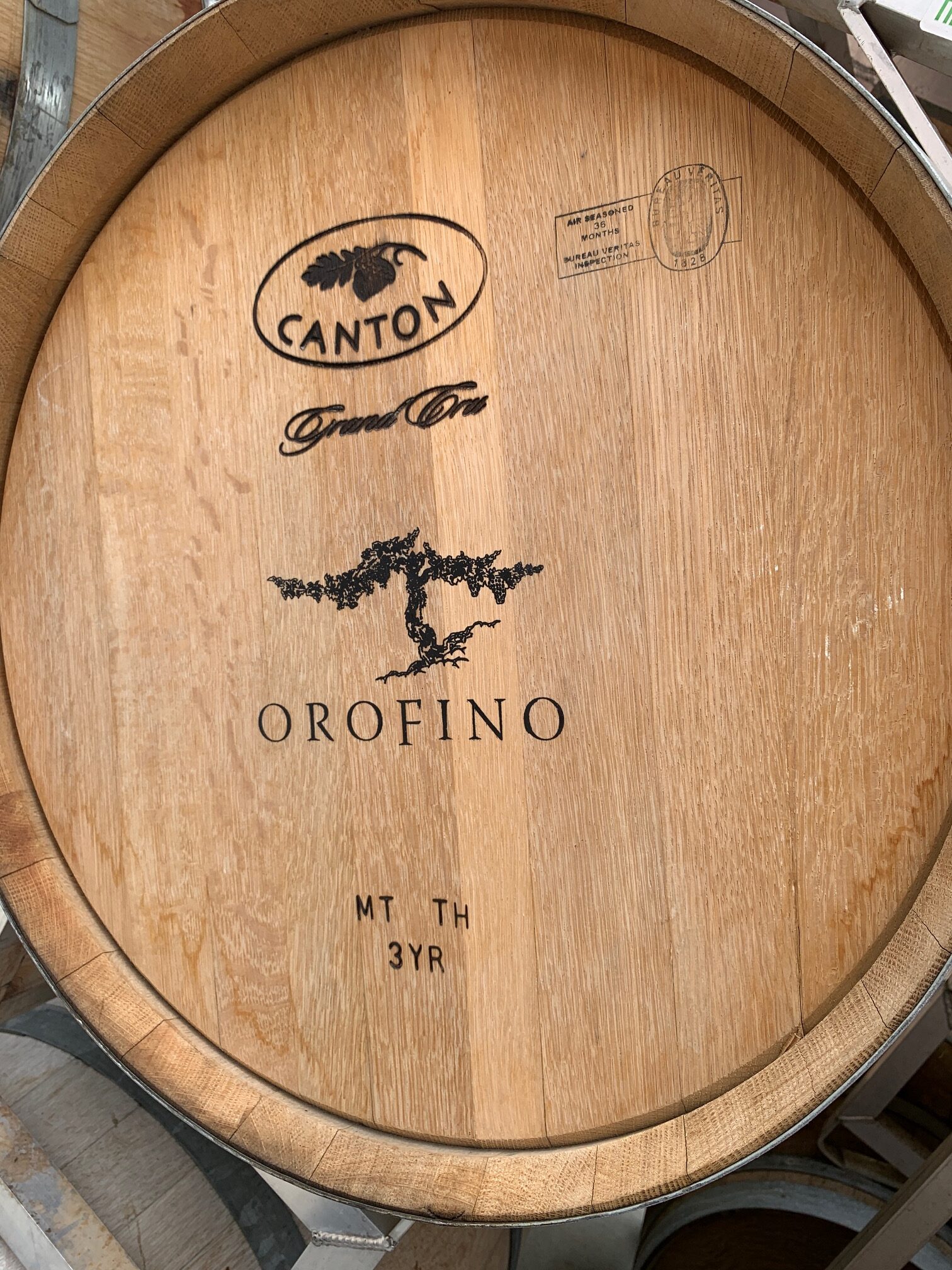 (a) 2021 Rose: Utilizes 12 hour skin contact on Cab Franc. Stylish. The heat dome of 2021 has worked well in ripening their fruit.
(b) 2020 Home Vineyard Pinot Noir has substance "very waxy spicy riper notes" using 5 clones. John says the 2020 reds were cooler than 2019 but with more aromatics.
(c) 2020 Syrah has "white pepper" and they have planted 6 more acres at the top of Passion Pit (as no longer have access to Scout vineyard fruit).
(d) Riesling – Like their direction here with 3 distinct ones produced from dry typical "zippy" Clone 239, richer sweeter balanced old vines, and Clone 21B Weis Clone from Mosel. Check out their Rieslings!
LUNCH AT ROW FOURTEEN RESTAURANT AT KLIPPERS: Admire everything about this outstanding place. Even a welcoming turban squash at reception desk. Killer food prepared by talented Chef Derek Gray and awesome brigade. Look at the radishes with honey; mushroom broth, dashi & leek oil; freshly baked hot whole wheat farmer's bread with smoked butter sea salt & black pepper; fresh asparagus leek sabayon parsley garlic cheese pangrattato; oyster mushroom frittata, and potato gnocchi. Added treat was tasting of 5 Untangled Craft Ciders: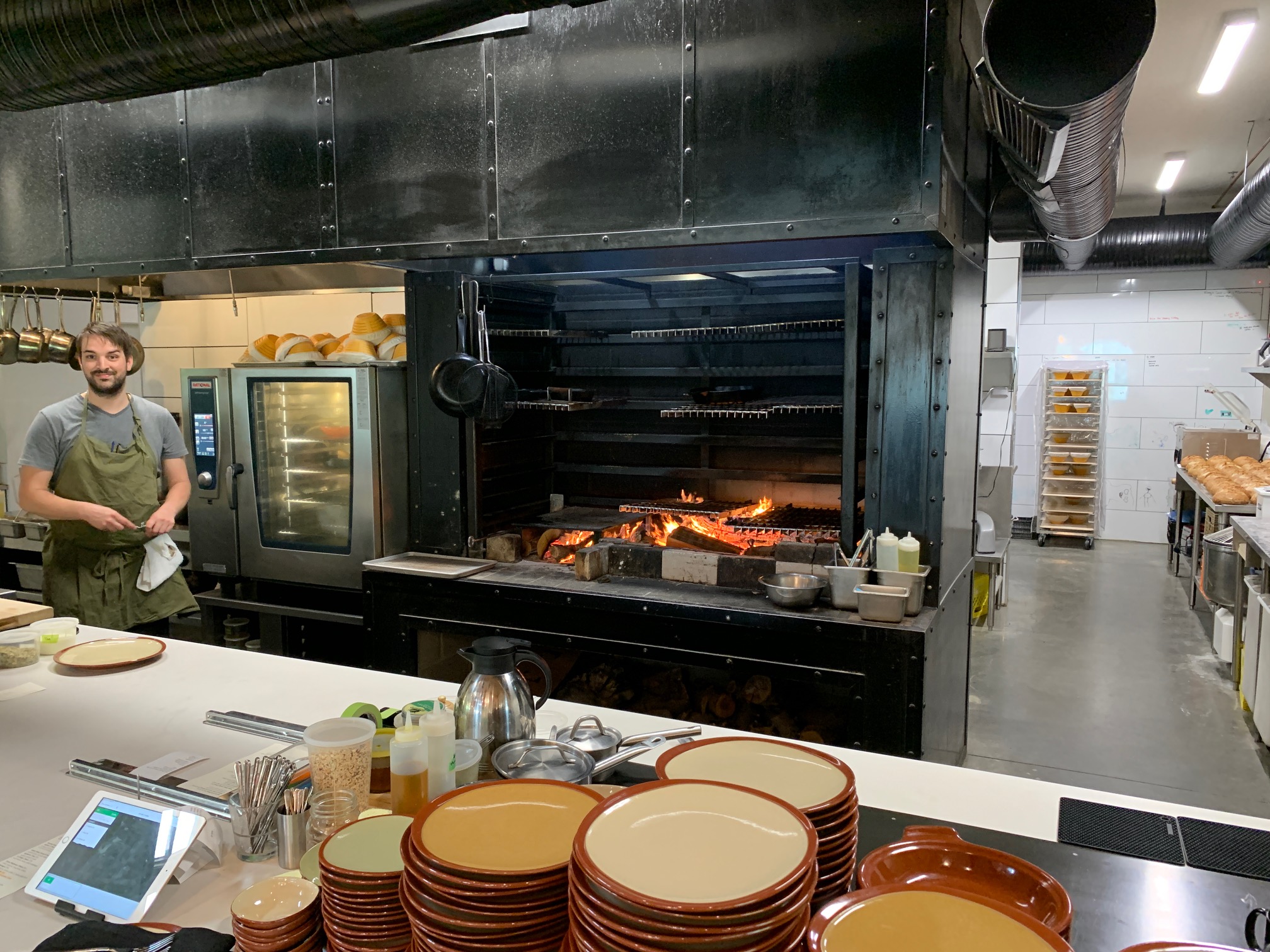 (a) Newton – Mostly dry Spartan Apples with a touch of strawberry
(b) Tangled – Off dry apple
(c) Blue Pear – Semi-sweet blueberry, pear & apple
(d) Black Plum Basil – Off dry apple, plum, & basil
(e) Lavender – Brand new about to be released. Unbelievably fragrant with apple sauce jumping out of the glass. My fav.
3. CLOS DU SOLEIL: Bordeaux-inspired winery under winemaker & managing director Michael Clark. Impressive selection of 11 wines on their chart as shown. 2020 Capella Classy blend of 77 SB 7 23 Semillon Wild ferment in Stainless & 500 litre puncheons 9 months lees with batonnage 100% malo gives rich creamy textured wine Feature tasting compared two vintages of their Signature blend: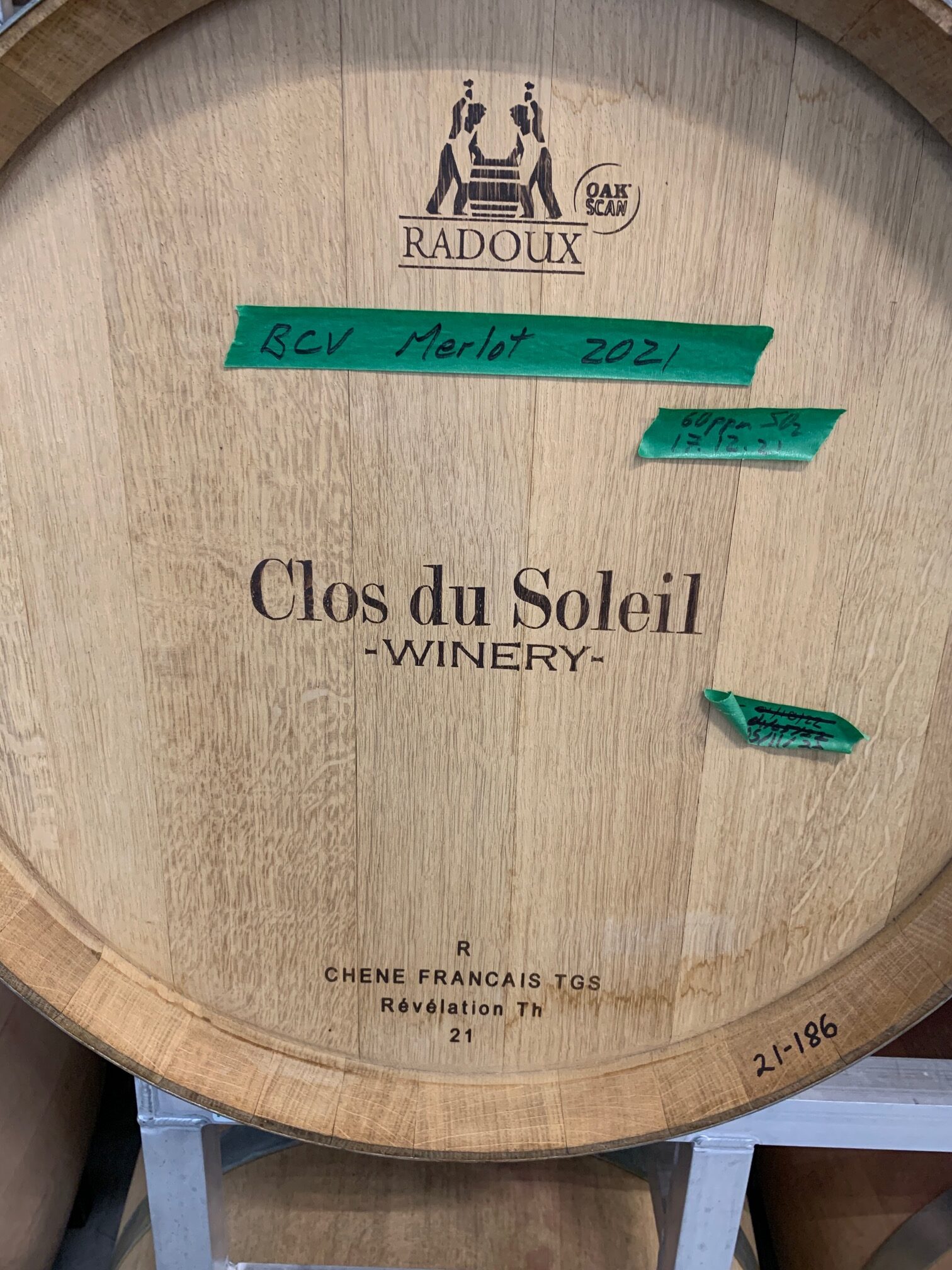 2019: 42 Merlot, 31 CS, 13 Malbec, 10 CF, 4 PV Young vibrant quality with all 5 Bordeaux grapes. Patience.
2013: 51 Merlot, 34 CS, 2 Malbec, 11 CF, 2 PV Evolving well with clean cool balanced velvety textures. Well done. Expecting 2021 to be their highest yielding total crop ever.
4. CORCELETTES ESTATE WINERY: Managing Partners Charlie & Jesce Baessler on the old Herder site since 2013 are showing fantastic abilities as quality conscientious growers selecting the right sites on stemwinder soils to grow the right varieties there. Amazing vineyard specialists!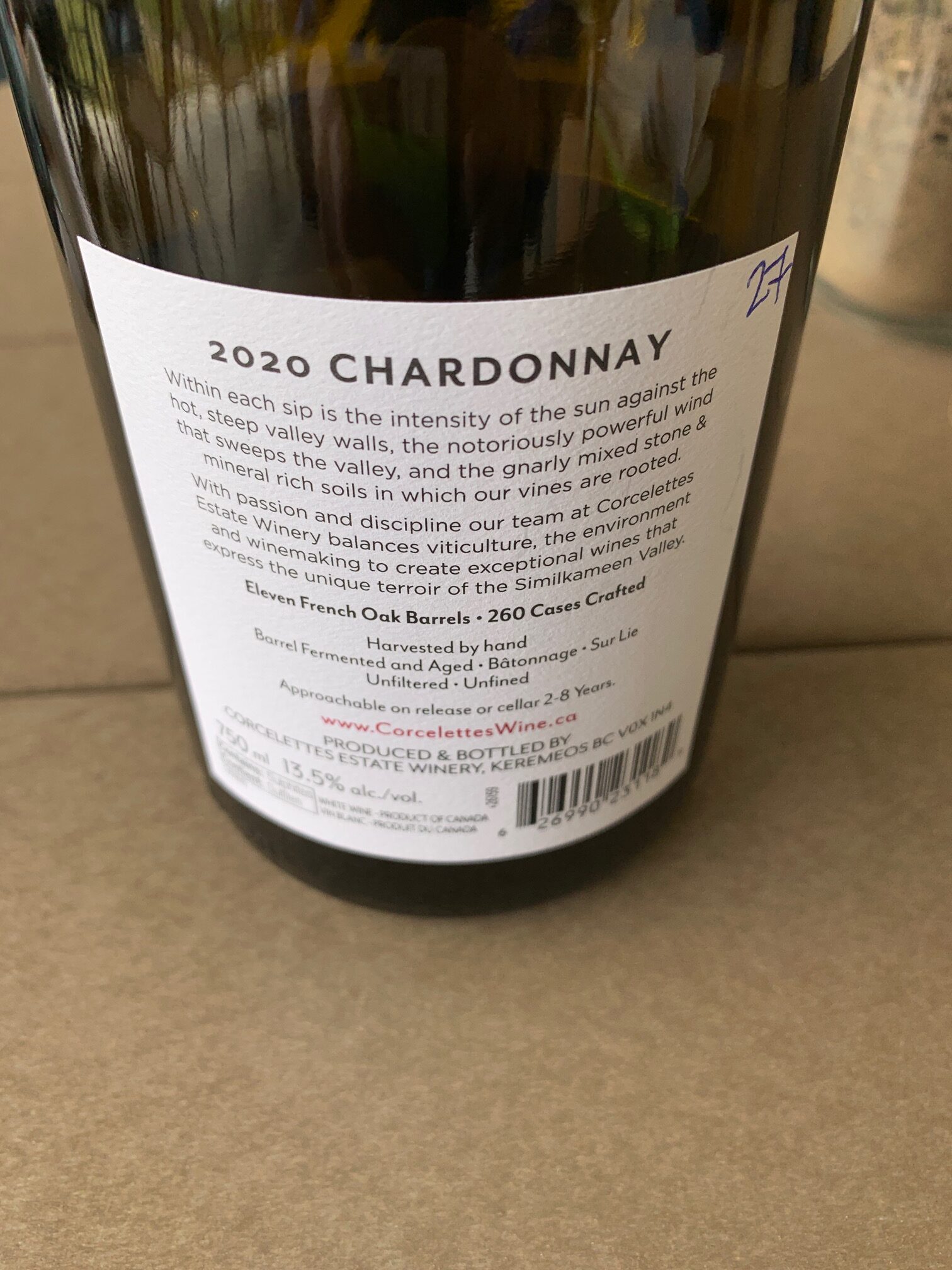 (a) 2020 Chardonnay 13.5 French oak 11 barrels (45% new) fermented sure lie batonnage with harvest by hand, unfined unfiltered. Advise "approachable now on release or cellar 2-8 years" Wide window.
(b) 2021 Rose 12.5 70 Pinot Noir & 30 Syrah Freshness floral raspberry & grapefruit.
(c) 2019 Syrah 13.5 $32.90 680 cases Two Estate soils including Rocky Ridge sandy loam in 90% French & 10 American for 16 months, Will co-ferment Viognier for even deeper colour starting in 2020.
(d) 2020 Pinot Noir Reserve 14 (Micro Lot Series) $39.90 110 cases Elegant earthy stylish all 115 clone "Passion, Precision, Purpose"
(e) 2019 Talus Red 14.5 $51.90 using "Talus slides of mixed earth and broken stone" blending 45 Merlot, 28 Cab Franc, 23 Cab Sauv 4 Malbec, and 2 Petit Verdot (back label adds up to 102% but probably rounding up).
DINNER AT 15 PARK BISTRO WATERMARK: Organizer Larry cleverly arranged for us to pre-order our meals which worked efficiently. Also compliments to Larry on letting each guest order his or her own choice for wine by the glass. Smart idea allowing you to get what you actually wanted to pair with your course. The food was a delightful surprise highlighted by an artistic hummus with naan starter & Yarrow Farms duck breast, and Roberto's freshly made fruit gelato and sorbetto.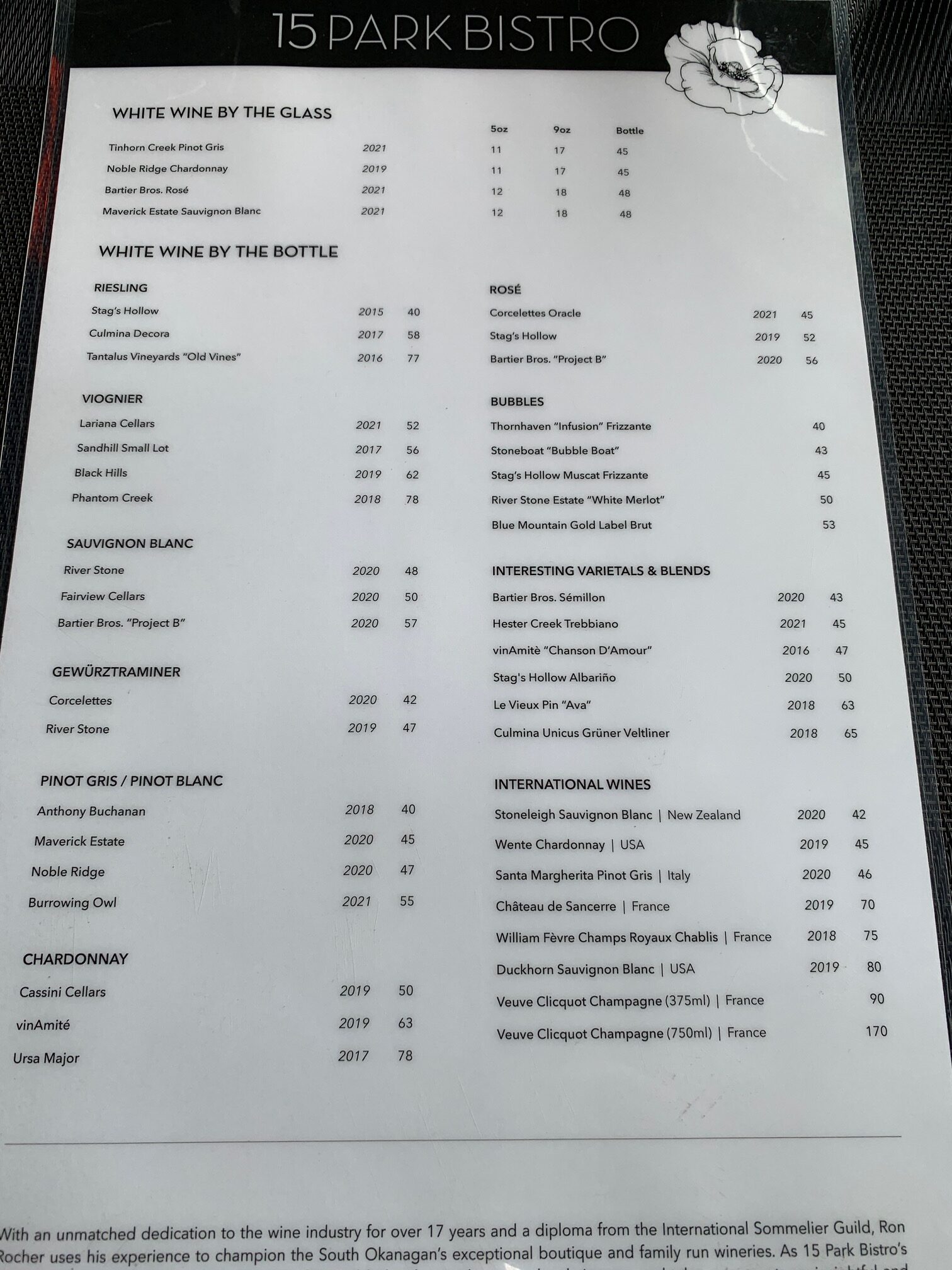 ---
You might also like: