Another educational Zoom wine tasting was held in Vancouver this time featuring under the radar top quality producers in the Côte de Beaune Domaine Chandon de Briailles (DCB) from the Corton hill and the surrounding appellations. Logistics were tricky because of the 9 hour time difference between the Pacific West Coast and connecting with Madame Claude De Nicolay live in Burgundy. Sunday May 1st at noon and 9 pm respectively worked magically for this special event helped by their import agent (for BC & Alberta) Yannick Treffot of Cru Terroir Wines. Members of the Sous-Commanderie de Vancouver of Confrérie des Chevaliers du Tastevin were assembled at 5 homes each with 8 keen attendees. Seven wines were tasted and discussed in detail led by questions and comments from your scribe followed by a tasty most attractive cheese (including creamy smooth Delice de Bourgogne + pungent vibrancy of Epoisses) & charcuterie platter superbly prepared by Les Amis du Fromage. A few brief impressions on the 7 Domaine wines of DCB tasted:
SAVIGNY-LES-BEAUNE BLANC LES SAUCOURS 2018: Larger crop harvested end of August for their second release shows lovely lemony citrus acid balance with wonderful rather classy early drinkability. Know this NE exposure limestone vineyard nearby the tiny half hectare Premier Cru Redrescul. Remember drinking the rich full complex 1989 Redrescul 1er white from Recolte Domaine Marcel Doudet with the late Yves Doudet who commented that "the vineyards for blanc around here are best drinking very early on after bottling or much later with at least 10 years of age". Believe this AC Les Saucours may last better than you might first expect.
PERNAND-VERGELESSES PREMIER CRU ILE DES VERGELESSES 2015: DCB are the largest vineyard owners of this prime location. 2015 had a hot summer and wet August resulting in an earlier first half of September fine harvest. Really like the pruning for smaller yields (8 bunches/vine) from this riper top vintage displaying that typical "spicy" (almost licorice) quality of pure fragrant intense cherries of this excellent terroir (compare the "violets" found in red Savigny-les-Beaune).
ALOXE-CORTON PREMIER CRU LES VALOZIÈRES 2016: Contrast the later October harvest in 2016 after end of April frost reduced the crop size from clay soil plus deeper down limestone with East exposure on .28 hectare site planted in 1987 directly below Corton-Bressandes. Shows that mineral spice but differently at present in a more austere structured style.
CORTON-BRESSANDES GRAND CRU 2017: Deep soils mid-slope of 1.12 hectares in 4 unique parcels giving an elegant more earthy raspberry/strawberry character. First year used fully their new gentler vertical press with 85% whole bunches plus some sophisticated Stockinger gentler oak. Tasted this earlier picked larger crop from one of 20 casks (later blended together) on my last visit there on October 23, 2018 but though smooth with integrated tannins was still showing some CO2 from late malo in June. Gone now and will develop well with time.
CORTON-CLOS-DU-ROI GRAND CRU 2017: Situated high steep good drainage at 300 m. elevation due East directly above Bressandes and below Corton Charlemagne with .38 hectare planted 1961 & 1985. First experiment of pole stakes without a training system on the vines. Late ripening location gives a wonderful floral flowers very minerally character to the muscular wine but with delicacy too. Also tried this in barrel with Claude who used 20% new oak with mostly Allier & Nevers and stated you "need to wait some time for best development".
CORTON-BRESSANDES GRAND CRU 2016: Dry and sunny after frosts resulting in tiny yields for Grand Cru in 2016. Potential for long aging.
CORTON-CLOS-DU-ROI GRAND CRU 2016: Served last and group favourite for cellaring. Many liked the long great concentration of this 2017 too. We recognized the weight and richer fruit of the Clos du Roi vineyard with that outstanding structure that will ultimately result with patience in a very refined classy Grand Cru indeed!
What an amazing knowledgeable personable wine maker is Madame Claude de Nicolay! Seventh generation from 1834 with the 8th on the way. Your scribe tasted with her mother Nadine the 6th in the mid-eighties who showed great foresight including planting vines for white wines on limestone soils. Claude since 1988 but worked 1989, 1990, and 1991 vintages with her mother. Today still Classic wines yet Claude is so smart and innovative in achieving them in a changing world including climate change. Talk about pivoting and adapting. What a thinker she is. So many words of wisdom that you had to be on the Zoom presentation to be blown away with her new creative ideas to make only the very best wines possible. Some of them:
–Biodynamic: Following it religiously. Fully certified in 2011 by Ecocert & Demeter. Mentioned we were tasting on May 1 a strong Lunar "Root" day (as opposed to better ones of fruit, flower or root) but
didn't seem to affect the excellent showing of the choice wines shown.

–Whole Bunch/Stems: Claude was one of the very first to use 100% whole bunches with stems. Now has dialed back somewhat. You need to pick at the right time for whole bunch use. Are the stems ripe? Are grapes at the beginning of the stems at the woody part of the vine? Now careful about use of stems in cooler years. However in warmer riper years believes they provide complexity and a long finish.
–Pigeage: Punch down still by foot for Grand Cru & Ile de V trying for smoother tannins.

-Oak: Buy up to 15% new for barrel rotation but again only for smoothing out the tannins and not for an oaky taste. Use new oak for white before red is put into them. Using bigger barrels of 300 & 600 liter size to emphasize the fruit.

-Sulphur: Started experiment in 2012 with no SO2 added. Now always using less and not during fermentation. Only rack once before bottling and use nitrogen. Best protection is to keep the wines on their lees. Some wines are being shipped to America with no sulphur and are successful.

-Brother Francois: Worked at a Paris wine shop (Pinot Noir/Chardonnay) until joining DCB in 2001 providing a most helpful different global perspective.

-Vertical Press: Impressed with using one while working in New Zealand in 1994 but was too aggressive on the stems. Rented one 20 years later for trying basket press on Clos-du-Roi 2015. Better finishing tannins and less astringent. Got one in 2016, two in 2017 and now all vertical press. Helps get the fruit up front with less strong stems plus a structured finish, as well as easier clarifying as doesn't dig up the
pomace.

-Pole Stakes experiments: Looked at stopping hedging (like DRC & Leroy did) but are lifting up the training system with longer and taller poles and canopy management to help against global warming.

-Partial Carbonic Fermentation; No more cool maceration but trying half carbonic before "remontage" pump over.

What an insightful Burgundy wine seminar! You had to be there. Recommend trying some DCB wines. Especially look out for those amazing 2020 fresh whites.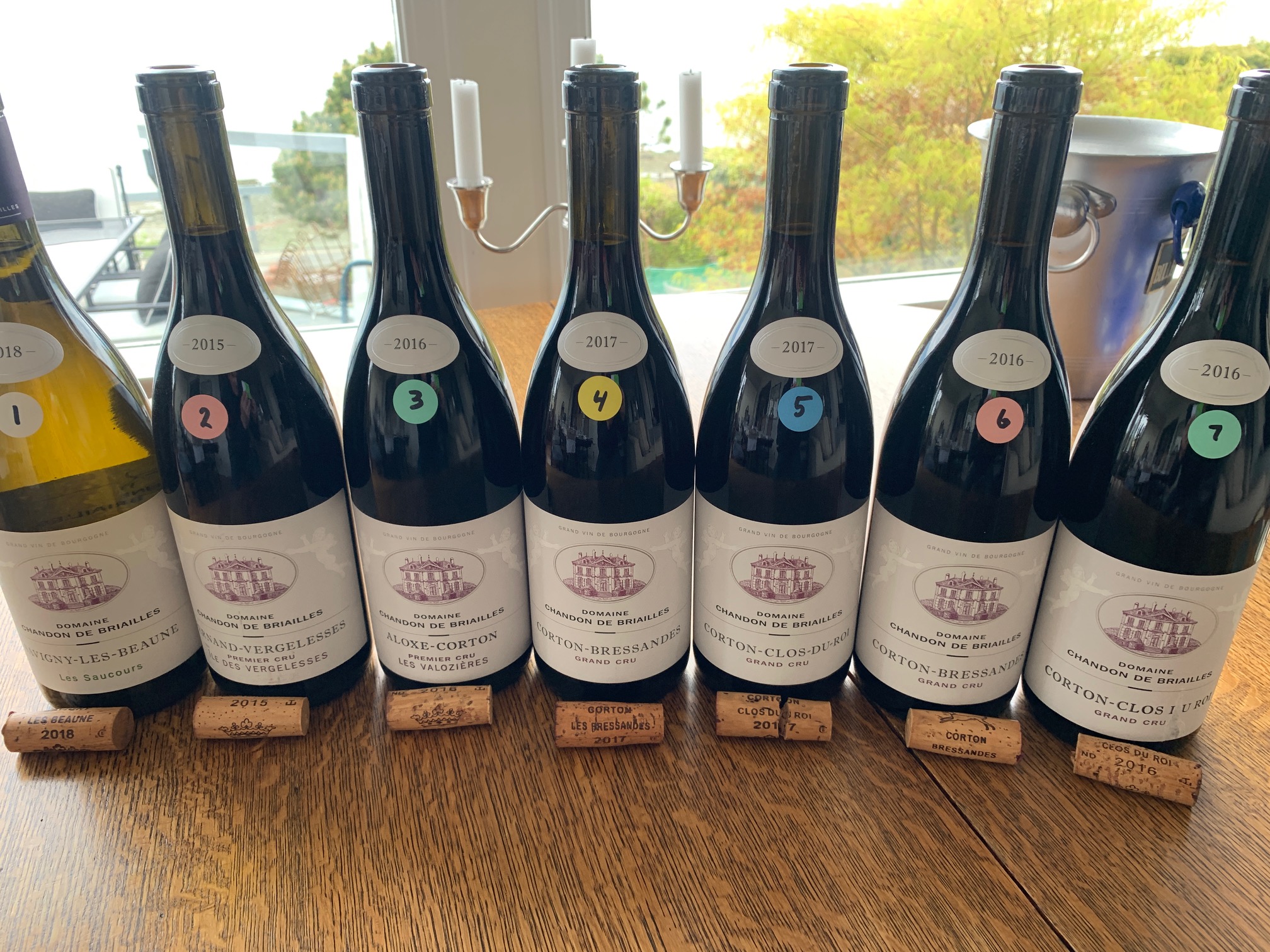 ---
You might also like: