We are indeed fortunate here on the West Coast of America to have a variety of wonderful seafood available. Your scribe was reflecting on this incredible pleasure last week while enjoying two home cooked dinners featuring mains of fresh delicately nutty Brill (Petrale) Sole and one of thick firm sweet Halibut – first of the season! These dinners were delicious but helped out by the magical matching of two excellent Grand Cru Chablis Les Clos from Domaine Christian Moreau of 2012 & 2010. That 2010 again showed sensationally (written up here last year on May 31 & November 22) and is a proven testimony to the rewards of patience by storage of top quality wines. IWFS Vancouver Branch has been active yet careful in holding interesting events even during difficult continuing pandemic circumstances. Their latest one was held on April 12, 2022 for a seafood dinner plus Shellfish Masterclass at Fanny Bay Oyster Bar (part of the Taylor Shellfish Family of Farms) with a motto of "From Tide To Table". You will see from the Menu that there were lots of varieties served to study and enjoy. The live large saltwater Pacific Geoduck ("gooey-duck") Clam had admirers. Dungeness crab is always so special with those outstanding sweet flavours and unique textures. The simpler the dish the better the crab IMHO. Crab cakes can be tasty but often use a filler (not here) that makes them seem drier and less succulent. On December 15, 2021 note here Q&A Ask Sid: Best Wine Pairing With Dungeness Crab but the 2019 Ken Forrester Old Vine Reserve Chenin Blanc from the Helderberg region in South Africa would have been a brilliant answer. Perfect complementary touch of ripe fruit sweetness with complex balanced acidity works marvelously together enhancing that cast of crabs.
A main class focus was on 3 different types of oysters served on a Tower:
Taylor Pacific Smalls, Puget Sound Washington, USA: Salty briny sweet with a distinctive cucumber-like flavour.
Fat Bastard, Willapa Bay, Washington, USA: Bigger sized Shigoku with smoother shells richer taste almost melony chestnut.
Devil's Bandit, Cocagne Cove, New Brunswick, Canada: Crisper (colder waters?) has attractive umani taste with a touch of miso-honey.

What is your favourite oyster variety?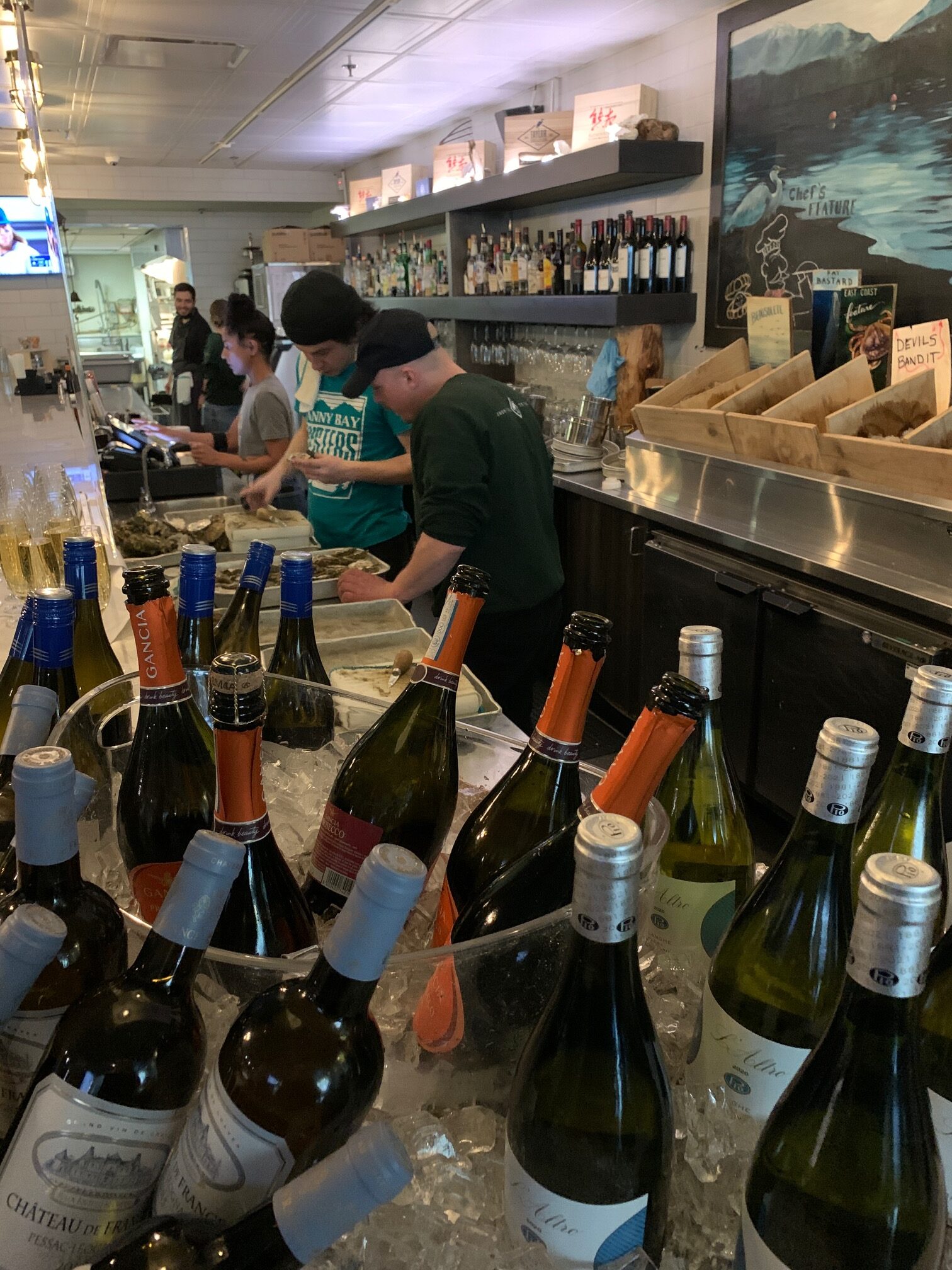 ---
You might also like: