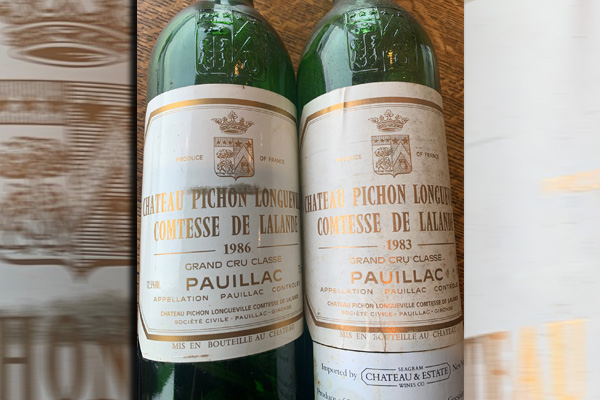 So fortunate recently to be enjoying some older bottles of Château Pichon Longueville Comtesse De Lalande (PL). This property is a long time favourite of your scribe and it has been written up several times previously on this Blog including here on June 18, 2013. Actively followed and collected this property since proprietor May de Lencquesaing's very first vintage of 1978. Arranged for her an important vertical dinner by our Commanderie de Bordeaux at the Four Seasons Hotel on November 13, 1986 that put Vancouver on her map with 12 vintages led off by both excellent 1983 & 1982 and going back to 1953 in Marie-Jeanne & 1934 in Magnum. Madame's husband the General, who was present, preferred the "softer rounder voluptuous" 1982 but May admired the "tighter, firmer, balanced, more tannic, classic" 1983. Over the next 35 years many occasions arose to monitor those twin vintages including during hospitality stays with May as her guest at PL or later at her nearby Haut-Medoc sister property of Chateau Bernadotte. Many tasting-dinners of PL attended highlighted by one held at Jean-Georges in New York on October 6, 2002 where her best 7 vintages of the eighties (81, 82, 83, 85, 86, 88, and 89) were each provided en Imperiale (size of 8 standard bottles or 6 litres). Twenty years ago in that format your scribe was enthralled by the 1986 with those firm solid tannins (a record according to Emile Peynaud) yet balanced by an amazing core of intense special terroir fruit expression. Long ager for sure. More drinkable were the herbal 81, smooth charming 82, clean classic 83, elegant 85, younger austere 88 + great future rich 89. All truly remarkable!
Since the sale of the property in 2007 to Louis Roederer the PL wine continues at a very high level indeed among the other top Super Seconds under respected Directeur General Nicolas Glumineau since 2012. Nicolas said the wines of the eighties are "on a lovely plateau of drinking now" but is a big fan of their 1959 vintage. Recently he
stated "2010 is in the shadow of 2009 today but 2010 has complexity & power for a long life ahead." Different blends with 2010 66% cab sauv, 24 merlot, 7 cab franc, and 3 petit verdot compared with 2009 more cab sauv 75%/20M/0CF/5PV. He compares them to Opera with 2010 Verdi's strength of Rigoletto while 2009 is the powerful duel of the Russian Tchaikovsky between Onegin & Lensky. The climate these days has warmed for better ripeness of the tannins and the cabernet franc variety (which suits the soil) now is being used much more in the blend instead of petit verdot. Admire how they currently are looking for freshness with that excellent 2019 in the same category as 2010.
Last week was filled with anticipation to try over 2 consecutive home dinners of roasted pheasant and chicken-mushroom lasagna, two well stored bottles of the 1983 (abv 12) & 1986 (abv 12.5) PL. Delight and surprise. It is now nearly 9 years later from my 2013 comment of "more classic and still needing more time to show at the highest level" for 1983. Pleased to report it is now showing fantastic at the highest plateau level which should continue for quite a while yet. May was right, it is classic and so outstanding with cassis and cigar box complexity approaching 40 years of age. PL stands way above the general vintage rating for 1983 (as noted here in November 11, 2013) with such a clean meticulously made delightful wine shining brightly. The surprise was how backward that 1986 PL still remains. The colour is a deep red, almost barrel sample like, with impressive intense fruit but lots of tannins and acidity remain, not showing any expected tertiary aromas. With airing in the decanter and warming it developed and opened somewhat but needs more time to show at the highest level ultimately expected. Patience.

Check out some other recent posts involving May's 93rd birthday celebration at Chateau d'Yquem here on May 21, 2018 and our Zoom session plus recent screen photo here June 15, 2020. Meanwhile dynamo May is carrying on towards her 97th Birthday on May 17, 2022. Spending time in South Africa, Switzerland, and Bordeaux she is busy these days
finalizing her historic manuscript of an amazing interesting life well lived. Expected to be published this year in French with a translation into English soon after. Anxiously awaiting. All the best wishes. Many thanks for all your valuable contributions to all of us over so many years in the world of wine.
---
You might also like: