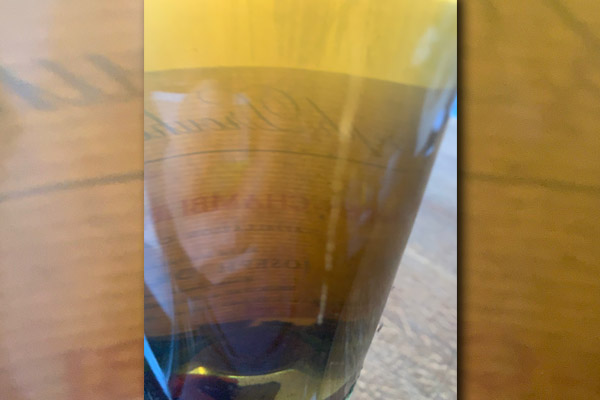 Lots of our recent postings have lauded the pleasures to be enjoyed from drinking older wines. Last week your scribe was looking forward to experiencing another one with a bottle of that iconic red Burgundy vintage 1962 from Charmes-Chambertin by Joseph Drouhin. As is my normal practice, I placed this bottle upright a few days earlier to
settle the sediment into the punt for better decanting upon opening. Noticed at this time an unusual amount of swirling red clouds in the bottle. Days later when I checked the bottle again just before opening all of the thick colouring matter had settled to the bottom of the bottle from standing up and it looked like a white wine through the glass. The cork was stuck in the neck and difficult to extract even using the always dependable The Durand on older bottles. Obviously there had been some leakage earlier on resulting in mid-shoulder level ullage (gap between the cork and the wine) but the wine after all was nearly 60 years old. Nonetheless La Tache 1962 is legendary and Allen D. Meadows and Douglas E. Barzelay in Burgundy Vintages A History from 1845 says "62 reds are the best wines produced in Burgundy during the half century between '49 and '99. And have stayed the course far better than anyone predicted." Naturally we were looking forward to this celebratory bottle with great anticipation.
It was decanted by me and immediately tried blind as is our usual routine by my wife Joan (a brilliant taster) who remarked at once "surprised you served an orange wine with my original Ottolenghi inspired vegetable stuffed baked Acorn squash dish". On smelling and tasting it she changed her mind to "a strange oxidized Oloroso sherry with less alcohol or a top Jura wine Vin Jaune from 100% Savagnin". Interesting but both of us were surprised that this was a red wine and a top red Burgundy as it sure didn't show like one. Obviously the anthocyanins (the main colouring pigments in red wine) had completely dropped out from age and oxidation leaving something unique but
entirely different. Bottle variation. Lesson learned. Not always a good idea to leave wines aging too long but much safer and more dependable to enjoy them much earlier on!
---
You might also like: