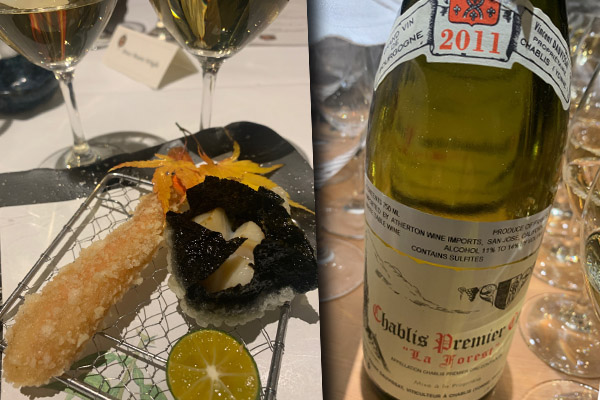 Encouraged to see during these difficult times the continuing high quality of beautifully presented food at Yuwa Japanese Cuisine in Vancouver. Enjoyed another outstanding experience there on November 9 for a wide ranging menu showcasing many of their superb dishes cleverly matched with Burgundy wines. Sometimes Japanese food gets typecast to be best only when paired with sake or even beer but fine wines also work where they are well chosen. Sparkling wines – especially Champagne – are a natural pairing to start or used throughout the whole meal. Something about those magical bubbles that work so perfectly with the many flavours often including fish, salt, and soy. Blanc de Blancs (or Chardonnay) with good acidity shows a special affinity for Japanese cuisine enhancing both the food and the wine. This restaurant has developed a deservedly fine reputation for their in demand Champagne dinners.
The progression of the dishes this evening with the increasing weight of the wines was well thought out and admirably successful. Three work-of-art bite size hors d'oeuvre of fresh Kusshi oyster, salmon sushi and chicken karaage was a perfect beginning. Five diverse tasty appetizers (Zensai) with three aged whites from The Maconnais (the most Southerly terroir of the Bourgogne) led by 2014 Chateau de Fuisse Tete de Cru from Jean-Jacques Vincent being the freshest and most complex match. On to fried (Aburamono) delicate snow crab & scallop with nori seaweed + matcha salt all so aesthetically pure with two top producers of Chablis 1er cru Les Forets (or La Forest) from 2011. Rainy cool summer weather resulted in an earlier harvest of a less classic year of more elegant lighter bodied citrus peel notes with fresh herbs styling but showing less intensity. Softer lovely salinity in Vincent Dauvissat compared with the more structured licorice mineral notes of the younger vines Raveneau both drinking beautifully now. Grilled (Yakimono) followed with tilefish (check the mercury levels) set off against a dramatic spinach puree splash and fantastic sweet potato designed as a spiked uni (sea urchin) star but not listed on the menu. Dish paired with two richer fuller Premier Cru Chassagne-Montrachet very mature 2011 and fresher 2013. Three fruity subtle not heavy or tannic Morey St. Denis from Hubert Lignier with Asisn spices and balanced acidity worked outstandingly well with Braised (Nimono) Dashi Chicken Meatball. As expected Clos de
la Roche 2001 had that complex exotic special riper lushness capable from this Grand Cru over the stylish personality of 1998 & 1996 1er cru La Riotte near the village. Always remember that our IWFS Founder Andre Simon wanted you to partner "Coq au Vin" chicken with another Morey St. Denis Grand Cru – the incomparable Clos de Tart. Very well done memorable evening highlighting magnificent Japanese ethereal food with most thoughtful wine pairings that really worked!
---
You might also like: