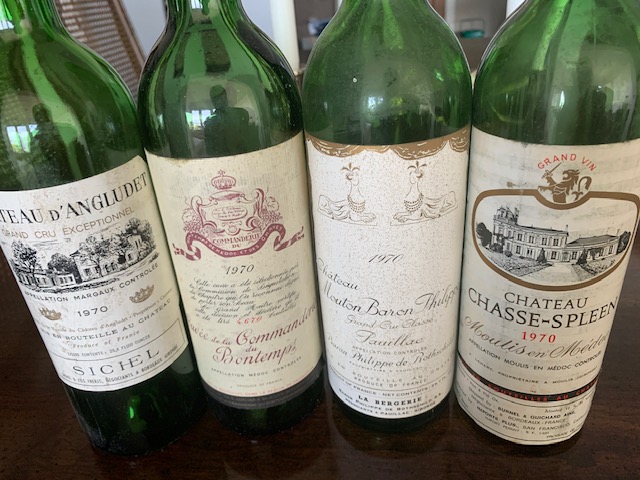 Fond memories during this lock down looking back 50 years to the earlier days that first sparked my continuing passion for fine wine. The year 1970 was this scribe's first visit to Bordeaux. Those were the good old days of few tourists with most wine merchants located along the Quai de Bacalan in the Chartrons district. They all had time in those days to spend with a curious taster and this was my first meeting with many of them who turned into long term friends. The most instrumental on this trip was Rene Barriere whose firm had almost an exclusive on what turned out to be several top properties he sold to Belgium including L'Arrosee & L'Eglise Clinet. Rene kindly allocated a case of 1961 L'Eglise Clinet (cost $6.05/bottle) one of the Pomerols not replanted after those 1956 frosts which turned out to be a legendary wine treasure.
Subsequently acquired from Barriere many wines from the successful 1970 vintage which provided a lot of enjoyment and knowledge over the years. Many experiences adoring cellar worthy 1970 Chateau Grand Puy Lacoste yet learning early on about both bottle variation and scores as Robert Parker's first Bordeaux book (1985) scored it only 74 stating it was inconsistent and "not up to the standards of the vintage" though in subsequent editions in 1991 was raised to 90 & in 1998 to 91 "convinced the off bottles had been cooked." Also always a big fan of classic 1970 Latour, Ducru-Beaucaillou, Palmer and Lynch Bages. The vintage was hyped on arrival coming after very poor years of 1969 & 1968. Harry Waugh in his "What to drink in 1973" for IWFS remarked that "the excellent 1970 clarets had already doubled in price with world demand and speculation – how much of the 1970 vintage was bought by people who really mean to drink it?" Great foresight by him that applies to lots of subsequent vintages over the last 50 years! Some of us feel the 1970 vintage is slightly underrated overall because it has no super star holding the vintage banner high for it in the same way you have 49 Cheval Blanc, 59 Lafite, 61 Palmer, and 89 Haut Brion among so many other top years.
During the first half of this unique pandemic year your scribe has had the opportunity to study quite few different 1970 Bordeaux over dinner. They now are mature lighter (most don't list alcohol on the labels and those that do say 12 degrees) drier with more acidity and yet so perfectly paired with food. They still retain interest in this style with that special complex elegance that Bordeaux does so well. So much fun to open old bottles and still be surprised as to how long they have aged successfully. A rare treat. They may not be the choice for those that prefer younger riper bigger fruit wines which also can be impressive but often more difficult to drink and taking a much more assertive role when matched with accompanying food. Probably most consumers would prefer somewhere in the middle where there is still prominent fruit left but also a harmony of coming together with softening tannins and tertiary notes. Experiment to learn your own aged preferences.
Some brief 1970 wine notes on 9 bottles:
CUVÉE DE LA COMMANDERIE DU BONTEMPS: A Medoc AC wine of "4670 bouteilles" bottled by Cordier at St. Julien-Beychevelle that seemed a lot like Chateau Talbot – a beautiful surprise indeed.
CHÂTEAU D'ANGLUDET: This Sichel Margaux always starts out with more colour than Palmer but now is coarser with the fruit dried out. Drink up. 83 & 85 holding better and current vintages excellent value.
CHÂTEAU CHASSE-SPLEEN: Favourite underrated Moulis & never disappoints with fruit roundness. Delightful now.
CHÂTEAU MOUTON-BARON-PHILIPPE: Several name changes from this to Mouton-Baronne-Philippe and back again to D'Armailhac. More of a baby Mouton back in those days than now but lighter elegant cedar of Pauillac.
CHÂTEAU GRAND PUY LACOSTE: Always found this property to deliver excellent quality for the price and balanced for extended aging. Big collector. Picked earlier but captured a lot of Pauillac character and vintage style that continues to delight.
CHÂTEAU LYNCH BAGES: Bigger richer subtle spiced fruit that still carries on well. Michael Broadbent captured it in his The Great Vintage Wine Book noted "Cabernet aroma, ripe fruitiness, cinnamon overtones, loads of tannin and acidity. Long life ahead." So appropriate.
CHÂTEAU DUCRU-BEAUCAILLOU: Still a deep dark look with paling rim. Impressive fruit as one of the top 1970s for sure this Super Second. Wonderful textbook St. Julien that really sings with roast duck tacos!
CHÂTEAU PALMER: One of the great acquisitions by Peter Adams consultant for BC LDB and sold for $11.50 in December 1975. High praise for this property in 70, 66, and 61 – and many more current vintages too. Also really like their 1989 (and 1983). Merlot and cab skillfully blended to great effect for other-worldly bouquet and smooth textures is still so enjoyable.
CHÂTEAU LATOUR: First Growth level. Underrated in classic old style wine making that will still get better IMHO. Some wine writers say it is going down hill but bottle variation again. Well stored bottles can really impress with their typical density and that acidity balance keeping the wine fresh so finally coming around to greatness.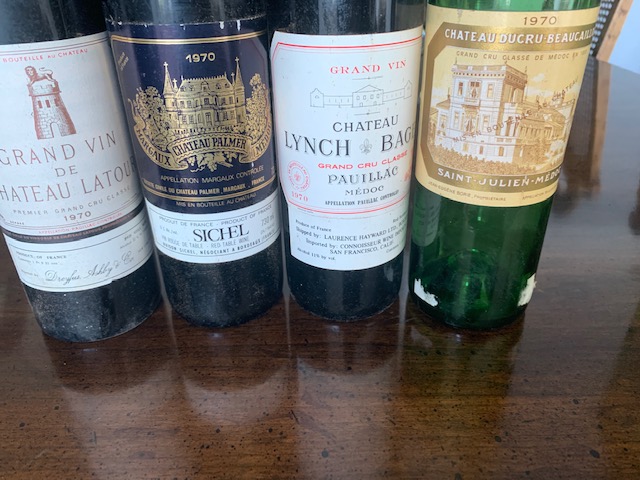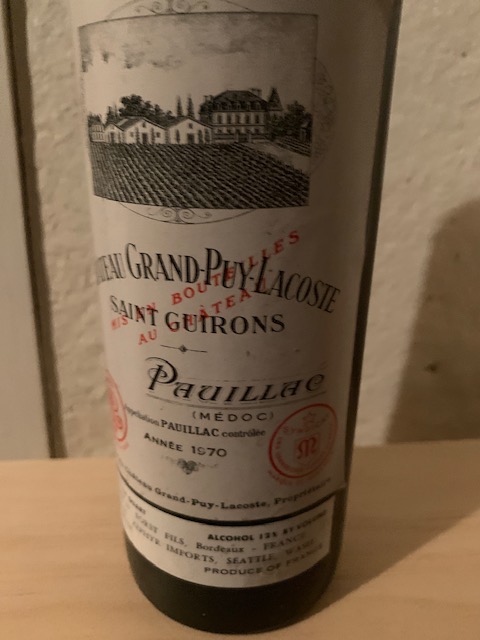 ---
You might also like: