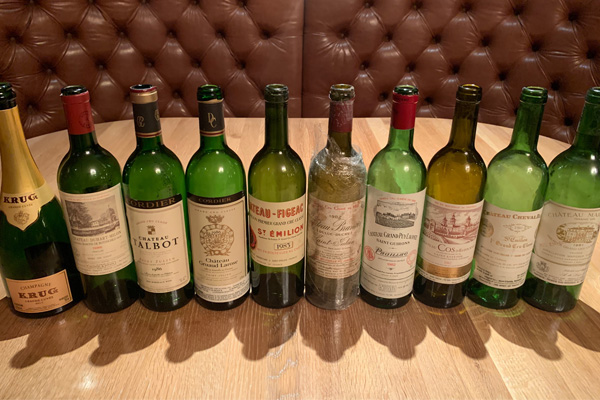 Pleased to be allowed to attend more restaurant dinners recently under strict safety protocols. Boulevard among others in Vancouver are doing a superb job of culinary excellence in difficult circumstances. Another memorable one was held on September 28, 2021 featuring older Bordeaux from the eighties all approaching 40 years of age. The bookends were outstanding too starting with a Krug Grande Cuvee Brut without more information provided on the menu. However, your investigator found ID 115013 on the Krug bottle which led to a most helpful informative full description on their website: Edition 163 of 120 individual wines from 10 different years (mainly 2007) of 37%
Pinot Noir, 32 Chardonnay & 31 Pinot Meunier with 8 years on the lees bottled 2014-2015. Mature and drinking beautifully. The finishing 1986 Chateau Climens Sauternes-Barsac perfectly paired with the passion fruit tart displayed botrytis plus concentration from a small crop resulting in lush delicious creme brulee pineapple-orange marmalade. The feature event was 9 top red Bordeaux from 4 vintages in 3 flights:
First Flight:
1986 Chateau Duhart-Milon, Pauillac
1986 Chateau Talbot, Saint-Julien
1986 Chateau Gruaud Larose, Saint-Julien
Second Flight:
1983 Chateau Figeac, St. Emilion
1982 Chateau Branaire-Ducru, Saint-Julien
1982 Chateau Grand-Puy-Lacoste, Pauillac
1982 Chateau COS D'Estournel, Saint-Estephe
Third Flight:
1981 Chateau Cheval Blanc, St. Emilion
1981 Chateau Margaux, Margaux
The characteristics of the four vintages tasted are now well established:
1986 a harder Cab Sauv year favouring Northern Medoc is a slow developer with long cellaring potential. 1983 following in the shadow of 1982 now are fully mature, favouring particularly the better micro-climate of Margaux & Pessac-Leognan. 1982 is a historic fairly consistent vintage of complex concentration with surprising longevity. 1981 had rain at harvest diluting the crop resulting in variability yet some properties like Pichon-Lalnde & especially Chateau Margaux excelled.
First flight showed paler DM, mid depth T & deep dark GL. Some bottles of DM showed TCA but herbaceous style and not the quality intensity of this property from 2003 (very good!) onwards. Both T & GL were great in 1986 (and 1982) but quite different now as T is forwardly drinking stylish lovely "touch of mint" plus charming cedar of St. Julien. GL is firmer, powerful, with a reluctant impressive concentration of amazing buckets of fruit still waiting to explode. Patience needed even at 35 years old. Group fav Talbot. Your scribe admired the Gruaud Larose potential. Clever food course for red wines of Lobster, Beets & Almonds.
Second flight open herbal dill green olives unique Right Bank blend of popular styled Figeac, BD lovely delightful tobacco but softer lighter ready to drink up, GPL almost as deep and dark as GL with classy very Pauillac tight cabernet fruit slightly closed in but so balanced and impressive. No rush. Cos developing well from previous coarser ripe porty style now come together into a smooth rich intense beauty. Surprisingly Figeac was the Group fav followed by Cos. Your scribe preferred GPL followed by Cos. What a culinary gem those handmade "light as air" tender gnocchi + porcini singing for the wines. Congrats.
Third Flight provided added excitement as revealed First Growths (as all flights not served blind). Both had their supporters but Cheval had a lighter paling rim well developed to enjoy presently while Chateau Margaux vying for wine of the vintage so outstandingly fragrant, classy, elegant, with purity balance. Success.
Reflecting back on this wonderful tasting-dinner your scribe was thinking how he was out of sync with the group wine consensus and how difficult it is to choose your favourite wine of the flight. There are many factors that go into that personal subjective decision. Perhaps IMHO five of the most important factors would include:
Young & Fresh. Some tasters just prefer the wines that are showing the most fresh younger fruit and are less impressed with those that seem older and drier – though perhaps more complex.
Accessible & Open. A wine that is forwardly open and easily accessible is easier to understand on first blush regardless of the nuances that often require searching deeper from the closed more reluctant wine that has not yet reached the best mature plateau. This factor contributed to the Figeac support.
Decanting & Airing. Wines that show well at first smell and taste usually win out over wines that need more airing in the decanter or that improve later in the glass. Be patient before making your final decision and see how your wine is developing or changing in the glass.
Personal Bias. Many of us carry excess baggage to the tasting knowing the property or having tasted the vintage previously. This can affect your judgment. Your scribe has been fortunate to taste the outstanding 1982 Grand Puy Lacoste on so many occasions and even though at this event it was more closed and less exuberant it may have influenced my preference.
Bottle Variation. This is a big factor for older wines. Several bottles of the same wine served to a group resulted here in bottle variation (some Duhart Milon had TCA) and split opinions. Always remember with old vintage wines it is that specific bottle you are assessing and not generally all bottles of that wine produced in that vintage.
So have the courage of your convictions when wine tasting. Don't be discouraged with your own opinions. It is so subjective and personal that you may be right (for you) even though the majority disagrees with you.
---
You might also like: