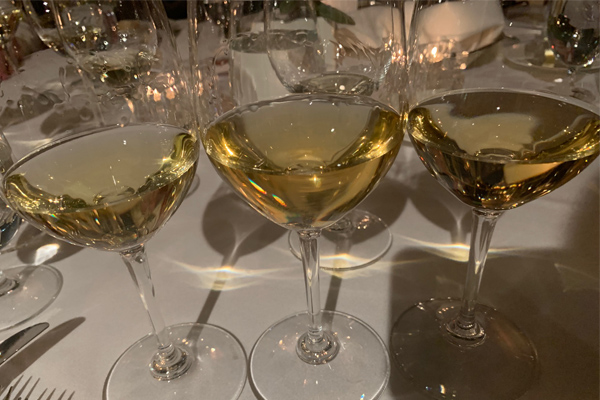 Last week your scribe enjoyed two dinners at the busy Five Sails restaurant in Vancouver. The whole team under Executive Chef Pascal Georges, Pastry Chef Daria Andriienko, GM Christophe Chabre, and Sommelier Ramon Fresneda (since 2002) are on a culinary roll. Some beautifully presented dishes with commendable wine service. Congrats for that beautiful tasty chocolate symphony dessert course – so innovative and outstanding!
The dinner on October 9 featured a comparison of 1988 Leoville Barton St. Julien and 1988 Pichon Baron Pauillac. They show the earlier picked classic structure of what we call the last truly old style vintage with lots of acidity and tannins that started off that marvellous trio (1989 & 1990 both riper). LB is still youthful, not as medicinal as property often shows but rather sternly slowly developing. Approachable now. Good decade for them but much prefer 90, 86, 85 and 82 over this vintage. PB has an even darker deep look with more rich fruit on the bouquet and lots of concentration approaching a lovely plateau for best utilization with food. Very good but prefer their outstanding 1990 & 1989 beauties!
The menu on October 5 presented four white Burgundy all of which showed fresher with more fruit a few years ago. The 2011 Macon from Lafon is always a wonderful value but that appellation is for earlier drinking not drying out with 10 years aging. It now resembles a very dry Chablis AC without the fruit and minerality interest. Next was an interesting mini-vertical (2011, 2012, and 2013) of Meursault Les Poruzots from top producer Ballot-Millot & Fils. Fond memories of many delightful bottles from them during the late 70s and 80s with balance (plus battonage) that aged so well. However these three vintages were variable bottles with mixed results. Prefer better vintages of 2010 & 2014 and highly recommend buying all their value with quality 2017 vintage. 2011 lots of acidity but light lean citrus fruit rather simple, 2012 bigger more rich extract but clumsy maderizing, and 2013 another cooler year yet better open aromatics. All three were not really singing. The Poruzots vineyard usually produces fuller style
Meursaults and your scribe can't taste that vineyard without thinking back to that unique opulent botrytized 1986 one from pioneer domaine bottler Francois Jobard. These three Ballot-Millot were the exact opposite in style to that and IMHO showed more enjoyable fruit and drinkability early on. Preference for longer cellaring the vineyards
especially of Perrieres and others like Genevrieres and Charmes. The red Burgundy were from 2001, 2002, and 2006 with those charming 2002s the most lauded vintage of these. However the big coarser earthy fruit of
2002 NSG bowed out to my wine of the night, a simple AC 2001 Chambolle from J-J Confuron but splendidly complex and elegant with ethereal flowers! An amazing special commune wine with a surprise showing against Premier Cru and Grand Cru company. Wonderful to see that happen. Continue your search for better values.
We know vineyards are the key everywhere. Overall conclusion is that vintage is important too for both white and red. Some whites should be enjoyed earlier on in their evolution particularly with these continuing days of global climate change. Enjoy the wine & food journey.
---
You might also like: