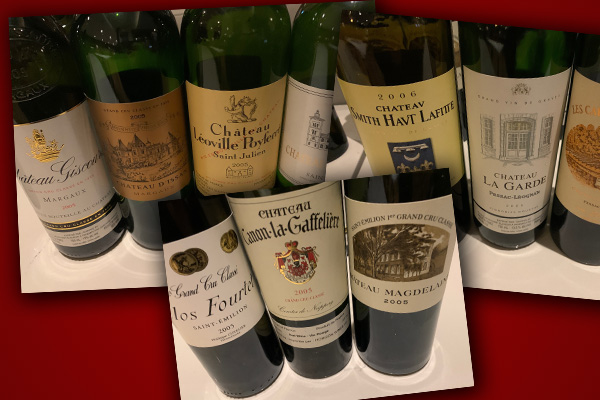 Educational to study the pros and cons of the last 20 vintages of Bordeaux. Lots of positive enthusiasm for the current releases that have been more affected by global climate change. Also much dedicated support for that outstanding trio of 2010 precision, more open riper voluptuous 2009 and concentrated 2005. Remember the late Paul Pontellier at Chateau Margaux on July 8, 2015 starting our visit with those 3 vintages he called "the three best vintages of 100 years" – with his fav "the freshness finer dense terroir driven 2010 (90% cabernet sauvignon)". Paul called the 2005 "perfect with an intense high level of concentration with firm obvious tannins but still too young at 10". The 2005 vintage now is 15+ and not only the First Growths show that deep ripe fruit from the dry conditions yet still remain somewhat closed up and tannic. All these memories came back to me last week at a 2005 horizontal tasting-dinner held at Tutto for the Commanderie de Bordeaux Vancouver. We tasted 9 properties but
generally the wines, while deeply impressive, were not yet singing or showing quite enough charm. These well stored bottles were still rather tight closed-up waiting to explode in all their glory with more aging. Perhaps it could be a slight bias of your scribe for a more mature claret style. You certainly can enjoy them now. However, please have patience with 2005 IMHO.
The 9 wines were served in 3 flights with some brief impressions:
2005 CLOS FOURTET: Very dark deep 85% merlot right to the rim. Rich round intense big blueberry chocolate espresso fruit. Impressive.
2005 CANON LA GAFFELIERE: Also deep and dark. More exotic enticing nose but modern extracted oak styling with some spicy white pepper notes.
2005 MAGDELAINE: Deep slightly less extract. More typically balanced St. Emilion of 95% merlot + 5% cab franc with acid austerity slowly developing coming out of its shell showing elegance and lift. Recently 1998 was more together with better complexity. Good first flight!
2005 LA GARDE: Pessac-Leognan from Dourthe. Lighter earthy greener herbal tones are good value against tougher company.
2005 LES CARMES HAUT BRION: Local connection of 6th generation family of Penelope Roche of the Okanagan winery. Better fruit but harder drier with some elegance. Will improve with time. These two wines of the flight became more drinkable when with the beef tenderloin served.
2005 GISCOURS: Beginning flight of 4 impressive Left Bank – 2 Margaux & 2 St.Julien. Bit atypical in style as harder and leaner but still a value. Blend of 62CS/32M/6CF&PV. A Margaux AC that is almost St. Julien-like. Should develop further.
2005 D'ISSAN: Lots of floral, flowers, and fragrant perfumes here. Quality Margaux styling with balanced acidity. Real finesse! Wonderful surprise of the night.
2005 LEOVILLE POYFERRE: Dark with lots of reluctant St. Julien style. Slowly opening in the glass. Biggest almost opulent fruit but backward. Potential there. No rush. Age it more.
2005 LAGRANGE: Solid St. Julien favourite with more accessible textbook styling. Intense sweet pure fruit is lovely. Coming around with almost porcini mushroom notes of flavour. Attractive.
---
You might also like: