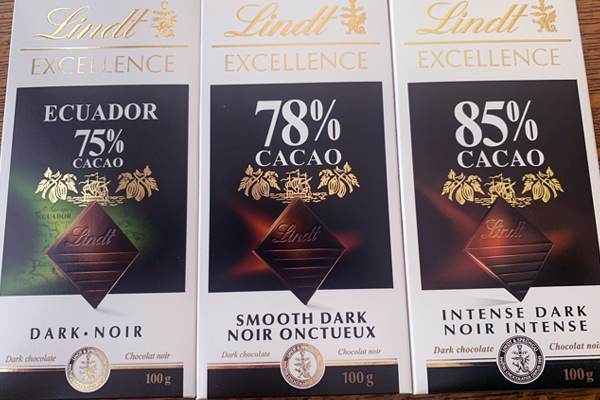 As followers of this Blog know your scribe is a long time chocoholic. It started way back in school days with those Mounds coconut candy bars coated in dark chocolate and Almond Joy using milk chocolate. Sometimes a Dairy Milk Caramel or Coffee Crisp would do. Though these bars seemed to contain better chocolate in those earlier days they also were all way too sweet for my palate. Soon graduated to purer dark chocolate with that rule of thumb of at least 70% Cocoa required. Fortunate to have tried over the decades so many of the world's finest
quality "bean-to-bar" and single origin dark chocolate bars. Some favourites among many have included To'ak, Valrhona, Godiva, and Amedei Porcelana. However for that daily "treat" of dark chocolate we turn to commercial Swiss producer Lindt & Sprungli as readily store available plus at outstanding value – especially on sale for 2/$6.
Tasted their full line-up but have more recently leaned towards just three of them listed below with high cocoa solids of at least 75% but with less sugar. These deliver IMHO those healthy antioxidants, flavonoids and minerals in an almost perfect combination of cocoa mass flavours with buttery melting "delicious" textures but not too much
added sugar. Also like from time to time the "vanilla" of Madagascar 70% & Orange Intense 70% but they have higher sugar levels than my three regular choices.
You need to decide which one you like best based solely on your own taste buds. Remember that the sugars vary a lot in each 100 gram Lindt bar (which divides into 10 squares) ranging from only 1 gram for 3 squares at 100% or 99% going up to 12-13 grams at 70%. Also for cooking note that sweetened chocolate chips are way sweeter than unsweetened cocoa powder or cacao nibs. Anyways, here are 3 good ones recommended and worth considering:
85% Cacao: Described well as "Intense Dark " at 4 grams sugar/3 squares but does contain "Brown Sugar, Bourbon Vanilla Bean" you can notice in the flavours.
78% Cacao: Described perfectly as "Smooth Dark" at 5 grams sugar/3 squares with "Milk Ingredients " resulting in an amazing smoothness as it melts.
75% Cacao: Dark impressive complex bitterness from Single Origin Cocoa Mass from Ecuador at 7 grams/3 Squares but does have "Soya Lecithin" (not used in 78% and higher is an emulsifier from soybeans that helps with uniform smoothness) and "Natural Flavour" whatever that is. They describe this appropriately as "An aromatic chocolate offering an intense cocoa flavour". My regular daily go-to delight!
What is your chocolate fav?
---
You might also like: