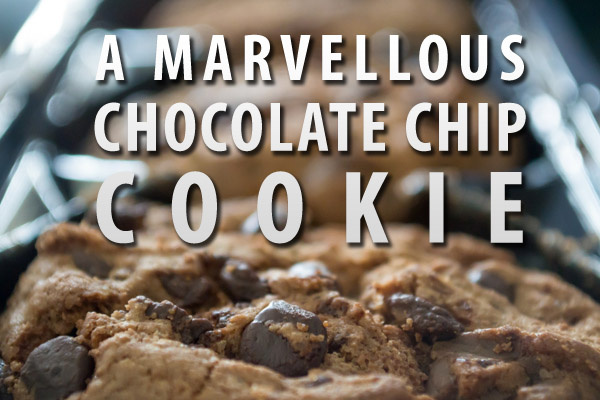 What makes a marvellous chocolate chip cookie? Lots of commercial products out there to try – many of them far too sweet for my taste. My wife Joan has whipped up several recipes this past week. She made different ones depending on who her audience was likely to be. Difficult to generalize but the younger demographics seem to prefer white & milk chocolate or a mix of the two. Us old-timers (me included) often like more dark chocolate in our cookie having that distinctive bitterness. Texture can also be important with chewy and soft a popular choice but for others crispy and crunchy works best. Several brands out there list ingredients only as semi-sweet chocolate chips but often have an addition of milk and soy lecithin to them. A better choice might be a bar with a listed amount of cocoa butter (say around 70%)  and to chip them yourself for the cookie recipe. With not too much butter and sugar in them you can convince yourself that chocolate cookies are actually healthy – particularly if you add in some oatmeal and walnuts. Check out dried cherries or dried cranberries as an excellent addition or substitution for raisins.
Joan's Best Chocolate Chip Cookie Recipe – according to Sid:
1 cup unsalted butter, room temperature
1 1/2 cups lightly packed dark brown sugar
2 large eggs
1 teaspoon vanilla
1 1/2 cups all purpose unbleached flour
2 teaspoons baking soda
1/2 teaspoon salt
2 1/3 rolled oats (don't use instant or quick)
12 ounces (or 1 1/2 cups) semi sweet chocolate chips (a higher quality chocolate gives a better result)
1 1/2 cups chopped nuts (using walnuts or pecans preferred)
Beat butter & brown sugar until fluffy and then add eggs & vanilla. Combine flour, baking soda and salt. Blend dry into butter mixture gradually. Add oats, chocolate, and nuts and combine well.
Using about 1 tablespoon of dough, form into balls and place 2″ apart on parchment paper-lined baking sheets. Dip fork tines into water and flatten the tops a little.
Bake at 350 F for 12 -15 minutes depending on the size of the cookie until the edges are golden.  Yields around 60+ 2″ cookies. Eat hot immediately or cool a while on racks.
Enjoy this delicious chocolate chip cookie!
Please let's hear back from you below in the comments section with your preferred recipe as a challenge so we can try it out.
---
You might also like:

Loading ...