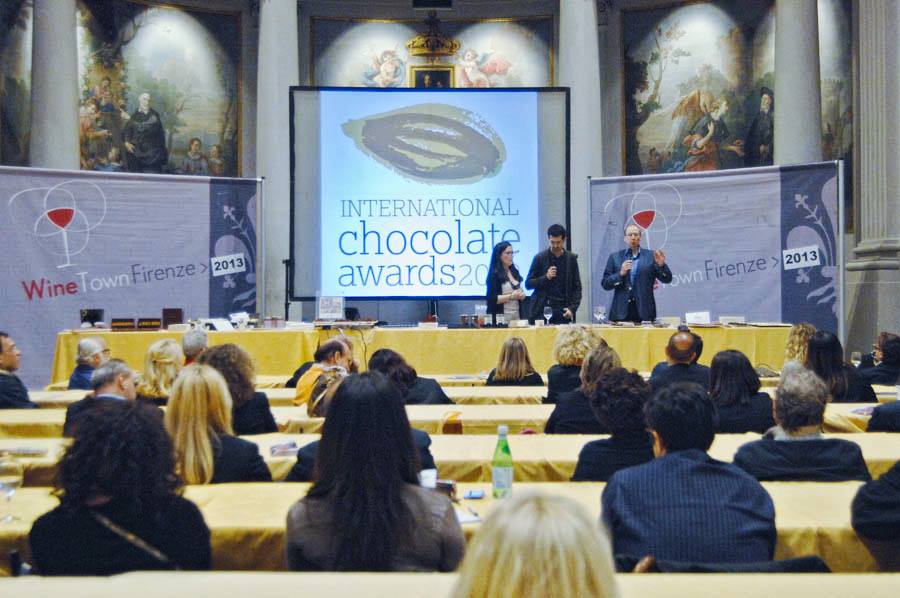 Photo credit: internationalchocolateawards.com
I was invited to serve on the Grand Jury for Canada to select our country's entries into The International Chocolate Awards (www.internationalchocolateawards.com) World Final to be held in London, England October 15-18, 2013. As a passionate long time student of dark chocolate I accepted and I really enjoyed this recent experience. The 20 separate categories included plain/origin bars of white, milk, and dark chocolate, flavoured bars, ganaches, pralines, truffles, caramels, bonbons, and spreads. Scorecards had four sections:
1. Taste (40%): Personal based on the flavours with sweet, salty, and bitter elements – sour and umami less involved.
2. Formulation (35%): Quality of ingredients and balance of the recipe.
3. Interpretation (15%): Style and original creativity.
4. Execution (10%): Texture, tempering, composition, and separation of ingredients
Impressed with the knowledge and conscientious attention to detail of everyone on the Grand Jury including Martin Christy (England), Monica Meschini (Italy), Aubrey Lindley & Jesse Manis (USA – both of www.cacaodrinkchocolate.com in Portland), David Mincey (www.cookculture.com), and Eagranie Yuh (www.thewelltemperedchocolatier.com – who has her Chronicle Books publication The Chocolate Tasting Kit coming out Spring 2014). Our spirited dialogue about the quality of the entries that had survived the earlier Selection Rounds of judging was really a stimulating delight to this former litigator. Discussion included debate on textures, melting feel, over roasting, uneven tempering, air gap between shell and filling, harmonious chocolate/filling match, visual beauty, and so much more. Like the fruit acidity of the grapes in judging wine the fruit acidity of the chocolate can be an important factor to consider in assessing overall balance. I also was fascinated by our palate cleanser of "soupy polenta" from Mulino Marino.
In the result we recommended 24 entries (8 gold, 5 silver, and 11 nominations) to go forward representing Canada in the approximately 170 World Final entries. Monitor the winners!
The awards were presented at Hodie Rondeau's www.xoxolat.com (sho-sho-la) for the love of chocolate who even produce 100% edible chocolate shoes coming in many colours, designs and flavours. Vancouver's Beta 5 (beta5.myshopify.com) collected 3 golds (and a silver) including a dark ganache with a subtle flavour of Fisherman's Friend (yes the usually strong menthol lozenge), another with bay leaf, and an amazing white chocolate bar so delicious containing EVOO & crunchy pieces of candied black olives. Christophe Morel Chocolatier from Montreal (www.morelchocolatier.com) also did very well with his Palet Or pure Chuao and his "pecan pie".
Maybe even harder more intense work than judging my usual plethora of wine and chef competitions but I really learned a lot that I can muse over while enjoying my daily addiction to quality dark chocolate.
What is your favourite chocolate?