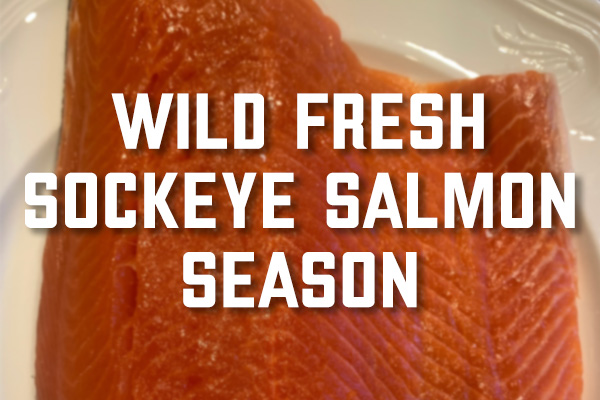 Last week your scribe pointed out the versatility of the abundant Summer fruits and vegetables presently in the marketplace. This week we are focusing on the availability of wild fresh salmon now in season especially Sockeye. Most of us know the 5 main species of salmon listed by me in order of my personal preference:
CHINOOK: Also called King, Spring, or Tyee. These are the biggest salmon with full rich delicious special tasting oils highest in Omega-3. They are becoming more and more difficult to find for sale in the retail market.
SOCKEYE: Most readily available species. Deepest red colour and firm flesh but rather tricky to cook so still remain moist and are not dried out. Also have lots of heart-healthy Omega-3 fatty acids. Photos show the look of a deep coloured fillet and our 2.6 kg (or 5 3/4 lbs) whole Sockeye.
COHO: Called Silver and versatile fine textured use.
CHUM: More frequently being called Keta. Paler red and milder taste.
PINK: Rose quite light pink colour with a softer texture and delicate flavours. Sometimes called Humpback (develops more when spawning).
Generally the most common species used for canning is Sockeye and Pink but are seeing more Keta (Chum) produced.

This July has been a plethora of Sockeye for us prepared many different ways and with diverse wine pairings. Really enjoy the flavours of a whole side cooked on the grill or BBQ but wrote back on July 16, 2018 that the taste was more delicious cooked as a steak on the bone. Three superb wine matchings with a Sockeye steak were all quite different being a white, rose, and red: classic 2015 Chablis 1er Cru Vaillon very old vines Cuvee Guy Moreau of Christian Moreau, delicious 2020 Florence Rose by Baillie-Grohman of Pinot Noir fruit from the Kootenays in BC, and 2018 Whitehaven Pinot Noir from Marlborough New Zealand. Wine selections for grilled salmon were commented on here on April 6, 2016 but seems to taste better IMHO with a fuller richer white wine like classic 2012 Chablis Les Clos Grand Cru Christian Moreau, underrated 2017 Chaberton Chardonnay with weekly lees stirring, and brilliant 2016 St.-Aubin 1er Cru Sur Gamay by Henri Prudhon & Fils. However, most Sockeye dishes will work with a variety of wines including Champagne (super value Le Mesnil) or Sparkling. Delighted in comparing Culmina's excellent 2016 Chardonnays of rich full Dilemma style with wild yeast no malo fresh vibrant Stan's Bench one! Also outstanding with Sockeye was an aged Bordeaux-like complex 2010 Howling Bluff Summa Quies 80% Sauvignon Blanc & 20% Semillon. Enjoyed Jean-Georges Vongerichten slow roasted recipe with capers and onions with the regular fruity 2018 CedarCreek Pinot Noir. Check out this Blog on May 4, 2016 for red wine with fish. Don't forget to use the sweet salmon next to the bones for making your own salmon cakes one night. Went so well with a fresh dry no oak 2019 Noble Ridge Pinot Grigio Reserve. Enjoy the wild fresh salmon available and experiment with cooking methods and wine pairings. A lot of fun!
---
You might also like: