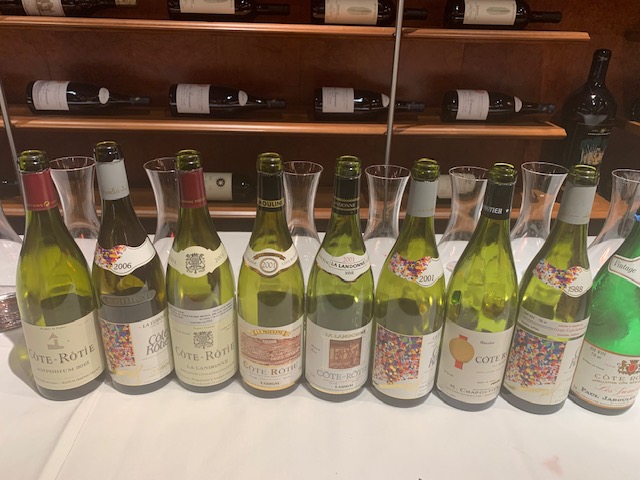 Côte-Rôtie in the northern Rhone has certainly established itself as one of the most coveted spots in the world for producing high quality distinctive wines. The history goes way back including the oldest house of Vidal-Fleury from 1780. Certainly legendary Joseph Vidal-Fleury (1906-1976) deserves a lot of the early credit for showing that very good classic Côte-Rôtie was possible. Also does Etienne Guigal their winemaker until leaving in 1946 after 22 years there to start his own winery. Since the seventies his son Marcel Guigal has done a really fantastic job of raising the overall quality level of top Côte-Rôtie. A big part of that success story has been due to the key acquisition of the faltering Vidal-Fleury firm in 1985. Earlier Marcel had patiently and cleverly assembled for Guigal over 10+ years some 17 small vineyard holdings of La Landonne in the Côte Brune. The result of these coups are 4 great wines: their regular Côte-Rôtie, an iconic since 1966 La Mouline in Côte Blonde, his new consolidation of La Landonne vineyards from 1978, and the latest from 1985 La Turque in Côte Brune (from Vidal-Fleury).
Early wine publications helped as well in promoting how special Côte-Rôtie could be with John Livingstone-Learmonth (with Melvyn C. H. Master) in 1978 on The Wines Of the Rhone and revised editions including his tome The Wines of the Northern Rhone in 2005 providing outstanding background detailed information. Also Robert Parker's first spotlight on Rhone in 1987 revised & expanded in 1997 hyped Côte-Rôtie by Guigal with many 100 point scores in those earlier days when high scores and especially perfection was much harder to come by. La Mouline from 1976, 1978, 1983, 1985, 1988, and 1991 plus La Landonne 1985, 1988, and 1990, & La Turque 1985, 1988, and 1990 all received 100 and many more were rated in the high nineties. This got the consumer's attention and helped push the present prices to the stratosphere. Thankfully there are many other up and coming top Côte-Rôtie wine producers now in the market as well.
What a treat to have a dinner featuring older Côte-Rôtie treasures and actually get a chance to drink them again – rather than just admire their auction prices. This happened for your scribe at Blue Water Cafe in Vancouver on June 30, 2020 with 9 memorable bottles briefly highlighted as follows:
A few laudatory words first about the overall culinary excellence at Blue Water headed by Executive Chef Frank Pabst but also Chef de Cuisine Raimund Hauser (off his talented finalist performance on Firemasters TV) who is producing some classic yet innovative dishes that pair so well with top wines. Even the hors d'oeuvre featured an interesting soft crusted ravioli inspired by Sardinia "culurgiones" and his white fish halibut with bacon, fresh porcini and ramp pistou matched divinely with a red wine! Well done.
1. 2013 RENE ROSTAING CUVEE AMPODIUM – Purple shades showing some stems from whole bunch fermentation of nearly all syrah (less than 1 % viognier) with oak notes almost like young Hermitage in style. Needs more time.

2. 2006 E. GUIGAL LA TURQUE – Red with a paling edge having an open best textbook nose in first flight of three with enticing bacon fat, smoke, black pepper, cloves complexity at first and evolving into more medicinal as it aired. Enjoyment forwardly but no rush.

3. 2003 RENE ROSTAING LA LANDONNE – Deep dark ruby with a herbal most dramatic black currant cassis bouquet – like pure currant juice – and making a ripe syrah concentrated statement.

4. 2001 E. GUIGAL LA MOULINE – What an experience in this second flight to have all three La Las from 2001 to compare their differences – and similarities. This is only 1 hectare on a terrace of very old vines producing 5000-6000 bottles with 11% viognier so lovely, charming, and refined with floral cherry notes plus intense round supple seductive length on the palate. Is that violets? Easy to admire and respect. What a wine.

5. 2001 E. GUIGAL LA LANDONNE – Larger property with 2.1 hectares on clay-limestone soil rich in iron producing 10000-12000 bottles of 100% syrah with no viognier. Darker deeper look but still rather tight closed in at nearly 20 with a powerful structure and big meaty flavours. Opened more earthy with airing and truly impressive. Obviously the low yield quality is there but expect it will improve with more cellaring.

6. 2001 E. GUIGAL LA TURQUE – Only .95 hectares on a steep 60-70 degree slope of silico-limestone producing some 5000 bottles with 7% viognier in the blend. More towards La Landonne with a rather deep closed concentrated style again impressive but not totally singing. Logically has harmony in between the charming La Mouline and powerful La Landonne in style with silkier tannins. All three improved with airing in the glass. Recommend wait a few more years for their best. What a flight! Surprised (and delighted) that all three are still somewhat primary wow fruit and have everything there to still develop more tertiary character of earth, spice, floral, and other dimensions coming to show this terroir off to best advantage. Still hard not to enjoy them presently as well – especially La Mouline – if the opportunity arises.

7. 1991 CHAPOUTIER LA MORDOREE – From older best vines on Brune & Blonde near the Chapoutier sign on the hill. Controversial with scores from 86 to 100. This bottle has some black olives and raspberry but seems outclassed here showing rather simpler with softer acidity and a drying finish. Prefer the 2015 or even 2012.

8. 1988 E. GUIGAL LA TURQUE – Wine of the Night! Sensational showing where all the elements have come together in a most impressive bottle. What you can expect and perhaps even more from the 2001s with some patience. Too many complex elements to list but include coffee, chocolate, ripe blackberries, bacon, beautifully seasoned black pepper and dazzling pizzazz. Thrilling.

9. 1983 PAUL JABOULET AINE LES JUMELLES – Quite light elegant and stylish. Less body and complexity but rather good. Gerard Jaboulet always proud of their 1983. Drink now.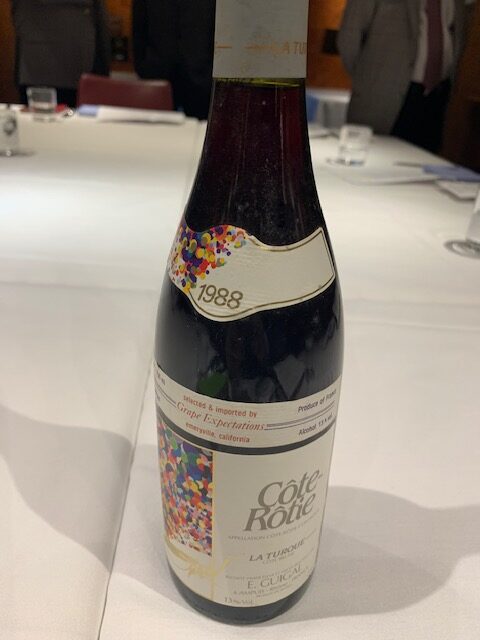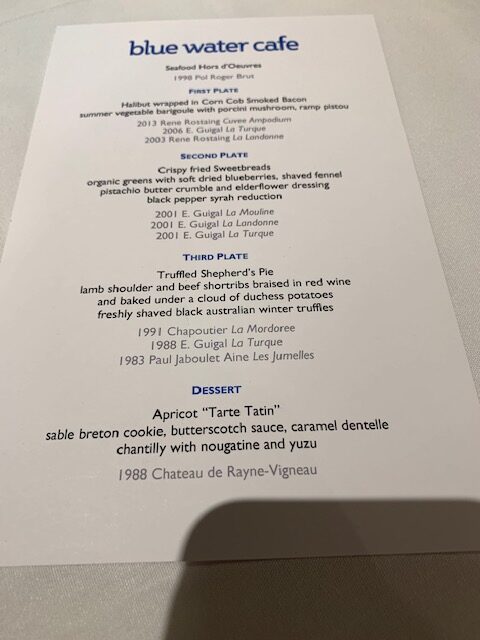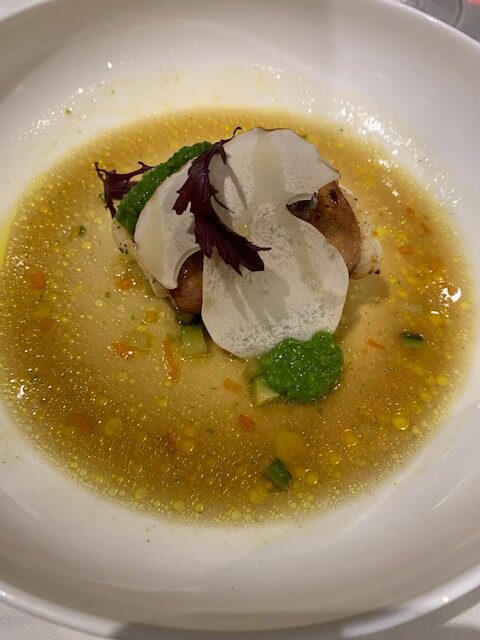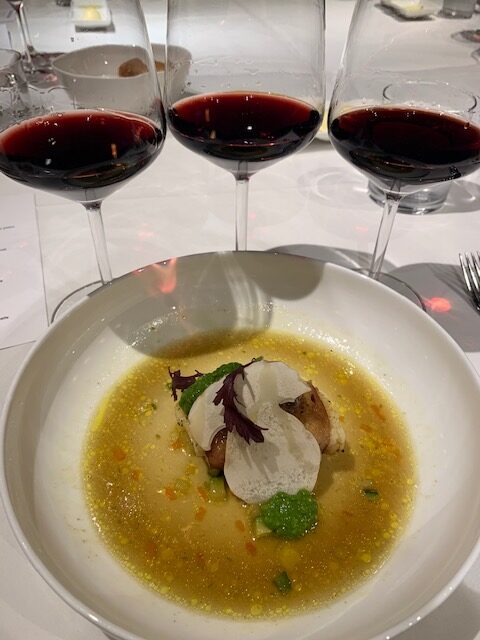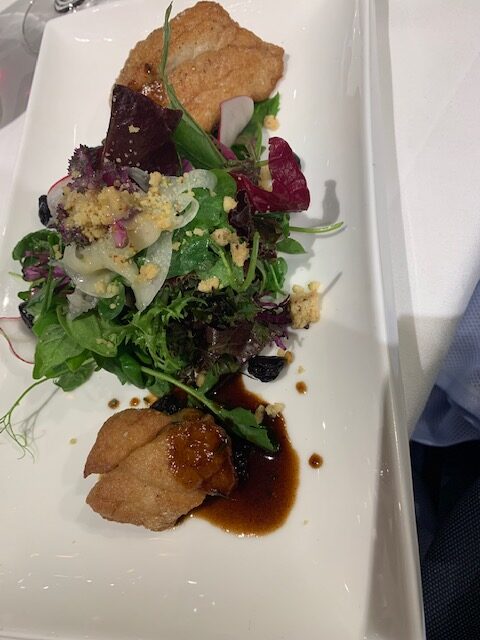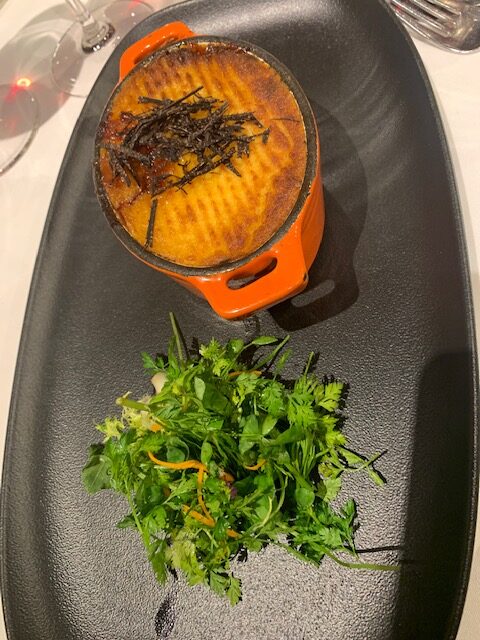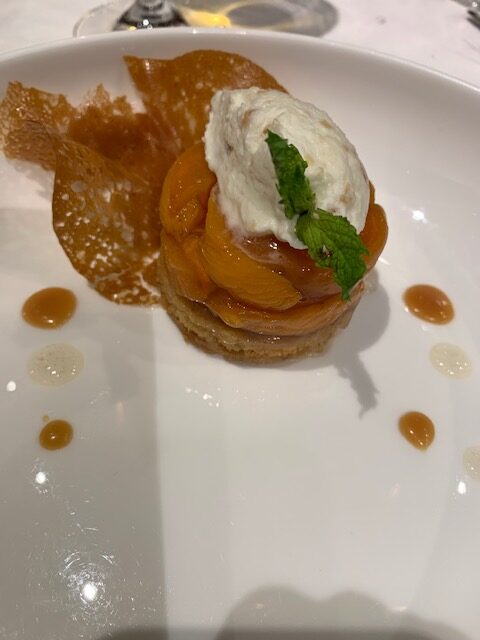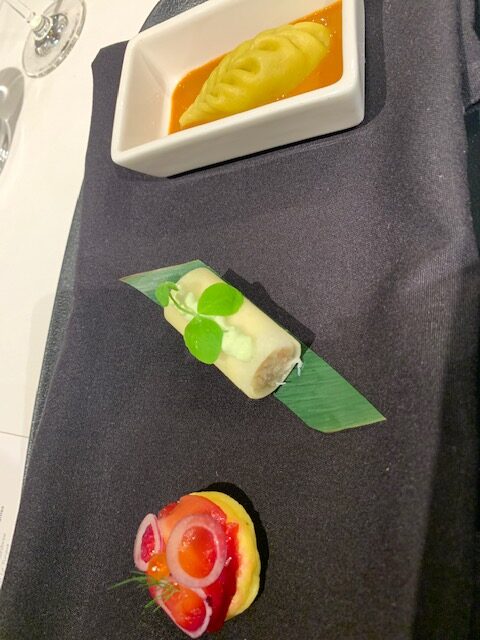 You might also like: